In the first part of this How-to create glitch effects series in Logic we explored the process of manipulating audio samples / micro-sounds in the Arrange  window. Giving the sense of a hit or sound
In the first part of this How-to create glitch effects series in Logic we explored the process of manipulating audio samples / micro-sounds in the Arrange window. Giving the sense of a hit or sound slowing down or coming to a halt was achieved by creating ever increasing gaps between each audio region. As effective and flexible as this method is, it can be laborious, and there's a quicker way to achieve the same results by using one of Logic's built-in plugins. True, there isn't a dedicated glitch style plugin bundled with Logic Studio, but there is a multi-tap delay plugin called Delay Designer. Using this versatile effect plugin we can quickly create the same style of effect and process either audio or MIDI sonic elements. Best of all you can then save the plugin setting and recall it very easily to preview the slow-down stutter effect on all manner of sounds.
I'd highly recommend checking out Part 1 of this series here if you haven't already done so.

01 - Any Sound Will Do
We could literally pick any sound to process and sometimes it's much more fun to try using a sound which does not have a short attack and release. I eventually decided on using a Sculpture preset in Logic 9: 06 Mallet Instrument > Classic Vibraphone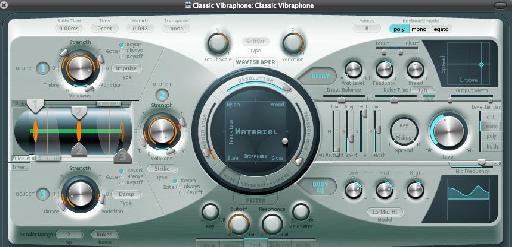 I love the full-bodied, rich resonance of this sound... but the sound is not what we're focusing on, rather the technique. Here's what our starting point sounds like:
02 - Bring on the Delay
I've recorded a single note MIDI region in my Arrange area, but you can simply trigger the sound of your choice using your MIDI Controller Keyboard or Caps Lock keyboard.
Next, I've inserted a Delay Designer plugin on the Insert slot of my Sculpture Software Instrument track.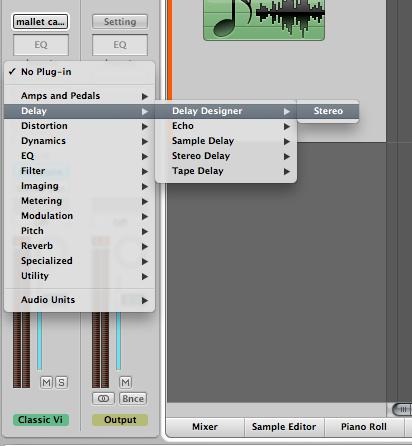 03 - Delay Designer
The main display in Delay Designer shows the Taps (represented by vertical bars). Each Tap or echo is given a Letter name. To select a Tap simply click on it's bar or it's Letter. Selected taps change from blue to white.
In the top left of the Delay Designer plugin is the Sync button. With this enabled the delays (or taps of the original signal) can be positioned in the Tap Display area by grid values. The grid in Delay Designer is then synced with that in Logic's Arrange area. Very useful, but not what we need. As we're looking to create an organic slow-down stutter effect let's turn Sync off.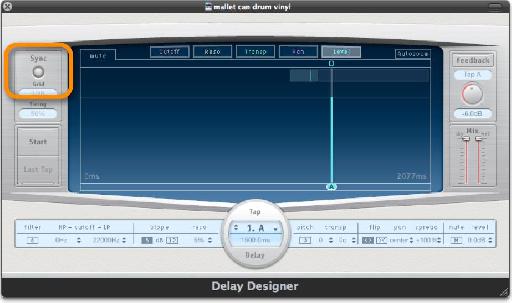 04 - Time to Tap
Delay Designer is more than a simple Tap delay effect. Each tap can be processed individually within the plugin. For example, each tap can be transposed or panned differently! Make sure that each Tap is displaying it's level properties by clicking on the Level tab at the top of the interface.
First let's move the existing tap where we'd like it to be. Position the mouse cursor over the letter of the tap. Drag the tap to the very left (0ms) in the Tap Display window.
Next, let's create some more taps. The easiest way is to position the mouse cursor in the Identification row (bottom slim row) of the main Tap Display window. Your cursor turns into a pencil tool with a plus sign indicating you can create new taps. Click to create a new tap.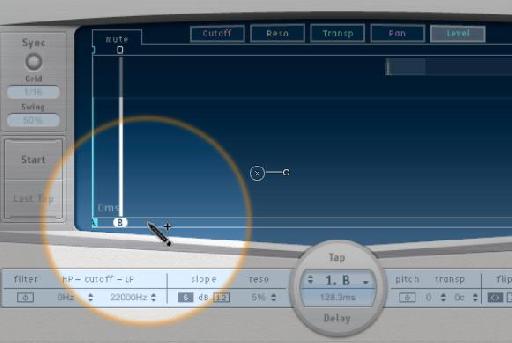 While we're at it, let's create some more taps, say about 8 more should do the trick. Don't worry about placing them for now, we'll do that in the following steps.
05 - Zoom Right in and Mix
Here's what my glitch effect sounds like so far:
Zooming in to the Tap Display is incredibly intuitive once you know how! Place the mouse cursor in the Overview Display (top right corner inside the Tap Display). Your cursor should turn into a 4 headed arrow. This will allow you to click-drag to scroll (left to right). If you click-drag up you will zoom out and click-dragging down will zoom in.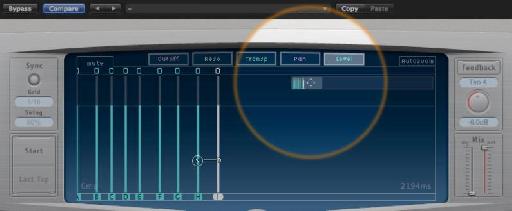 This will become really important as you wish to place the taps accurately. Click on the AutoZoom button to toggle between your zoom setting and fitting all taps within the Display window.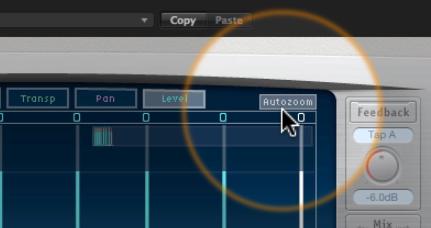 Notice also how I've muted the Dry signal in the Mix section of the Delay Designer. Presently we have Tap A being triggered at virtually the same time as the original signal - so there's no need to duplicate the signal.
06 - Positioning the Taps
This is the time to experiment, just like in Part 1. As I'm trying to achieve that bouncing ball effect, I'm going to bunch up the taps to the left and spread them out with ever increasing distance between them. Your efforts might look something like this: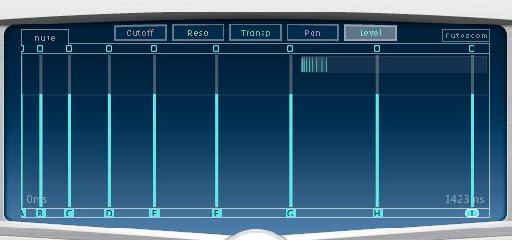 Here's what mine sounds like. You can see above that it only lasts 1423ms. Yours could have a longer duration!
07 - Adjusting Tap Levels & Pan
My final step in this part will show you how to adjust levels and pan information without leaving the Delay Designer interface!
If you wish your glitch effect to become quieter over time, make sure that the Levels Tab is highlighted and simply drag down on the main bar of a tap to reduce it's level. Repeat this for other taps as desired to create a decrescendo effect.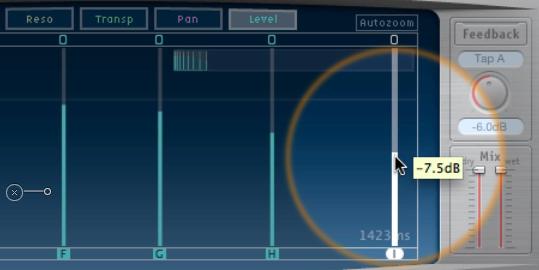 Click on the Pan tab and now all the taps display with their pan information. The centre line represents zero pan. Drag the white dots on each Tap to move the pan. You can drag the green/blue bar lines to increase or reduce the Stereo Spread per tap as desired.
After adjusting the pan, my pattern looks like this: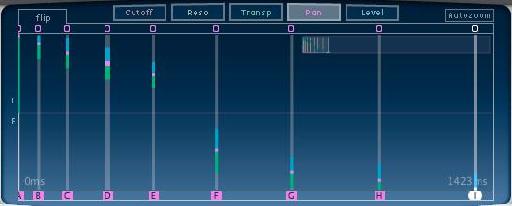 ... and sounds like this:
Experimenting with cutoff, resonance and transposition can lead to highly unusual and interesting effects. In fact, it would take a lot longer to program these "taps" in the Arrange area and add effects (or automate) each tap individually.
Don't forget to save your Delay Designer settings from the plugin's Setting Menu... and enjoy experimenting with different tap patterns and settings in the Delay Designer. In Part 3 of this Glitch FX series we'll take a look at some free 3rd-party plugins that can create some beautiful and cut-up glitchy effects!
There are a host of essential Logic based tips and tricks in all 3 Logic TNTs and a comprehensive overview of the Delay Designer in Steve H's Logic 303 - Logic TNT1.