When it comes down to it, a working and functional score with lyrics is great, but one that looks good is even better. Jay Asher shows how to create lyrics nicely in Logic Pro X.
Every once in a while in a forum discussion, I will read a post where someone writes that getting the lyrics to look good in Logic Pro's score editor is kind of tricky, and it always surprises me, because I think it is in fact rather easy, once you understand it'¦
1 - Input the Lyrics
In Pic 1, you can see a simple little melody that I created that hopefully is not a rip off of some famous song that I am not familiar with ☺

Pic 1
Looking over at the score editor's part box, I see the icon for Text and when I click on it, I see that there are several choices, including one for Lyric, which I select.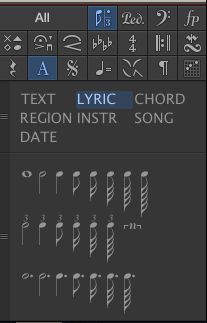 Pic 2
I simply drag the "Lyric" object under the first note and notice that a little alignment guide shows up to make sure I am on the right note, as you see in Pic 3.This guide is a new feature in Logic Pro X by the way, and quite helpful in my opinion.

Pic 3
I now proceed to type in a syllable and then press tab to advance to the next note, and then continue in the same fashion until I have finished inputting the inspiring lyric you see here in Pic 4.

Pic 4
2 - Editing the Inputted Lyrics
Uh-oh, I screwed up bar 5 big time. I typed 'lick' instead of 'live' and I must have missed pressing the tab key one time because nothing after that is lined up correctly, I need to fix this.
If I click on the word 'lick', as I am doing in Pic 5, it is obvious where I missed the tab press as it shows I accidentally typed 'lick in.'.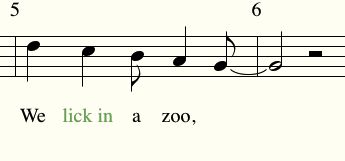 Pic 5
I have the option to double-click on 'lick in' and type 'live', move 'a' and 'zoo' to the proper notes and then type in the word 'in' on the proper note, but it is simpler just to redo that measure. Therefore, I instead highlight those lyrics and press the delete key and repeat the inputting process. The result of that task appears in Pic 6.

Pic 6
Houston, we have a problem! The new entry is not aligned with the previous entry. What to do? Well, key commands are your friend.
3 - Assigning Key Commands For Alignment
As all experienced Logic users know, pressing option-K opens the key commands window. If I type the word 'align' into the search field, I can see there are unassigned possible key commands for the score editor that are ideal for my purpose.

Pic 7
I now assign key commands by clicking the Learn by Key Label button and entering them and then pressing it again to 'fix' them. I use Control-Option-V for vertical alignment and Control-Option-H for horizontal alignment. Since these are preferences, I can close the key command window and theoretically never have to do this again.
I select all the lyrics (choose one syllable and press Shift-S) and press the key command for vertical alignment, which is what went wrong and voilà , it is all better.

Pic 8
What if that phrase repeats with a different lyric? Repeat the process under the first lyric, as I have done in Pic 9.

Pic 9
4 - Customizing the Lyric Font
I almost hesitate to show you this because I like to observe the Hippocratic Oath: 'first do no harm' ☺ If you look at most commercially released sheet music, they keep the font very simple, much like the Logic Pro default, but far be it from me to stifle your creativity.
So let's create a Text Style for your Lyrics. Under the Layout menu, navigate to Text Styles and the Text Style Window opens with the project's default text styles.
NOTE: Text Styles are not global preferences, they are Project Settings and therefore can be saved with the project and even imported from project to project.
I click the + sign in the top left of the window and new 'dummy' text style is created. I double-click on it and name it Lyrics. See Pic 10.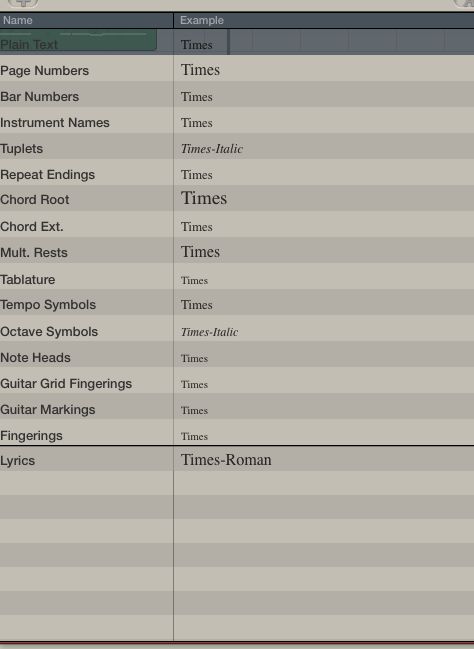 Pic 10
I click the Text symbol in the upper right-hand corner and now I can modify the font, change its size, italicize it, choose a bold font, etc. as I have done in Pic 11.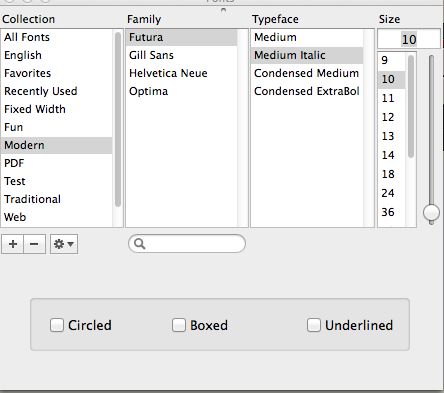 Pic 11
If I now select all the lyrics and hold down my mouse in the Style pop-up menu in the Event inspector, I now see the option to apply them to my newly created text style for the lyrics. See Pic 12.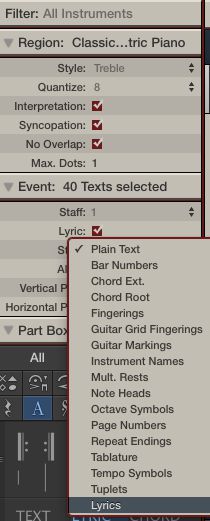 Pic 12
It now appears as it does in Pic 13.

Pic 13
5'" Applying The Finishing Touches
I now switch to Page View to see what this will look like and I think there is too much space between the first and second lyric, but I certainly don't want to mess up the MIDI positions.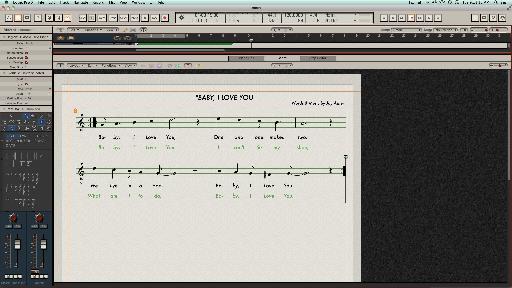 Pic 14
No worries. I select the second lyric, press T to open Tools menu and select the Layout Tool. I am now free to move those lyrics horizontally or vertically without affecting the MIDI positions.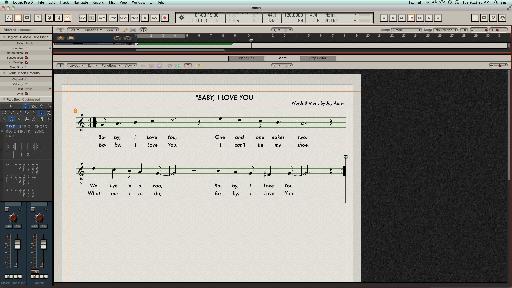 Pic 15
Darn it, I think the lyrics are a little too big. I could go into the Text Style and change the size but it might work for most lyrics I do. Fortunately, If I press T to open the Tools menu, I see the Resize Tool which allows me to freely alter it, as I have done in Pic 16.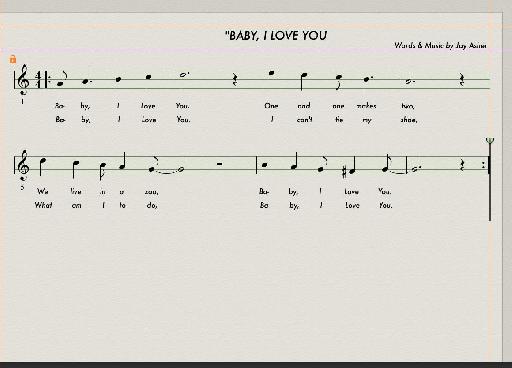 Pic 16
That's really all there is to it and you can get really fast with it with just a little practice. Not so difficult after all, no?