Learn how to get some crazy pitch modulation effects going in Logic Pro with this step-by-step tutorial by Gary Hiebner. Traditionally used on guitars, who can apply them any type of sound you wish!
I used to love my Boss Digital Delay DD-3 stompbox pedal. With that and my electric guitar, I thought I could conquer the universe with out-of-this-world sound effects. I would play a few notes on my guitar, stomp on the pedal whilst it was in its Hold function, and then start manipulating the delay time to create sci-fi delayed sounds.
I'm glad to let you know that the same basic technique can be achieved in your DAW. I will be demonstrating this in Logic, but the same principles can be achieved in other DAWs with their delay plugins or with 3rd party delay plugins.
Step 1 '" Choose Your Source Sound
You can apply this effect to most sounds and instruments, but it does work best on material with pitch/harmonic content. When the time parameters on the delay unit are altered, it creates pitched sounds that are determined by the original source. Guitars and synths are great sources to use. It can be applied on percussion or non-pitched instruments, but the effect is less noticeable.
I have chosen a synth loop from the Apple Loop Library. It is called Electro Emotion Synth 01.
Step 2 '" Which Delays to Use
By browsing through the delays in Logic and applying them, I found that the delay plugins that are emulated around analog/stompbox gear (most commonly known as tape delay units) gave the best results. The two that led the pack were Tape Delay, and Tru-Tap Delay from the Logic Pedalboard.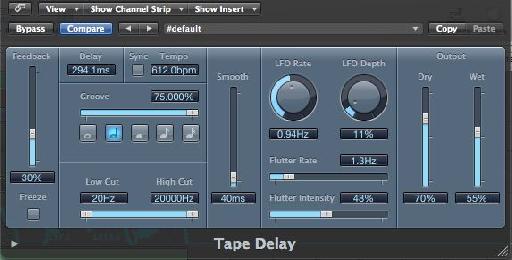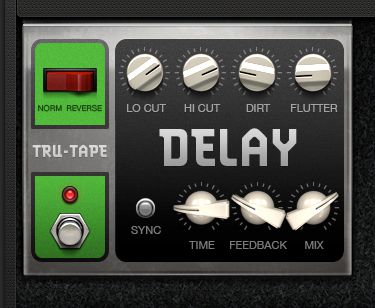 Dial in a delay parameter that you like. Set Logic to loop around your audio/synth part. Then whilst the audio is playing back, start adjusting the Time parameter on the delay effect. Start noticing how when you jump between the different delay times, pitched effects are created.
Now wouldn't it be nice to record these results, so the same effect is applied every time when you play back that loop? This can be achieved with automation.
Step 3 '" Automating the Delay Time Parameters
There are two ways you can go about this. You can enable the automation view, choose the desired parameter and draw in the automation. Or you can assign the delay time parameter to a knob/fader on your controller. I enjoy the later as it gives you free control over the delay tweaking. Plus it gives a more human and tangible quality to the effect. There is no reason why you cannot write the automation in with your controller, and then fine-tune it in the automation view by editing the automation nodes that are created later. Whatever suits you best.
I have used the Tape Delay plugin. I have assigned the Delay Time to a knob on my controller. Make sure the automation mode for the channelstrip is either in Write, Latch or Touch mode. You can find more information on the MPVHub on Logic's automation modes here.

If you are going to draw in the automation, go into the Automation View (View >Track Automation) and go to Tape Delay '" Delay, to show the Delay Time automation lane. Now you can draw in the automation.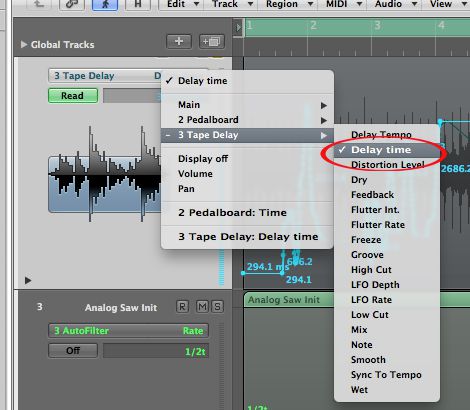 Tape Delay - Delay Time.
I also tried the same with the Tru Tape plug-in. I have assigned the Tru Tape '" Time parameter to a controller and have then written in some automation for the Time parameter.

Tru Tape Automation.
If you wish to draw in the automation, make sure you are on the right automation lane (Pedalboard-Slot 1'"Tru-Tape Delay'"Time). My Tru Tape pedal is in the first slot, which is why it says slot 1. If you have other effects in your Pedalboard, the slot number may be different.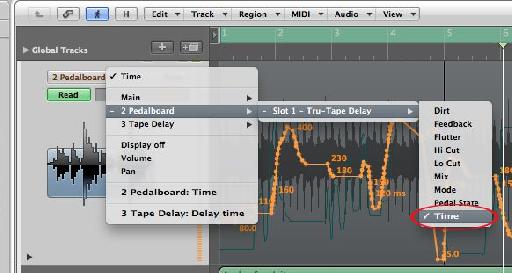 Tru Tape - Time.
Here is the pitched effect within the context of a song. I have duplicated the Electro Emotion Synth 01 Loop. This one has the Tape Delay plug-in, whilst the other has the Tru-Tape Pedalboard plug-in. I have panned these left and right respectively. I have added a house beat loop, and a simple Analog Saw bassline. It's a bit rough, but you get the idea.
Step 4 '" Other 3rd Party Delay Effects
You can get the same results with other 3rd Party Delay Effects. Jumping through my 3rd party plugins I found a tape delay effect from Guitar Rig Pro 5 that really stood out, the Delay Man. This delay effect emulates the classic Electro Harmonix Memory Man delay stompbox. Electro Harmonix was an innovative stompbox effect company that was the pioneer for many of the effects we use today. For some great history lessons go back and investigate some of their effects, the users who used them, and songs that featured these effects. Anyone heard of Jimi Hendrix and the Edge?

Delay Man GR5.
Conclusion
I hope this tutorial opened up further options for you with regards to the use of delay in your future productions. Much fun can be had with this technique. You can really get your hands dirty (figuratively, I mean) with this effect.
Check out the following tutorials for further Logic tips and tricks:
http://www.macprovideo.com/tutorial/logic8303tnt2
http://www.macprovideo.com/tutorial/logic201
http://www.macprovideo.com/tutorial/logic304