What? A free plugin (included with every Mac) that can help you create a Deadmau5-style pitching build-up? Yes, it's true and Gary Hiebner shows you where to find it and how to use it.
J'adore Deadmau5. Surtout son «4x4 = 12" album. Il est un producteur incroyable qui sait comment créer des rainures grand et a des sections accumulation excellente. Ce que j'ai remarqué, c'est qu'il utilise des techniques de pitching note pour créer ses accumulations fou.
Je vais vous montrer comment utiliser le plugin d'Apple AUPitch pour créer cet effet. Le meilleur de tous les AUPitch plug-in est livré avec chaque Mac. Ma DAW de choix
Étape 1 - Créer le modèle Drum and Bass

J'ai créé un simple "4 à l'étage" modèle standard de la maison a battu à l'aide de la Ultrabeat Paris House Remix drumkit. La contrebasse est un échantillon vu simples ondes à partir d'un instrument EXS24. Les tendances pour les deux sont assez simples. Deadmau5 sait définitivement que moins est plus. L'impact de ses morceaux est créée par cette approche.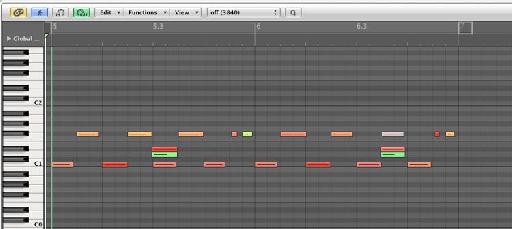 Le modèle de batterie.

Le modèle de Bass.
Voici l'audio de la Drum and Bass:
[Audio id = "9106"]
Etape 2 - Ecrire un riff simple Synth

Ensuite vient le synthé, nous allons à la hauteur. J'ai utilisé le EXS24 avec la simple scie prédéfini et programmé un modèle de triplet simple. Vous souhaitez que la ligne de synthé à s'asseoir différemment pour le modèle drum and bass à susciter l'intérêt et l'espace.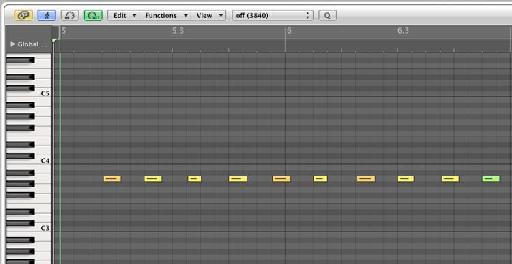 Le motif de triplet synthé.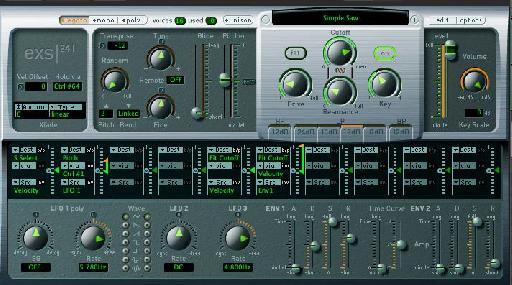 Le préréglage EXS24.
Au moment où le synthé sonne assez bien umsimple. Pour l'étoffer, j'ai ajouté un Channel EQ, Compressor, Low Cut, Tape Delay pour ajouter un espace un peu plus, le plugin AUPitch, et un peu d'overdrive. J'ai aussi ajouté un envoi de réverbération, dont je vais d'automatiser plus tard pour la construire.

Bande de canal du synthé.
Synth Audio:
[Audio id = "9105"]
Étape 3 - Pitch Synth

C'est là que le plugin d'Apple AUPitch va venir dans maniable. Cela vient gratuitement avec chaque Mac. Dans la section "Inserts" de la bande de canal, vous pouvez le trouver sous
Le seul contrôle que je vais changer la valeur de la commande de tangage. Grâce à l'automatisation, ce qui se passe pour affiner le terrain en très légère sur une période de temps. Dans cet exemple, il va être de plus de 4 bars. Contrôle de la hauteur est mesurée en cents et il ya 100 cents par demi-ton (demi-étape). De cela, vous pouvez calculer combien vous voulez régler le pitch par: au cours des 4 barres je l'ai automatisée à partir d'environ 0 à 737 cents, ce qui est d'environ 7 demi-tons de ma note d'origine.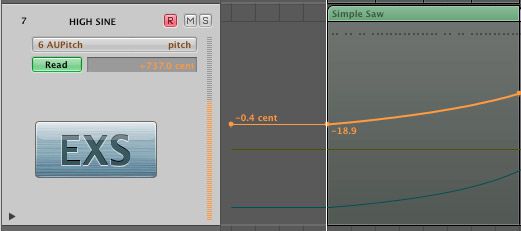 Automatisation de Pitch.
Ce qui est formidable à propos de cette technique est que vous ne pouvez pas tout à fait placer la valeur de note, mais vous pouvez constater l'accumulation de la hauteur. Avec le pitch de plus en plus une valeur microtonales sur une période de 4 bars il ne se sent pas comme si toute confrontation des notes dissonantes ou se sentent pas du tout. L'envoi de réverbération est également automatisée pour pousser le synthé dans le champ stéréo.

L'automatisation de réverbération.
Voici ce que le synthé ressemble après qu'elle a été dressé:
[Audio id = "9104"]
Étape 4 - Build It!
Jetez un écouter les Deadmau5-like de 45 seconde piste que j'ai arrangé. J'ai l'accumulation de 4-bar. J'ai ensuite abandonner la basse tout en gardant le synthé passe, et ont filtré les haut de gamme sur le coup. Puis-je ramener le haut de gamme sur le coup de pied et laisser tomber le piquer de façon drastique sur le synthé jusqu'à ce qu'il soit presque silencieux. J'ai ensuite réintroduire le riff de début et de battre à nouveau jusqu'à la fin. Très cool, hein? Alors, allez c'est Deadmau5 up!
Et ici il est:
[Audio id = "9118"]
Si vous souhaitez suivre avec mon exemple, voici une capture d'écran des données d'automatisation Pitch:

L'automatisation hauteur finale.
Les données d'automation de réverbération:

Les données finales automatisation de réverbération.
Et les données d'automation de volume:

L'automation de volume final.
Conclusion

Dans la musique électronique, il est tout sur la construction de la piste et puis tomber dans le grandes sections. Apple a inclus quelques outils pratiques libres avec leur système d'exploitation, donc n'oubliez pas de les vérifier à certains moments, vous ne savez jamais quand ils peuvent être juste ce dont vous avez besoin pour votre projet.
Pour plus d'informations sur la production de musique électronique, consultez Olav Basoskis tutoriels macProVideo:
Logic 406 - Olav Electronica workflow
Live 8 402 - Sons Designing for Dance Music