What? A free plugin (included with every Mac) that can help you create a Deadmau5-style pitching build-up? Yes, it's true and Gary Hiebner shows you where to find it and how to use it.
Sono assolutamente d'amore Deadmau5. Soprattutto il suo "4x4 = 12" dell'album. Lui è un produttore stupefacente che sa come creare solchi grande e ha sezioni accumulo eccellente. Quello che ho notato è che utilizza tecniche di pitching nota per creare il suo accumuli folle.
Ho intenzione di mostrare come utilizzare il plugin AUPitch di Apple per creare questo effetto. Migliore di tutti i AUPitch plug-in viene fornito con ogni Mac. La mia DAW di scelta
Fase 1 - Creare il pattern Drum and Bass

Ho creato un semplice "4 al pavimento" standard modello battere casa utilizzando il Ultrabeat Parigi Casa Remix drumkit. Il basso è un semplice campione di un'onda visto da uno strumento EXS24. I modelli per entrambi sono abbastanza semplici. Deadmau5 sa sicuramente che meno è più. L'impatto sui suoi passi è stato creato da questo approccio.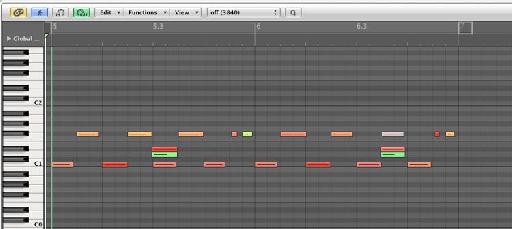 Il modello a tamburo.

Il Bass Pattern.
Ecco l'audio della Drum and Bass:
[Audio id = "9106"]
Fase 2 - Scrivi un riff semplice Synth

Il prossimo è il synth che stiamo per passo. Ho usato il EXS24 con la semplice Saw preset e programmato un semplice schema tripletta. Vorrete la linea di synth di sedersi in modo diverso ai pattern di batteria e il basso per creare interesse e spazio.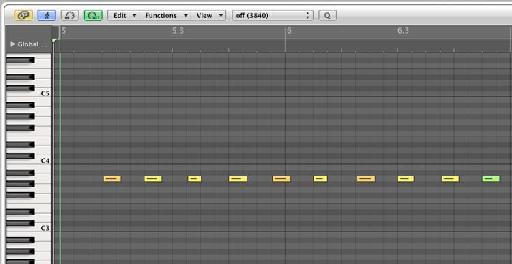 Il synth modello tripletta.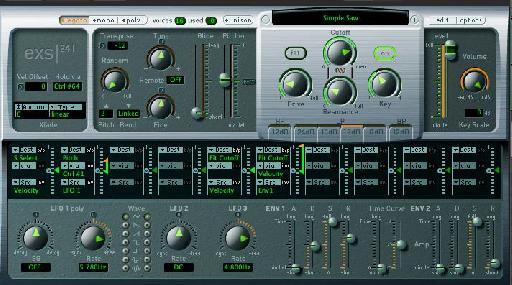 Il EXS24 predefinita.
Al momento il synth suona abbastanza, beh umsimple. Alle carni bovine in su, ho aggiunto un EQ canale, Compressor, Low Cut, Tape Delay di aggiungere po 'di spazio, il plugin AUPitch, e un po' di Overdrive. Ho anche aggiunto una mandata riverbero, che automatizza in seguito per l'accumulo.

Il synth di channel strip.
Audio per Synth:
[Audio id = "9105"]
Fase 3 - Passo che Synth

E 'qui che il plugin di Apple AUPitch sta per venire in aiuto. Questo è fornito gratuitamente con ogni Mac.. Nella sezione 'inserti' della striscia di canale, lo si può trovare sotto
L'unico controllo che sto per cambiare il valore è il controllo del pitch. Con l'automazione, questo sta per mettere a punto il passo molto in poco più di un periodo di tempo. In questo esempio, sarà più di 4 bar. Controllo del passo è misurato in centesimi e ci sono 100 centesimi al semitono (mezzo passo). Da questo si può calcolare quanto si vuole regolare l'intonazione da: oltre i 4 bar ho automatizzato da circa 0-737 centesimi, che è di circa 7 semitoni dal mio nota originale.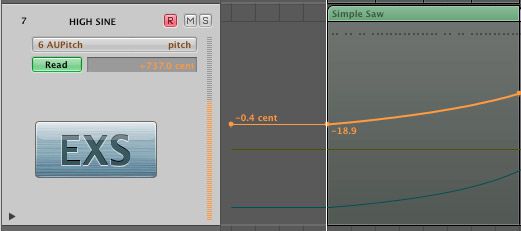 Passo di automazione.
Che cosa è grande circa questa tecnica è che non riesco a mettere il valore di nota, ma si può notare l'accumulo del terreno di gioco. Con il passo sempre più in un valore microtonale per un periodo di 4 bar che non si sente come se ogni scontro note dissonanti o si sentono affatto. L'invio riverbero è anche automatizzate per spingere il synth intorno al campo stereo.

Il riverbero di automazione.
Ecco ciò che il synth suona come dopo che è stato lanciato:
[Audio id = "9104"]
Fase 4 - Build It!
Prendere un ascoltare il Deadmau5 simil-45-seconda traccia che ho organizzato. Ho il 4-bar accumulo. Ho poi abbandonare il basso mantenendo il synth andando, e hanno filtrato la fascia alta del calcio. Poi ho riportare la fascia alta del calcio e rilasciare il passo drasticamente i synth finché non è quasi silenzioso. Ho poi reintrodurre il riff iniziale e battere di nuovo fino alla fine. Molto cool, eh? Quindi, vai Deadmau5 it up!
E qui è:
[Audio id = "9118"]
Se volete seguire con il mio esempio, ecco uno screenshot dei dati di automazione del Passo:

L'automazione passo finale.
L'automazione Reverb dati:

Gli ultimi dati di automazione riverbero.
E i dati del volume di automazione:

L'automazione del volume finale.
Conclusione

In Musica elettronica, è tutto di costruire la pista e poi cadere in grandi sezioni. Apple ha incluso alcuni strumenti a portata di mano libera con il loro sistema operativo, quindi non dimenticate di dare un'occhiata fuori, a volte, non si sa mai quando potrebbe essere proprio quello che serve per il vostro progetto.
Per ulteriori informazioni sulla produzione di musica elettronica, controlla Olav Basoskis tutorial macProVideo:
Logic 404 - Electronica di miscelazione
Logic 406 - Olav Electronica Workflow
Live 8 402 - Progettare per Suoni Musica Danza