If you like EDM, Logic Pro X and designing sounds, you'll get a kick out of this tutorial! Darren Burgos takes you on a tour of Ultrabeat. Your mission is simple: to design your own big kicks.
En la música de baile de hoy el lanzamiento es una parte vital de la pista / mix. Casi todos los productores de acuerdo en que si no clavar la patada, usted no tiene una pista. Su cada vez más común a mirar el cuerpo / sub y el clic (o un ataque transitorio) como dos elementos separados. Básicamente, el cuerpo es el sonido de bajos profundos, y el clic toca con la derecha a la cabeza de sonido para añadir pegada y mayor agilidad. Incluso hay plug-ins como Vengeance Sounds Metrum de atención específica a esta forma de pensar.
En este artículo Ill mostrará cómo construir fácilmente el patadas sub / cuerpo en Ultrabeat, y cómo crear un simple clic desde el fabricante Lógicas EFM1 sintetizador. Pues bien combinarlas en una sola pieza de audio para su uso en cualquier reproductor de muestras o para uso directo en la ventana de arreglos.
Paso 1: Iniciar una sonora patada en Ultrabeat
Vamos a construir el cuerpo de la patada en Ultrabeat. Desconocido para muchos, Ultrabeat es bastante un excelente sintetizador patada. No estoy hablando de simplemente reproducir una muestra (que lo hace bien también), sino como una forma de generar un oscilador virtual de gran utilidad. Abra Ultrabeat y Control-clic en el carril de instrumentos de fondo 1. Elegir Init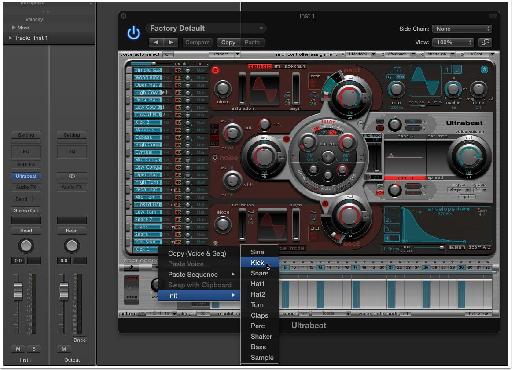 Control-clic en el carril inferior y elegir Init
Paso 2: Suba el volumen
Sólo la parte superior del oscilador 1 se utiliza para hacer de este un excelente sonido 808 tipo. Dado que se diseña un sonido, vamos a llevar el volumen hasta que su bien y fuerte para que cuando nos convertimos en audio. El área azul turquesa bajo el nombre del sonido es el volumen. Haga clic y mover el valor hasta en 10 dB. Tenga cuidado de no hacer clic y mantenga demasiado tiempo o Ultrabeat pensará usted está tratando de mover la voz / sonido en su lugar.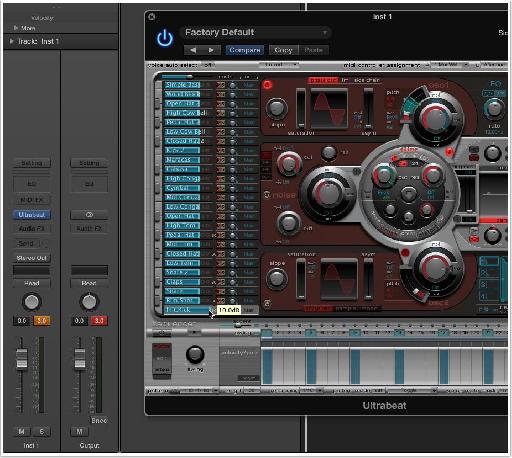 Arrastre el control deslizante de volumen hasta en 10 dB para hacer su buena patada y fuerte.
Paso 3: Crear un 4 en la planta Región / Secuencia
Vamos a crear una secuencia simple patada para que podamos probar fácilmente las patadas que tomamos. Control-clic en el área Organizar y seleccione Crear Empty Región MIDI en el menú contextual. Haga doble clic en la región para abrirlo en el Editor de teclado. Cambie a la herramienta Lápiz y dibuja en un 4 en el patrón de suelo (nota en cada cuarto de nota) de la nota MIDI C1. Elevar la velocidad hasta por encima de 100 en cada nota, a continuación, cierre el Editor de teclado y utilice el comando de teclado L para recorrer la región.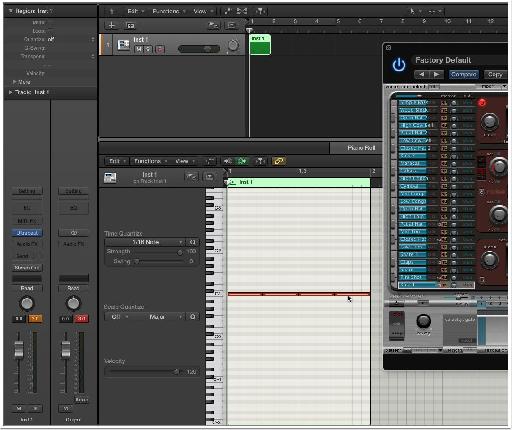 1, 2, 3, 4 ... ¡Es fácil!
Paso 4: Cambiar el tono del cuerpo Kick
Cambio del tono Tiro audio muestreado / incluso por tan sólo 2 semitonos casi siempre disminuye el sonido. Debido a que nuestro cuerpo patada Ultrabeat todavía se sintetiza esto no es un problema. Vamos a cambiar el tono de la patada ajustando Oscilador 1s parámetro pitch. Ajusté la mía hasta F0.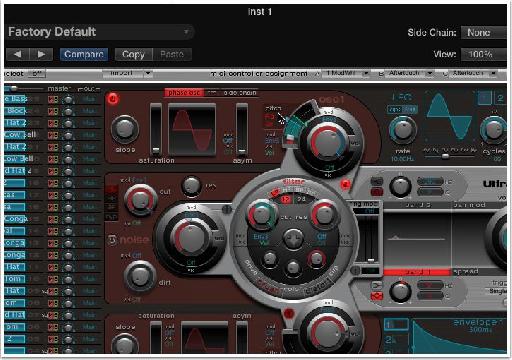 Ajuste el tono de la patada.
Tenga en cuenta que es muy difícil de descifrar campo en tan baja
Paso 5: Ajuste el sonido del oscilador
Ahora trate de hacer pequeños ajustes a la vertiente 1s oscilador, Saturación y Asym (Asimetría) parámetros. Con sólo estos tres ajustes, puede crear variaciones patada sin fin.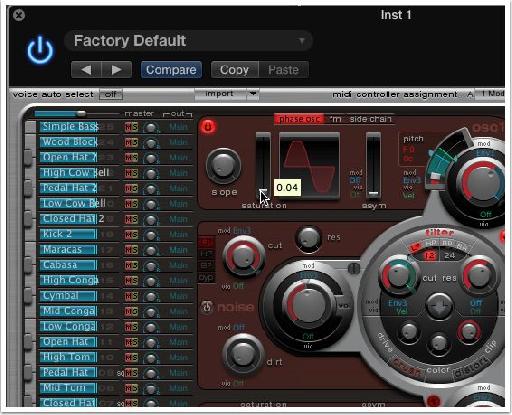 Ajustar la pendiente, la saturación y parámetros Asym a su gusto.
Paso 6: Hacer la envolvente del tono Sonidos
Permite ajustar el sobre parcelas vacías para dar forma al sonido aún más. Les puedo decir que sea modificado por Envelope 3 porque así lo dice en el parámetro Mod directamente debajo del ajuste de tono. Haga clic para seleccionar la envolvente 3. Si hace clic y mantiene en él, Ultrabeat muestra todos los lugares que pueda ser utilizado. Ajuste tanto en el ataque y los valores de tiempo de la versión y sus dos curva maneja al gusto.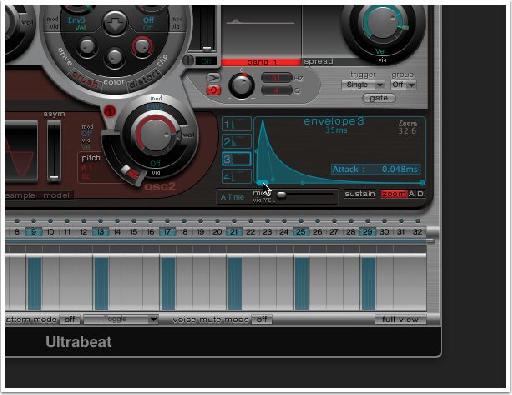 Ajuste la envolvente de tono para dar forma a su sonido.
Paso 7: Medir el tiempo del Largo Kick al BPM
El momento el lanzamiento de la patada a la BPM de la pista es a menudo pasada por alto por algunos productores. Este es un paso importante hacia el perfeccionamiento de la ranura. Cambiar el BPM del proyecto Lógicas al tempo de la canción el puntapié será destinado. Inicie la reproducción en la lógica, y ajustar el ataque y salida deslizadores de tiempo (y su control para curvas) del Sobre 4 hasta obtener un sonido que se siente cómodo en su BPM de elección.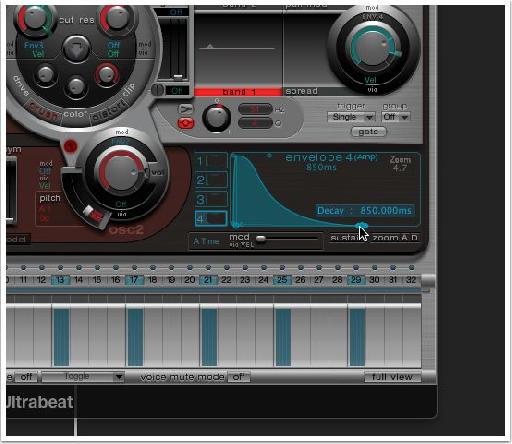 Cambie la liberación de la patada para adaptarse a la BPM de la pista.
Paso 8: Abra EFM1 y añada el EQ
Ahora vamos a crear el sonido de clic. A diferencia de los sintetizadores sustractivos, es bastante natural para los sintetizadores FM para generar sonidos metálicos de percusión. Esta es la razón por EFM1 es perfecto para el trabajo. Crear una nueva pista de instrumento de software y abrir una EFM1. No queremos cualquier material de baja frecuencia de EFM1 enturbiar el cuerpo patada. En la banda de canal, haga doble clic directamente sobre el EFM1 en la zona de la plaza de EQ para abrir el EQ. Activar el filtro de paso alto / bajo corte y pase todos los puntos bajos (establecer su frecuencia de alrededor de 1.000 Hz).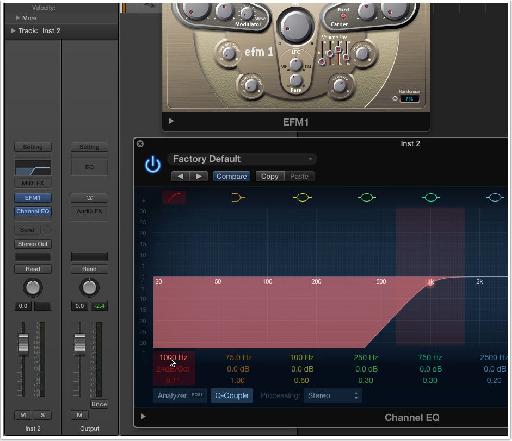 Filtrar las bajas frecuencias del sonido de la claqueta con un EQ.
Opción y arrastre la región que ha creado para la patada a la pista EFM1. Si conoce la clave de la canción estás haciendo la patada para, a continuación, cambiar las notas negras de la región correspondiente.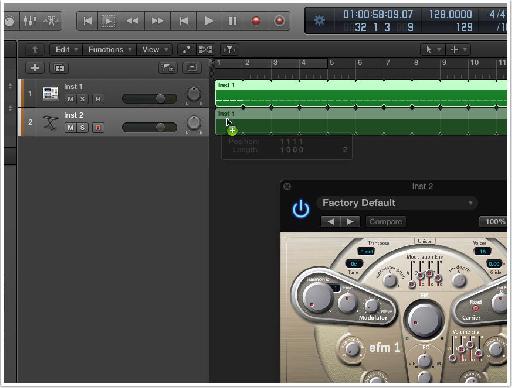 Opción-arrastrar la región Ultrabeat a la pista EFM1.
Paso 9: Ajuste Sobres EFM1s
Vamos a la cabeza recta para EFM1s sobres. Tire de la Attack, Sustain y Release hasta el fondo. Ajuste el decaimiento por lo que su apenas por encima de su posición más baja. Haga lo mismo para la envolvente de modulación.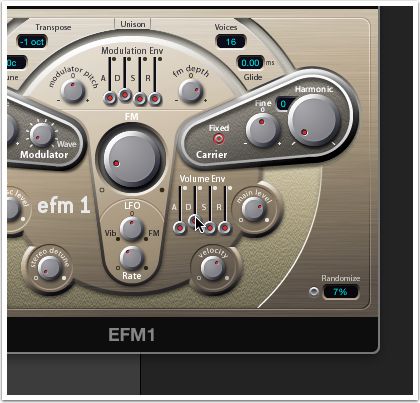 Cree el sonido de clic mediante el ajuste de los sobres de EFM1.
Paso 10: Experimente con los parámetros
Ahora ajuste casi cualquier parámetro, como los dos botones de armónicos, la perilla de FM Centro, Profundidad FM y más. Theres un suministro interminable de clics aquí. Trate de usar las perillas de ajuste EFM1s para que coincida perfectamente con la clave de su canción. Pruebe con una caída más larga por un clic más pronunciada. Si el clic Parece que su eliminación un poco o parece inconsistente cuando se juega junto con el cuerpo patada de Ultrabeat, no te preocupes demasiado. En el paso final, así rebotar los dos sonidos juntos como uno.
Paso 11: Hacer rebotar la patada
Ahora que el weve creó el cuerpo patada en Ultrabeat y el clic en EFM1, así desee combinar estos dos sonidos juntos como una pieza de audio. Coloque un ciclo en torno a una sola barra de la música donde juegan juntos. Si usted ha sido la construcción de la patada en un proyecto existente, asegúrese de que en solitario sólo el tiro y el sonido de clic juntos. Selección de rebote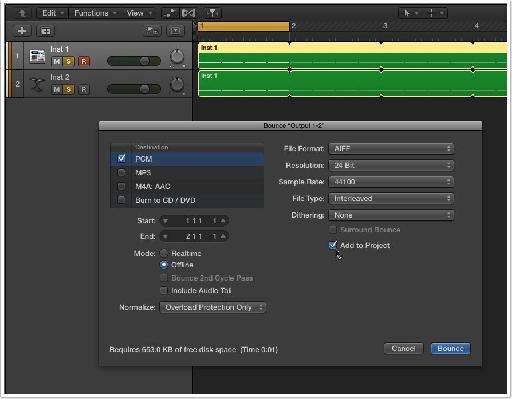 Ahora está listo para hacer rebotar la patada!
Paso 12: Seleccione un Kick único para secuenciación
Solo de la pista con el tiro rebotó en él y escuchar con atención. Elija uno de los cuatro patadas y con la herramienta Tijeras, cortar los otros tres por lo que youre dejado con una sola patada. En este punto, puede secuenciar el saque única directamente en la ventana de arreglos, o cargarlo en su reproductor de muestras favorito. Si lo hace cargarlo en un reproductor de muestras, usted querrá volver a guardar el golpe de tambor único como una nueva pieza independiente de audio. Usted puede hacer esto fácilmente mediante Control-clic en la patada y elegir Convertir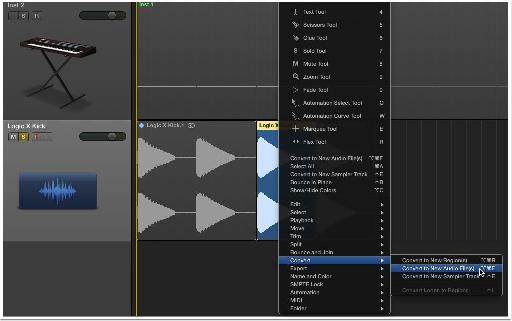 Seleccione una patada y la convierten en un único archivo de audio.
Aquí está una muestra de algunas patadas que hice, y una descarga que contenga ellos! Sin procesamiento adicional se hizo para ellos, así que imagínate cómo theyll suena con un poco de EQ / Compresión.
[Id audio = "25179"]
Descargue el paquete de patada aquí:
Espero que hayan disfrutado el artículo Feliz saque diseño!