If you like EDM, Logic Pro X and designing sounds, you'll get a kick out of this tutorial! Darren Burgos takes you on a tour of Ultrabeat. Your mission is simple: to design your own big kicks.
Na música de dança de hoje o pontapé é uma parte vital da faixa / misturar. Quase todos os produtores concordam que, se você não pregar o chute, você não tem uma pista. Sua tornando cada vez mais comum de olhar para o corpo / sub e clique (ou ataque transitório) como dois elementos separados. Basicamente, o corpo é o som de graves profundos e clique desempenha certo na cabeça do som para adicionar soco e snappiness. Há mesmo plug-ins como Vengeance Sounds Metrum que incidem especificamente sobre esta maneira de pensar.
Neste artigo eu vou mostrar-lhe como construir facilmente a chutes sub / corpo em Ultrabeat, e como criar um simples clique do fabricante Lógica EFM1 sintetizador. Bem, então combiná-los em uma peça de áudio para uso em qualquer jogador de amostra ou para uso direto na janela de organizar.
Passo 1: Inicializar um som Kick in Ultrabeat
Vamos construir o corpo do chute no Ultrabeat. Desconhecido para muitos, Ultrabeat é bastante um excelente sintetizador chute. Eu não estou falando de simplesmente reproduzir uma amostra (o que faz bem também), mas como uma maneira de gerar um oscilador virtuais muito útil. Abra Ultrabeat, e Control-clique na pista instrumento de fundo 1. Escolha Init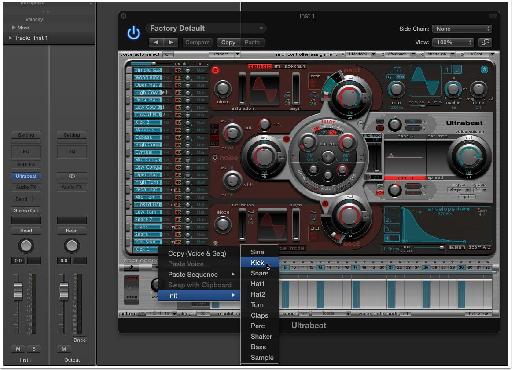 Control-clique na faixa inferior e escolha Init
Passo 2: Aumente o Volume
Apenas a parte superior do oscilador 1 é usado para fazer este excelente som 808 tipo. Desde a concepção de um som, vamos levar o volume para cima por isso é bom e forte para quando convertê-lo em áudio. O azul turquesa a área sob o nome do som é o volume. Clique e mova o valor até 10 dB. Tenha cuidado para não clicar e segurar por muito tempo ou Ultrabeat vai pensar você está tentando mover a voz / som em seu lugar.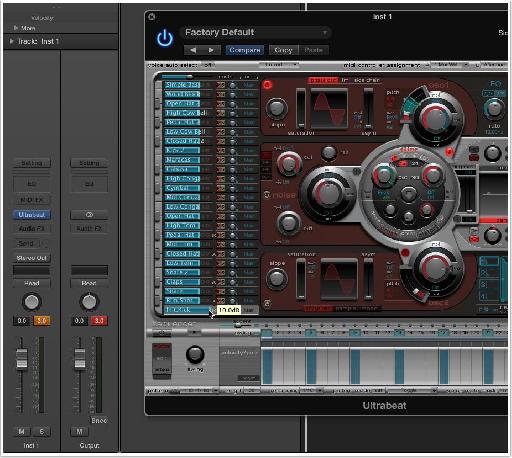 Arraste o controle deslizante de volume para cima de 10 dB para fazer o seu belo chute e alto.
Passo 3: Criar um 4 no Piso Região / Sequence
Permite criar uma seqüência pontapé simples então podemos facilmente testar os pontapés que fazemos. Control-clique na área organizar e escolha Criar vazio MIDI Região a partir do menu contextual. Clique duas vezes na região para abri-lo no Piano Roll. Alterne para a ferramenta Lápis e desenhar em um 4 no padrão de andar (nota em cada semínima) em MIDI nota C1. Aumentar a velocidade até acima de 100 em cada nota, em seguida, fechar o Piano Roll e use o comando a tecla L para repetir a região.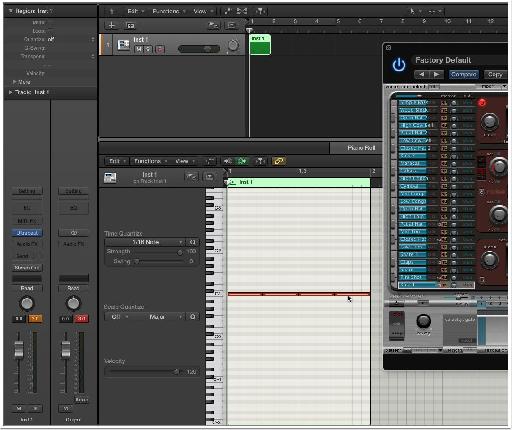 1, 2, 3, 4 ... É fácil!
Passo 4: mudar o tom do Corpo Pontapé
Mudando o tom em um chute de áudio amostrado / mesmo por tão pouco como 2 semitons quase sempre diminui o som. Porque o nosso corpo pontapé Ultrabeat ainda é sintetizado este não é um problema. Permite alterar o tom do chute ajustando oscilador 1s parâmetro campo. Eu ajustei meu baixo para F0.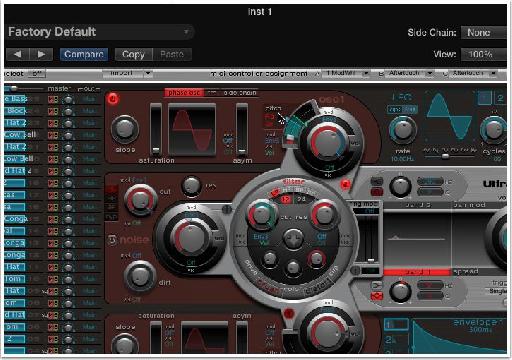 Ajuste o tom de seu chute.
Tenha em mente que é muito difícil de decifrar passo em tão baixa
Passo 5: Ajuste o som do oscilador
Agora tente fazer pequenos ajustes na inclinação 1s oscilador, Saturação e Asym (assimetria) parâmetros. Com apenas esses três ajustes, você pode criar variações infinitas pontapé.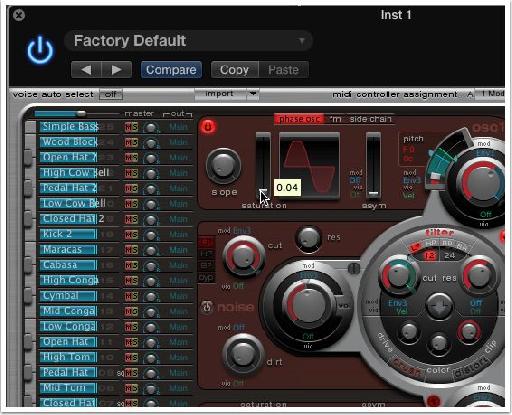 Tweak o Slope, Saturação e parâmetros ASYM ao seu gosto.
Passo 6: Shaping the Sounds Passo Envelope
Permite ajustar o envelope pitchs a moldar o som ainda mais. Eu posso dizer o seu ser modificado por Envelope 3, porque ele diz isso sob o parâmetro Mod diretamente abaixo do ajuste de campo. Clique para selecionar Envelope 3. Se você clicar e segurar sobre ele, Ultrabeat mostra todos os lugares a sua sendo usados. Ajuste ambos os valores tempo de liberação e ataque e seus dois curva lida com a gosto.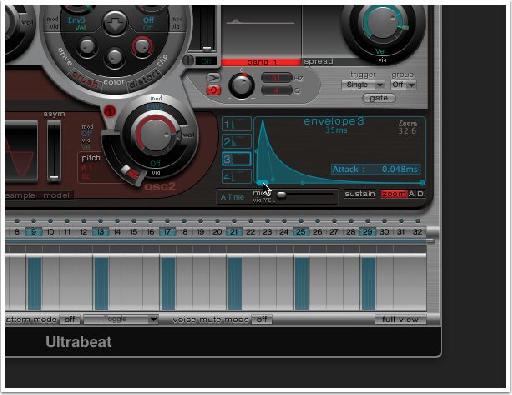 Ajuste o envelope de afinação para moldar o seu som.
Passo 7: cronometrando o Pontapé Comprimento de BPM
Cronometrando o lançamento do chute para o BPM de sua faixa é muitas vezes esquecido por alguns produtores. Este é um passo importante para o aperfeiçoamento do groove. Altere o BPM do projeto Lógica ao ritmo da música do chute se destina. Inicie a reprodução em Lógica e ajustar o ataque e liberação sliders tempo (e sua curva de alças) do Envelope 4 até obter um som que se sente confortável em seu BPM de escolha.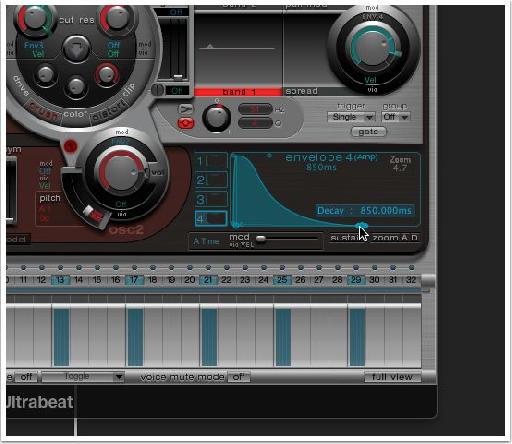 Altere o lançamento do pontapé de acordo com o BPM de sua faixa.
Passo 8: Abra EFM1 e adicione um EQ
Agora vamos criar o som do clique. Ao contrário de sintetizadores subtrativas, é bem natural para sintetizadores FM para gerar sons metálicos de percussão. É por isso que EFM1 é perfeito para o trabalho. Criar uma nova faixa de instrumento de software e abrir uma EFM1. Nós não queremos qualquer material de baixa frequência de EFM1 turvando o corpo chute. Na Strip Channel, clique duas vezes diretamente acima do EFM1 para a área da praça EQ para abrir o EQ. Ativar o passe / baixa filtro de corte alto e passe todos os pontos baixos (ajuste sua freqüência de cerca de 1000 Hz).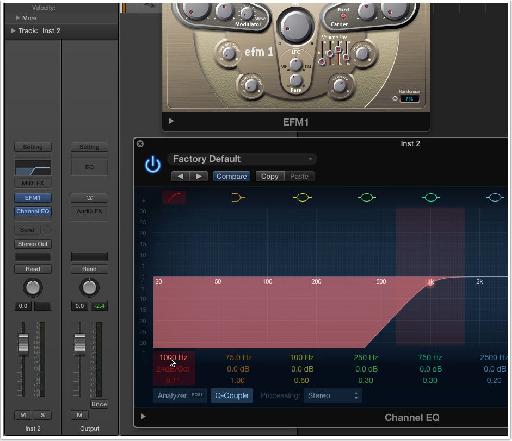 Filtre as baixas frequências do som de clique com o EQ.
Option a região que você criou para o pontapé para a pista EFM1. Se você sabe que a chave da música você está fazendo o pontapé para, em seguida, alterar as notas de um quarto na região de acordo.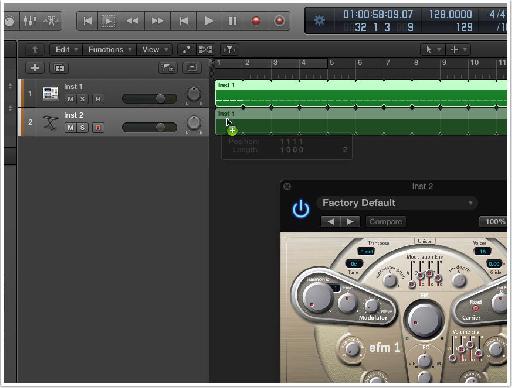 Option-arrastar a região de Ultrabeat para sua faixa EFM1.
Passo 9: Ajuste Envelopes EFM1s
Vamos direto para a cabeça EFM1s envelopes. Puxe o ataque, Sustain e Release todo o caminho. Ajuste o Decay que a sua apenas um pouco acima de sua posição mais baixa. Faça a mesma coisa para o Modulation Envelope.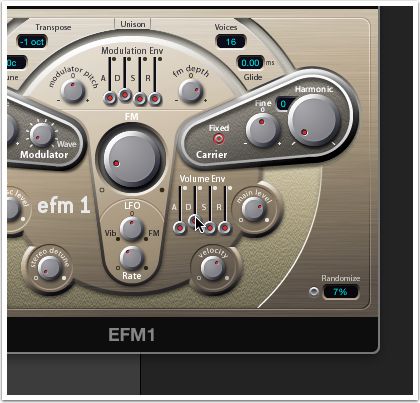 Criar o som do clique, ajustando envelopes de EFM1.
Passo 10: Experiência com Parâmetros
Agora ajustar quase qualquer parâmetro de como os dois botões harmônicos, o botão FM centro, Profundidade FM e muito mais. Theres uma fonte infinita de cliques aqui. Tente usar EFM1s botões de ajuste para combinar perfeitamente com a chave de sua música. Tente uma Decay mais por um clique mais pronunciada. Se o clique parece que o seu faseamento um pouco ou parece inconsistente quando tocaram juntos com o corpo chute Ultrabeat, não se preocupe muito. Na etapa final bem saltar os dois sons juntos como um só.
Passo 11: Rejeição a Pontapé
Agora que weve criou o corpo chute no Ultrabeat eo clique em EFM1, bem querer combinar esses dois sons juntos, como uma peça de áudio. Coloque um ciclo em torno de um único bar de música onde eles jogam juntos. Se você foi construindo o seu pontapé em um projeto existente, certifique-se a solo apenas o pontapé eo som de clique juntos. Selecione Bounce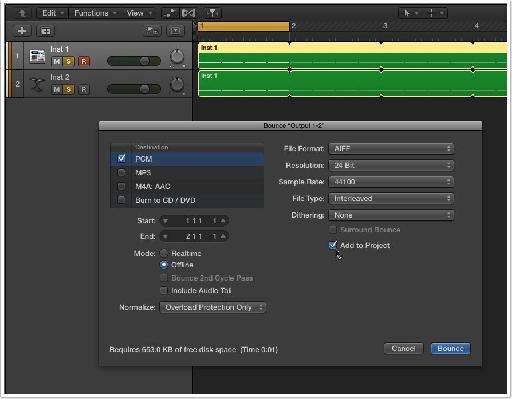 Agora você está pronto para saltar o seu chute!
Passo 12: Escolha um pontapé único para Seqüenciamento
Solo da pista com o chute saltou sobre ele e ouvi-lo com atenção. Escolha um dos quatro chutes e com a ferramenta Tesoura, cortar os outros três para que você é deixado com um único chute. Neste ponto, você pode sequenciar o pontapé única diretamente na janela de organizar, ou carregá-lo em seu leitor de amostra favorito. Se você carregá-lo em um jogador de amostra, você vai querer voltar a salvar o hit monocilíndrico como uma nova peça independente de áudio. Você pode fazer isso facilmente clicando controle no chute e escolhendo Convert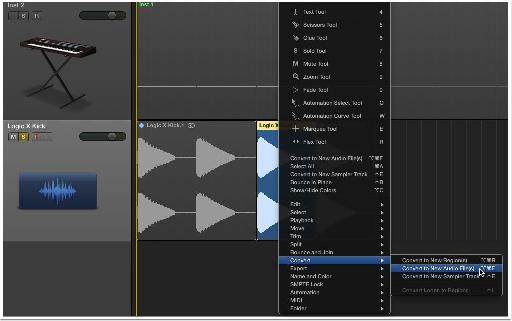 Selecione um chute e convertê-lo em um único arquivo de áudio.
Aqui está uma amostra de alguns chutes que eu fiz, e um download contendo-los! Nenhum processamento adicional foi feita para estes, então imagine como eles vão soar com um pouco de EQ / Compression.
[Id áudio = "25179"]
Baixe o pacote chute aqui:
Espero que tenha gostado do artigo feliz pontapé concepção!