Originally viewed as a problem, distortion is now one of the most used creative effects in music productions. Joe Albano adds some warmth and crunch to the proceedings in this enlightening tutorial.
Distortion is one of those aspects of audio that started out as a problem and ended up as one of the most desirable effects in the audio engineer's toolbox. Of course, some kinds of distortion'"like digital clipping'"are best avoided, at least in day-to-day mixing and processing, but the various forms of analog distortion are regularly applied to signals to add warmth and presence. And, of course, there's the most traditional application of distortion'"that meaty overdrive and heavenly grind you get from cranking up a great-sounding guitar amp or pedal!
For many years, if you wanted to juice up your tracks with these lovely analog distortions, you had to turn to the real deal'"hardware'"and this is still done regularly. It's common to run signals through a variety of outboard gear, and, of course, guitar amps. Even clean DI (direct-input) recorded guitar signals are often re-amped'"sent back out into the studio and run through a real amp. Purists distrusted and derided amp simulations as not having the dynamic richness and complexity of actual tubes and circuits, but somewhere along the line that changed, thanks to the acceptance of Line 6's POD amp sim and a bevy of other companies' efforts. Distortion simulations are now widely accepted, and turned to, for adding that edge we all seem to love so much. And often, you don't even have to look beyond the DAW itself'"Logic Pro X includes a comprehensive collection of distortion-generating plug-ins'"everything from digital edginess to full-blown amp simulation. Let's go through them and see what kind of options await the engineer or mixer who wants to dirty up those nice, clean tracks.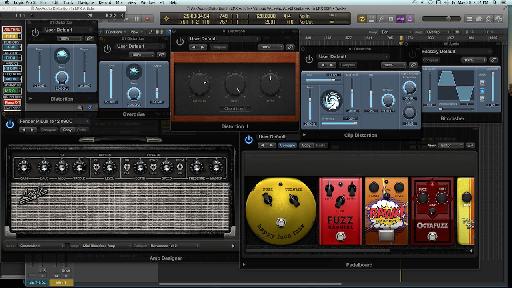 Logic Pro X offers an all-you-can-eat buffet of distortion plug-ins!
Digital Dirt
Starting with the digital side of things, Logic's Bitcrusher plug-in gives you the option of trashing up the signal by lowering the digital resolution of the sound.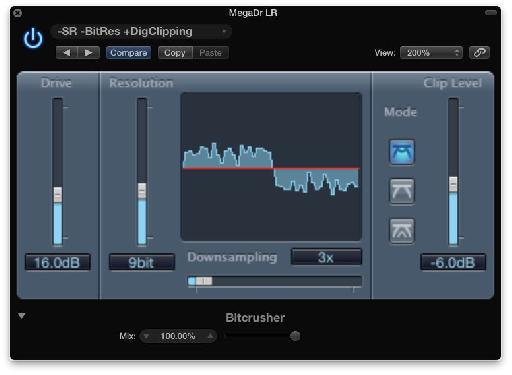 Thrash it up with the Bitcrusher!
You can reduce Sample Rate and generate Aliasing distortion'"a nasty high-frequency buzz/ring that could be an interesting effect in the right circumstance. Of course, you can lower the Bit Resolution, from 24-bit all the way down to the bone-crunching harshness of 1-bit (not for the faint of heart)! And there are several ways to generate digital clipping, which can add some real edge to signals, if used judiciously.
But most of us, when we think distortion, are thinking of analog distortion'"that classic sound of tubes and transistors clipping, running the gamut from warmth to grind to crunch to buzz to chainsaw. And here Logic has a whole host of options.
The appetizers
The most basic are the Distortion and Overdrive plug-ins. Both simulate the sound of transistor distortion, like you get with many classic effect pedals. The Distortion plug-in is modeled on the clipping characteristics of a bipolar transistor'"one of the mainstays of the traditional fuzz box.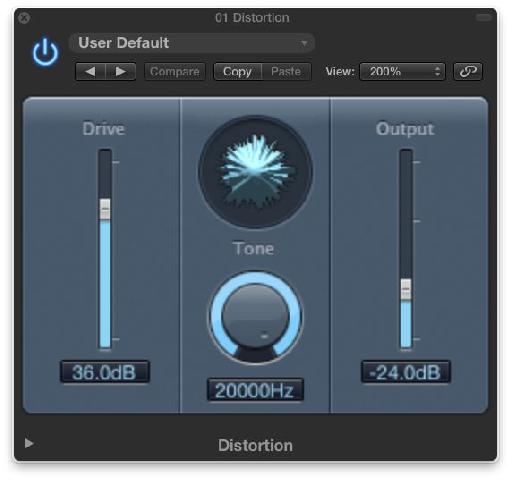 Get fuzzy with the Distortion plug-in.
Mellow the tone with the included lowpass filter and it'll sound like one of those classic '60s tracks. Even with the filter all the way open, the sound is cool'"crank it on guitar and try playing the opening riff from 'Revolution'.
Overdrive is laid out identically, but simulates the sound of a field-effect transistor (FET).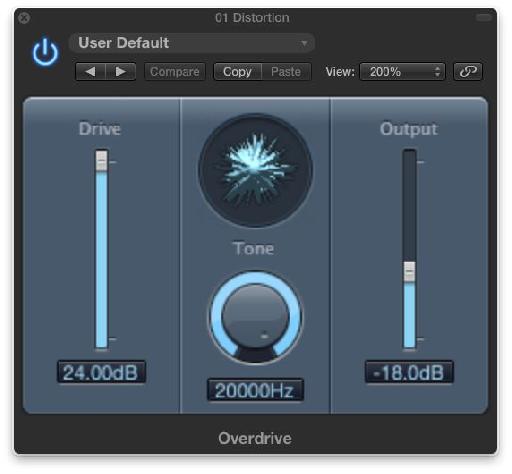 The Overdrive plug-in simulates a field-effect transistor.
FETs are widely used in all sorts of gear, and, when overdriven, put out more of a 'crunch' than the 'buzz' from bipolar transistors. The quality is closer to the sound of overdriven tubes, but it has its own characteristic quality, which can add some edge to not only guitars and basses, but other instruments as well, in subtle amounts.
Clip Distortion is a more elaborate plug-in, with a series of user-adjustable filters for shaping the sound.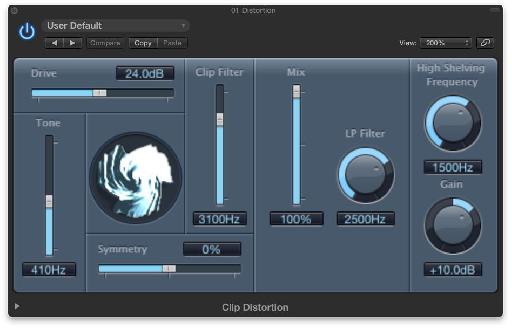 The Clip Distortion is a versatile distortion plug-in.
There's a highpass filter before and a lowpass filter after the distortion, and another lowpass filter that acts on a blend of the clean and distorted signal. This is kind of how guitar amp designers shape the quality of distortion in a particular amp design, and for the tweaker, it's a treasure trove of tools for sculpting different shades of distortion. There's even a Symmetry control, which emulates the tendency of some circuits to clip one side of the wave (positive or negative) more than the other, for another specific distortion quality. Clip Distortion is actually a cool little plug-in for those who like to experiment'"you can approach the different distortion qualities of various pedals and amps with a little creative tweaking.
The Distortion II plug-in is a specific model of the amplifier circuit in a Leslie speaker cabinet.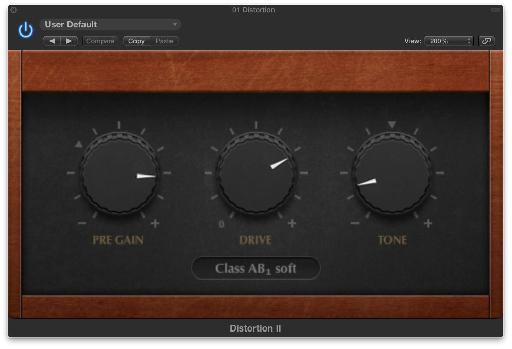 Get that classic Hammond B3 growl with the Distortion II plug-in.
The Leslie was (is) known for its sublime grind, not only on its usual companion, the Hammond B3, but on other instruments as well. This plug-in simulates not only the overdrive characteristics, but also the coloration of the cabinet/speakers (though not the spinning part'"you can get that from another plug-in, in the Modulation section). There's an option for the classic Leslie overdrive (labelled 'Growl'), and some other, edgier choices. My favorite (a new option in Logic X) is a simulation of 6550 tubes (a classic guitar-amp tube) in AB (push-pull) mode. The 'Soft'overdrive position, in particular, sounds good on organ, guitar, bass, and anything else I've thrown at it.
The main course
But when it comes to distortion in Logic, the main event has to be their full-blown amp & pedal simulators, Amp Designer (guitar amps), Bass Amp Designer, and Pedalboard. Amp Designer models over a dozen classic and modern amps, including mix & match cabinets, and various mic simulations, continuously adjustable for position.


Replicate the sound of famous guitar amps with the Amp Designer plug-in.
Amp Designer'"Bypassed, then with a slight edge (Vox with Ribbon Mic), then distorted (Marshall with U87):
It's easily a match for any of the 3rd-party bundles out there, and while the amps aren't named specifically, the original models should be a snap to deduce from the graphics for each different amp. Amp Designer, like other 3rd-party amp sims, responds dynamically to the input signal, so if the gain is set at the amp's 'sweet spot' (where it just starts to distort), the player can control the amount of grit applied by performance dynamics, just as he/she would with the real thing. This is a key aspect of any simulated amp/distortion plug-in, and this one doesn't disappoint.
On hand are simulations of classic amps, including Fender, Marshall, Vox, Mesa Boogie, Hiwatt, Silvertone, and Orange, as well as modern boutique amps like Matchless, and a couple of high-gain models. All the relevant cabinets are available, and the modeled mic choices include SM57, 421, U87, 414, RE20, and a Ribbon.
When it comes to the controls, amp simulators usually go one of two ways. They can match the layout, calibration and response of each knob to exactly what you'd get on the real amp, or they can have a consistent set of controls for all the different amp models'"Logic went the second way. If you're intimately familiar with a particular model, you may find this less appealing'"though the range of effect does change from model to model, the same setting on the sim won't dial up the same effect as on the real deal, and you have to spend a little time finding the range of each control that's consistent with what you may be familiar with from the physical amp. On the upside, a consistent set of controls across all the models makes it easier to audition different amps, hearing the same settings on each model, if you're trying to find the best match for a particular part or track. I set up my own presets for each amp model to give myself a starting point that most closely matched my sense of the characteristic sound of each amp, and it's been very easy to work with.
Bass Amp Designer does the same for bass as Amp Designer does for guitar.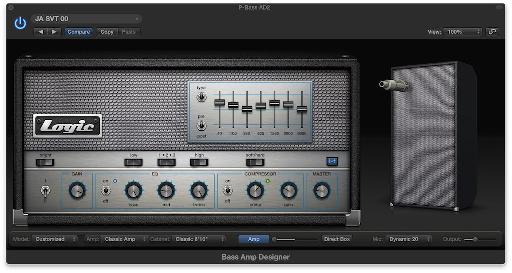 Bass players are not left out'¦ Logic includes the Bass Amp Designer plug-in.
Bass Amp Designer - Bypassed, then through SVT with 8x10 cabinet, w EV RE20 mic:

There are fewer models, but they cover the bases'"again, unnamed, but it's obvious they're based on an Ampeg B-15 flip-top and an SVT, along with a modern amp, and a simulated DI that can be blended with the amp, with the blend saved in a patch (a nice touch).
The side dishes
Pedalboard is a collection of guitar pedals'"not just distortion, but all sorts of effects, like phasing, flanging, chorus, and others. For distortion, there are a dozen colorful pedals, each with a distinctive distortion characteristic, and a set of controls with a unique response.


Pedalboard: from subtle drive to chainsaw, the choice is yours!
Pedalboard - Various Distortion Pedals (in the order pictured above):
Once again, the originals modeled are not named, though some are obvious'"Happy Face Fuzz is clearly a take on the Fuzz-Face, of Hendrix fame, for example. If you're well versed in the sounds (and the appearance) of the various real pedals, you should be able to suss it out, in case a musician or producer is looking for the sound of a particular pedal and you want to be able to dial it up as quickly as possible. The sounds cover everything from the classic fuzz of bipolar and germanium transistors (Grinder and Happy Face Fuzz), to FET (Vintage Drive), to subtle boost (Hi-Drive), to tube simulation (Tube Burner). Each pedal has a highly distinctive character, and most have something interesting to say at a range of drive levels from subtle edge to full chainsaw.
The wrap-up
Now, remember, while these distortion effects may have been designed primarily with guitar (and bass) in mind, they're all adaptable for use on just about any instrument (or vocal!)'"you'd probably dial back the drive a bit, although eputting a real grind to an instrument that isn't usually distorted by design can be a real eye-opener.
Either way, there's no shortage of choice when it comes to distortion in Logic Pro X, and you should be able to find just the edge you need, no matter what the musical style. Now get out there and start mangling those tracks.