Flex Pitch in Logic Pro X can be used to correct imperfect melodic recordings, or help you transcribe recorded audio parts. You can also use it to double up an instrument and Toby Pitman shows how.
Flex Pitch in Logic Pro X is Apple's take on Melodyne if you will. It works pretty well too! It's also handy for converting audio to MIDI. This has a number of applications from doubling recorded parts with Virtual Instruments (dealt with here) to quick and easy transcribing of audio parts and notating them in the score editor. You might even want to TAB your guitar parts too!
Here's a quick tip for doubling a recorded guitar part with some other instruments. It's handy if you're not the greatest keyboard player (like me!).
Step 1 - Record a part
So I've recorded a guitar part in Logic. Here's the line.

Step 2 - Flex Pitch It!
Turn on the Flex view button for the tracks. Select Flex Pitch from the drop-down menu on the track.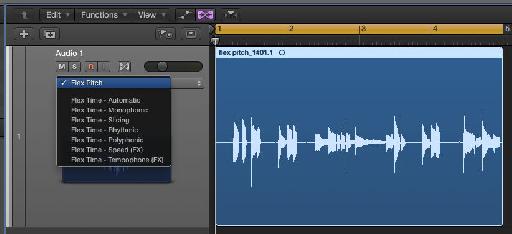 Double-click the region. This should take you to the Track view in the Editor section. Here you should see the Flex Pitch data. The analyzed notes will show up on a Piano Roll. Most of the time Logic will do a pretty good job of getting this right if the audio is clean and in tune.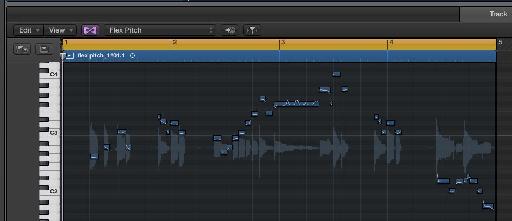 You may just want to check it over to be sure. You can always split any note with the Scissor tool if it hasn't caught any quick notes which it may perceive as vibrato.

Step 3 - Convert To MIDI
Make sure the Region is selected in the Arrange page. In the Track Edit window choose Edit > Create MIDI Track From Flex Pitch Data.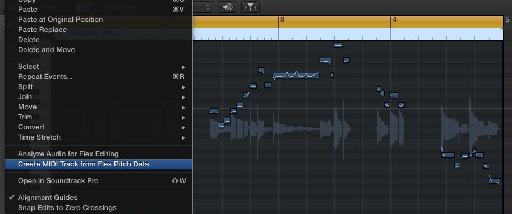 Logic will create a new Software Instrument track with a MIDI version of the Flex Pitch notes.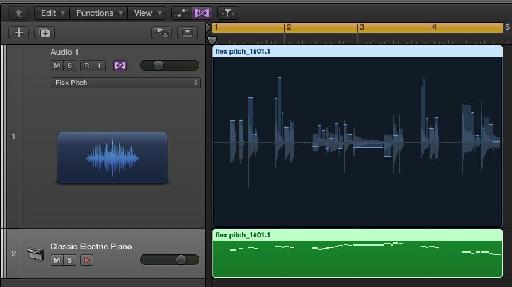 You can see them here.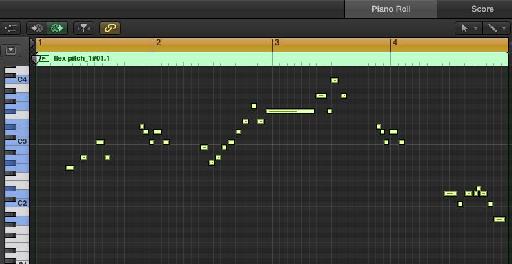 Here's what it sounds like. Not a bad job!

Here's what they sound like together:

Step 4 - Add some more Layers!
You can add some more layers to the sound by simply making a new track and copying the MIDI. Here's the same thing with an Organ on top.


Now you have a quick way to extract MIDI from audio using Flex Pitch.

Pros And Cons
The only drawback is that no dynamics are captured but a bit of MIDI editing can sort that quickly.

The advantage over the old Audio To MIDI function is that you can see what you're getting before hand. It also takes some of the guess work out of setting up the right modes and parameters. As Flex Pitch is designed to analyze pitch, it does a better job at getting it right first time. From here you can go to the Score editor and print out the part too! Easy!