When Logic Pro went 64-bit many people rejoiced. But the potential to load more samples into RAM brought a downside... the export audio back to video was broken. Peter Schwartz explores workarounds.
Logic-based film composers rejoiced when Logic Pro became 64-bit capable, for it meant that large orchestral sample libraries could be loaded into RAM well in excess of the 4 gigabyte limit we faced running Logic as a 32-bit application.
But this increase in capability came with a steep price: in 64-bit mode, we lost the ability to export audio back to the movie file. There is a critical need for this, as it's routine for a composer to send the director a 'presentation movie' of a scene which includes the audio track of their newly written or revised music cue for feedback.
While this function still works in Logic in 32-bit mode, it's entirely impractical to switch between 32- and 64-bit modes. How, then, are composers supposed to fill this critical need? Answer: workarounds, and fortunately there are a few.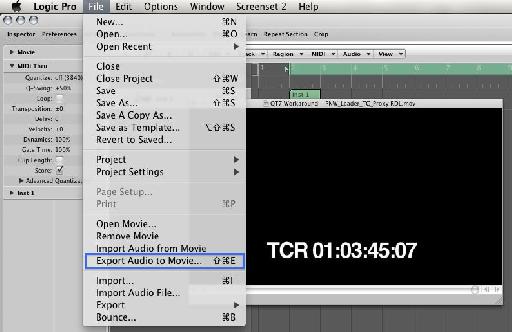 Figure 1: Export Audio to Movie function, only available when running Logic Pro in 32-bit mode.
WORKAROUND #1: Dual Logic Systems
The easiest solution is to have Logic installed on two computers. And per the Apple end-user license agreement, you're allowed to run one copy on a desktop/tower model, and another on a laptop, so no problem there.
With this method, you'll compose on your main (desktop) system with Logic running in 64-bit mode. On your laptop system, you'll have Logic running in 32-bit mode in which the Export Audio to Movie function still works.
After bouncing your cue on your main rig, copy that audio file to your laptop, on which also lives a copy of the movie file. Now you can lay up your 2-mix in a fresh Logic project synced to picture and use the Export Audio to Movie to create the presentation movie.
Or, perhaps better yet, create a special version of your cue's project file made suitable for quick and painless loading in 32-bit mode by stripping out all instruments, 3rd party plug-ins, and audio files except for your bounced cue. Bring that project over to your laptop and create your presentation movie.
If your computers are networked, copying files between two systems is a piece of cake. You can also transfer files from one system to the other via Airdrop (if your computers support it) or, in a worst-case scenario, via a thumb drive.
If you're not able to run two systems, you can still create presentation movies as detailed in the next workaround.
WORKAROUND #2: Creating Presentation Movies in QuickTime Pro
Synopsis: with this single computer method, you'll print your cue in Logic. Then, in QuickTime Pro (QuickTime 7) you'll lay the audio up against picture and export your presentation movie.

QuickTime Pro App.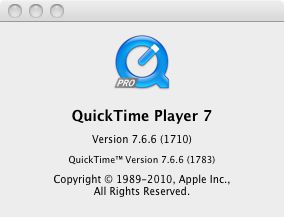 Though the app's name is 'player', accessing the about box reveals that it's actually the Pro version.

Note: QuickTime X can't be used for this purpose because it doesn't offer the necessary editing features of QuickTime 7. Fortunately, QuickTime 7 is included on the system disks that came with your Mac. In the event it's not, download it from Apple here: http://support.apple.com/kb/DL923
Before We Continue'¦
If, in your Logic project you haven't offset the movie sync point, and you're bouncing your cue right from bar 1 beat 1, you can skip right to section below, Creating the Presentation Movie in QuickTime Pro. Otherwise, read on.
Syncing Up
It's imperative that your picture has burned-in timecode (BITC) so you can identify '" both in Logic and in QT7 '" the exact frame to which you'll eventually align your cue's audio file against picture in QT7. Most production houses provide composers with QT movies rendered with a burn-in (i.e., a 'work print') so this shouldn't be a problem in most cases.
Preparing to Bounce Your Cue
Here we'll follow the usual steps for bouncing out an audio file: setting the left and right locators, turning on cycle mode, and bouncing the cue.
Setting the right locator is easy enough and I suggest you do this first. But setting the left locator is going to take a little more work.
Setting the Left Locator (Coarse Setting)
Begin by making an executive decision about where your presentation movie will start. Perhaps you'll want to start the movie at the very beginning of your cue, right on the downbeat. Or you might want to include some pre-roll to set up the scene. Wherever you decide to start your scene, set the left locator to that position, turn Cycle Mode on, and hit Stop 2x to set the playhead to the same position as your left locator.
Now write down the timecode number shown in the picture's timecode burn-in. Yes, really, write it down (you'll thank me later) and remember to use picture's timecode, not the timecode shown in Logic's timecode counter.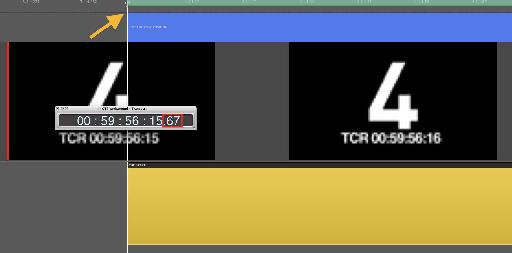 Figure 2: Initial setting for the Left Locator. The red line incidates the 'leading edge' of the frame of picture our cue starts in.
In the example shown in Figure 2, I've set my left locator to be right at the start of my cue, the downbeat of bar 4 as indicated by the yellow arrow. (Coincidentally, this cue starts at the 4 second mark in the leader).
Note that while picture's BITC displays a timecode of 00:59:56:15, Logic's own timecode counter shows that the left locator (the point from which we're going to bounce the cue) is actually set 67 Bits into that frame. (Logic sub-divides each frame into 80 Bits). But having the left locator start more than ½-way through the frame is not ideal because in QT7 '" where we'll eventually align our cue's audio file with picture '" we'll come to find that the QuickTime player's playhead can only be positioned at the very beginning '" or leading edge '" of any given frame. So to ensure absolutely perfect sync of your cue's audio file at the start frame for your presentation movie, we need to bounce the cue in Logic from a left locator position that coincides with the leading edge of the frame as well.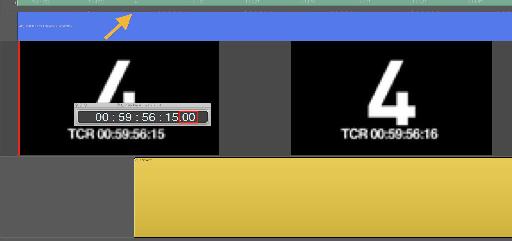 Figure 3: Left Locator positioned to be slightly earlier than bar 4 (yellow arrow) to be in-line with the frame's leading edge (red line).
Fine-Tuning the Left Locator to the Frame's Leading Edge
Click and hold on the Bits value in Logic's transport, and very slowly drag it down until you just see the previous frame's picture appear. Now very slowly drag the Bits value in the opposite direction until you just see the desired start frame pop into view. Release the mouse and set your left locator to this position. TIP: Use the key command Set Left Locator by Playhead
Now we're ready to bounce our cue and make our presentation movie in QT7.
Creating the Presentation Movie in QuickTime Pro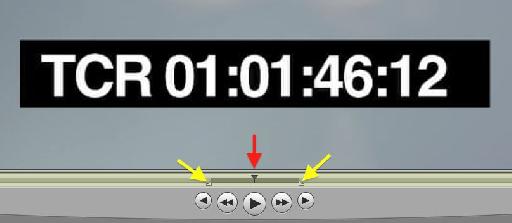 Figure 4: Details of the QuickTime Pro transport. Red arrow indicates the Playhead. Yellow arrows indicate the In and Out point 'handles'. Each can be nudged frame by frame with the left and right arrows on your computer keyboard.
Step #1: Open the movie file in QT7. Easy!
Step #2: Isolate the Scene. Using picture's BITC as your guide, adjust the In & Out points to isolate the scene you want to present from the rest of the movie. Then, use the Trim To Selection function to make it so.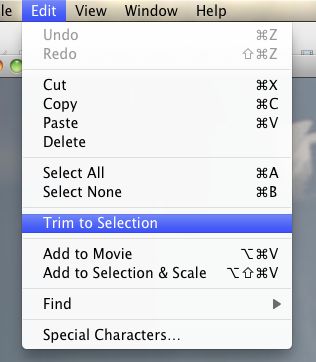 Edit > Trim to Selection.
Check playback. If you made a mistake and clipped the beginning or end of the scene, hit Undo and try again.
Step #3: Set the playhead to the start frame for your scene. If in the previous step you trimmed the scene tight to the start frame of your presentation, set the playhead to the top of the movie as well; you should see picture display the BITC for that frame. Otherwise, locate that frame by moving or nudging the playhead with the left and right arrow keys until you see it appear in the player.
Step #4: Open your cue's audio file In QuickTime using File > Open File'¦ The audio file will appear in its own player. Now hit Command-A (select all) followed by Command-C (copy) to place your cue's audio in the clipboard.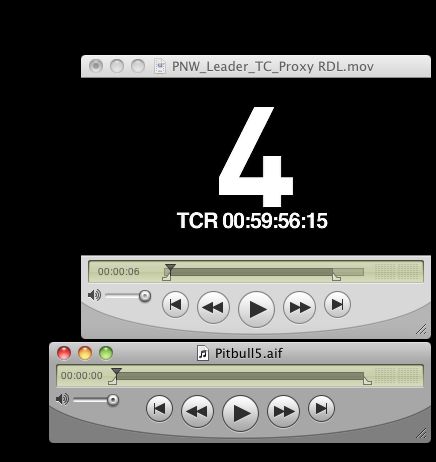 Figure 5: Movie file and bounced audio players in QT Pro.
Step #5: Add the audio to the movie, but be sure to follow these directions exactly (the usual Command-V paste function is not applicable here): select the movie window by clicking on the movie's window header and use the Add to Movie function (Option-Command-V). And'¦ VOILA! You have added your cue to the scene!
Final Steps
Open the movie's Properties window (Command-J) and delete the old Sound Track (dialog, temp music) as necessary.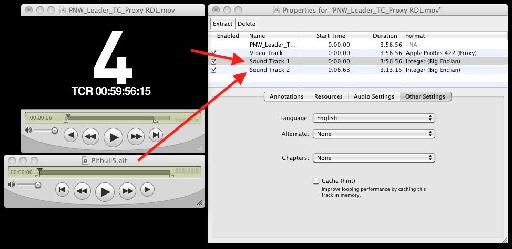 Figure 6: The Properties window for the QT movie after adding the cue. 'Sound Track 2' is our cue. 'Sound Track 1' is the original audio file (select and delete).
Finally, use either the Save As'¦, Share, or Export functions to output your presentation movie, but take care to save it under a new name. Hitting Command-S will overwrite your original movie file!