Get down and dirty with GW Childs as he explores the simpler side of synth programming of Logic Pro's ES M. Starting with a clean, pure bass he shows how to add some grime!
I have many synthesizer virtual instruments to choose from in my line of work. It's a perk that I enjoy, doing what I do. And, I love them all. Some of my synths, like the Razor, or even Thor, enclosed in Reason, are a little more on the complex side, and do some very amazing things with sound. Others are a little more simplistic, and that's okay, sometimes simple is really all you need.
One synth that I find myself coming back to all the time is one synth that leaves some people scratching their heads. Why? Because it's the littlest synth in Logic Pro, but, in my opinion, it's one of the hardest workers, and never fails to come through for me. This synth, as the title above mentions is the ES M.
If you're new to synthesis, the ES M couldn't be a better synth to start playing around with, as it is highly simple, and generally, it excels at basses.
For this quick tutorial, let's take a quick look at making a bass with the ES-M.
Step 1 - Choose a Starting Preset
For whatever reason, the Logic guys never really included a real initialized patch for the ES M. That's okay, go ahead and choose the '˜Clean Bass' preset. It's clean, and doesn't have too much going on. It will be easy to spice this up.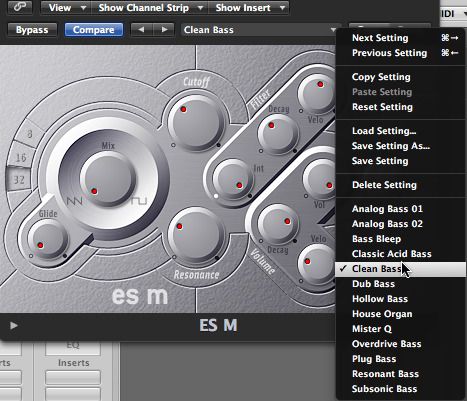 Now that we have a starting point, let's play...
Step 2 - Oscillator Setup
You'll notice that the oscillator '˜Mix' knob is currently set to the sawtooth waveform, it's the little jagged line on the left. If you turn the Oscillator Mix knob to 11 o'clock, you'll hear a slightly lower tone mixed with the sawtooth. This is the square waveform playing slightly in the background. By moving the mix knob over a little, you can really hear that the square wave is one octave lower than the sawtooth, and depending on what octave you're playing in, you may find that it's too low.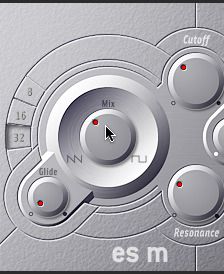 If, in your preferred octave, the playback isn't quite right, try adjusting the Octave buttons, 8,16, 32. 8, being the higher octave (the number represents an organ pipe length), 32 being the lowest octave.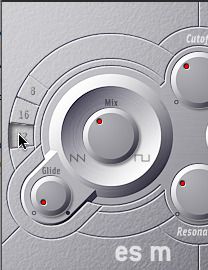 I'm keeping my octave button at 32. I like the low growl that's added.
Step 3 - Filter
Here's where things get fun. Adjust the Decay knob in the filter section to about 2 o'clock...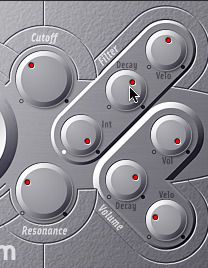 This Decay knob controls the decay for the filter envelope of the ES M. The bigger the decay value, the longer it takes for the filter to open and close, once a key is pressed. The original preset was very '˜blippy'. This makes it a hair more aggressive. But, wait! We aren't done yet!
Step 4 - Overdrive
Overdrive makes everything crunchier and dirtier. Actually, Overdrive is a form of Distortion, which has famously made electric guitars the overused element found in every genre from country to adult contemporary. By raising this knob, we're are pushing the output, but adding in that distorted grit that makes the bass stand out and say, 'Im a bad ass...!!!'
'¨Try turning up the Overdrive knob to 10 o'clock... not 11!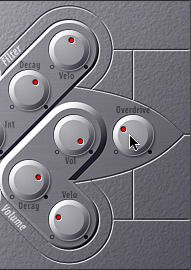 Now, let's hear the before...
and after...
See? With just a slight adjustment, the ES M comes through like a champ, giving off a bass tone that's not only sick, but capable of some nice low-end and melody. And, it took no effort whatsoever! Give it a shot, especially if you're really having a hard time wrapping your head around the whole synthesis thing.