Logic Pro has some excellent scoring to movie features'¦ David Earl demonstrates how to set up a project to spot to cues for an efficient and easy to navigate composing workflow.
It wasn't so long ago that when we were composing to film, we would receive a DVD in the mail from a director, and we would somehow have to rip and import the movie into Logic. These were hilarious times, considering just how much flack the general public was getting for ripping DVDs.
These would result in lo-o-o-o-o-ong Logic sessions that would end somewhere out in the belt of Orion, and we'd put our picture start somewhere around bar 6, (which would equal 1:00:00:00 - where the movie actually starts), and a session start of 00:59:50.
The spotting sheet we get from a director has some important information: Where our cues should start, where they end, and sometimes they even do the math for us and tell us how long the cues are.
To work efficiently in Logic, we should consider splitting our project up into cues. It is a huge pain to start composing somewhere in the middle of a giant Logic project. We want our cues to start at bar one, no matter where we are in the film.
The issue is, if we line everything up, and then say '˜hey bar 1, let's make your timecode 01:04:00:00 the audio that we imported from the movie goes out of sync!
This is because Logic can only let projects go -8 measures before Bar 0. The audio will not go further back before bar 1.
I have a workaround, though. And it's pretty easy.
Step 1
Go to Logic's Project Settings, and set the synchronization:
Set the frame rate to match the quicktime movie to be imported

Set Bar 6 to be 01:00:00:00
This will allow a little pre-roll, and if the production house or director needs a 2-pop sound 2 seconds before the start of the film, we're covered.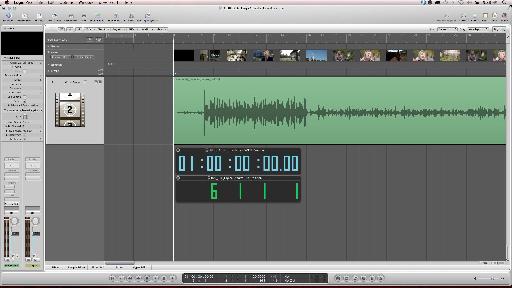 Step 2
Make sure the movie starts at 01:00:00:00 in the Video Project Settings.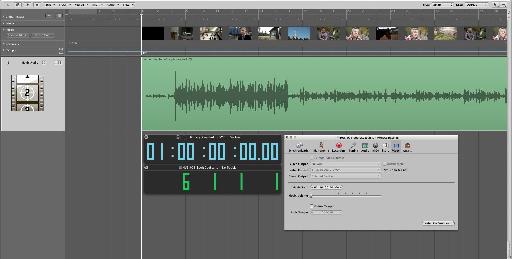 (You can get the giant SMPTE and bar display by Control-clicking the tempo area of the transport bar)
Step 3
Import the audio from the movie; File > Import Audio from movie.
Step 4
Save this project as the template you will be returning to. After saving it as template, then perform a '˜save as...', and name this project by the cue we are working on... in this case, I'd likely call it R1_C1_Gladys. This means '˜Reel 1, Cue 1, Gladys'. A reel is a reel of film. This would be the first reel of film.
Step 5
Unlock the Audio's SMPTE position. This is under Region > Unlock SMPTE Position.
Step 6
We'll pretend that the director wants our cue to start at 01:05:30:00. Double-Click the SMPTE display in the Transport bar and enter 01:05:30:00.
Step 7
Select the audio region, and cut the audio at the playhead.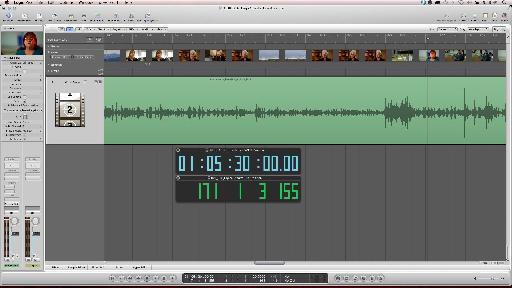 Step 8
Delete all of the audio to the left of the playhead. Re-lock the region that is left to SMPTE position.
Step 9
In Project Settings, have bar 1 start at 01:05:30:00.
Enjoy writing our new cue from bar 1! Using SMPTE offset, we can also choose the offset to reflect bar 1 as 00:00:00. This way we can keep the length of the cue under control.
I just helped a fellow composer with this a couple of days ago. I hope you can use it as well!