If you are a Logic user you may want to audition your finished projects in iTunes, or perhaps you need to make playlists to burn and distribute. Regardless of the reason you will need a streamlined te
إذا كنت مستخدما المنطق قد ترغب في الانتهاء من الاختبار مشاريعك في اي تيونز ، أو ربما تحتاج إلى إجراء العازفين لحرق وتوزيعها.
بغض النظر عن السبب سوف تحتاج إلى تقنية مبسطة لنقل المواد الخاصة بك في أشكال مختلفة بين التطبيقين. لحسن الحظ ، تحتوي على منطق النظام الذي يسمح لك أن تفعل هذا.
Read on to learn how...

1 -- المشاريع المصدرة للمنطق الخاص
وسيكون للمستخدمين العديد من المنطق أن تكون على دراية بعملية تصدير مشاريعهم لكن بالنسبة لبعض المبتدئين قد يكون شيء ما لا يزال يسبب نوعا من الارتباك. أساسا ما تقومون به هنا هو تقديم كافة المسارات النشطة في المشروع في ملف واحد.
وهذا يمكن أن تكون مفيدة لمشاريع كذاب كامل في ملف واحد ستيريو لاتقان أو التوزيع ، أو ربما كنت بحاجة لترتد الجزء الذي يحتوي على عدد كبير من الآثار معالجة عليه. وهذا يمكن أن تصل النفقات العامة الحرة والحفاظ على وحدة المعالجة المركزية عموما مشاريعك واضحة ومرتبة. ثم يمكن تصدير هذه "ينبع" تمريرها إلى فنانين آخرين لريمكس أو زيادة الانتاج.
نافذة تصدير يضم عددا كبيرا من الخيارات ويسمح للمستخدم لتهذيب بالضبط ما يحدث للصوت كما هو أصدرته. سوف نلقي نظرة على الشكل و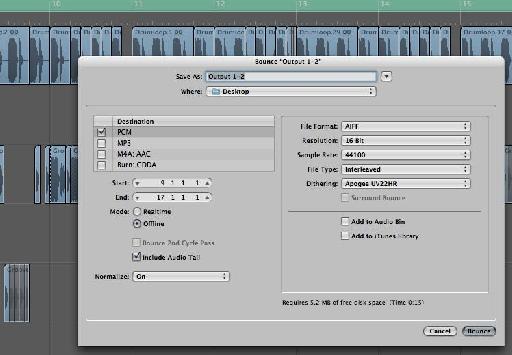 لمزيد من التفاصيل حول الميزات الأخرى في إطار الحوار وترتد على تصدير من المنطق بشكل عام تحقق من هذا البرنامج التعليمي...
2 -- اختيار الشكل الصحيح والمقصد
حالما يتم الانتهاء من المشروع الخاص بك وأنت في الإطار ترتد سوف تحتاج إلى التركيز على شكل ما كنت أود أن أحيل الى اي تيونز. القرار الرئيسي لجعل هو ما إذا كنت تريد استخدام الصوت مضغوط أو غير مضغوط؟
غير مضغوط هو ، بطبيعة الحال ، وارتفاع الجودة ويوفر أفضل تجربة الاستماع ولكن دفع قبالة هو أن الملفات سوف تكون أكبر بكثير في الحجم. إذا كنت ترغب في المضي قدما في هذا الخيار وسوف تحتاج إلى اختيار "PCM" ضمن القائمة الوجهة. يمكنك ثم المضي قدما واختيار الموجة أو AIFF في المكان المعتاد لهذا الحق.

عندما يتعلق الأمر باستخدام الملفات المضغوطة يمكن أن تذهب لتنسيق MP3 التقليدية. لأنها لا تزال تستخدم على نطاق واسع ويقوم بعمل جيد جدا ولكن خيارا أكثر تعليما سيكون AAC أو M4A. هذا هو الشكل الذي يعمل بشكل جيد جدا في تركيبة مع اي تيونز ، ويقدم عادة أعلى بكثير من جودة تشغيل MP3 ، مع أحجام ضغط مماثل.

Remember, that if you want to experiment with a few different formats you can actually choose more than one file type to export. Once you have chosen your formats be sure to tick the '
Add to iTunes library
', this will ensure the results are sent straight to iTunes.
3 -- تمثيل المشروع الخاص بك مرة أخرى في اي تيونز
مرة واحدة ويتم تصدير جميع الأعمال الخاص وتضررت ترتد على الزر ، ستشاهد شريط تقدم اي تيونز وسوف تفتح تلقائيا. وهناك قائمة تشغيل جديدة من أحرز يسمى "المنطق" ، ونتائج ترتد الخاصة بك وسوف يكون في هناك.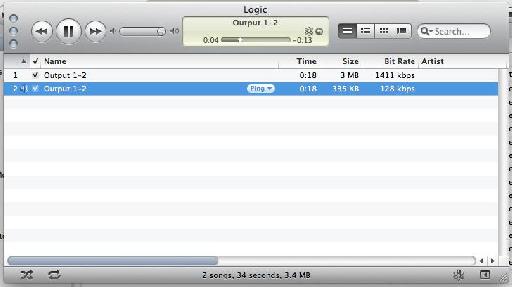 أتذكر عندما يلعب الصوت مرة أخرى في برنامج iTunes إذا كنت تريد أن تسمع نتائجك نقي تماما ، ستحتاج للتأكد من أن يتم تشغيل كل من EQ الداخلية ومحسن الصوت الخروج. إذا لم يكن قد فكر في نهاية المطاف عملك يبدو أفضل مما هو عليه حقا!

وترتد على مشاهدة هذا البرنامج التعليمي لأساسيات كل ما في والمنطق ، من الحصول على الانتهاء بدأت المنتجة والمصدرة للأغنية!