If you are a Logic user you may want to audition your finished projects in iTunes, or perhaps you need to make playlists to burn and distribute. Regardless of the reason you will need a streamlined te
Wenn Sie einen Logic-Benutzer sind können Sie wollen Ihre fertigen Projekte in iTunes Vorsprechen, oder vielleicht Sie brauchen, um Wiedergabelisten zu brennen und zu verteilen.
Unabhängig von der Ursache müssen Sie eine optimierte Technik für die Übertragung Ihrer Material in verschiedenen Formaten zwischen den beiden Anwendungen. Glücklicherweise enthält Logic ein System, dass Sie nur dieses allein tun kann.
Read on to learn how...

1 - Exportieren Sie Ihre Logic-Projekte
Viele Logic Anwender bereits vertraut sein mit dem Prozess der Export ihrer Projekte, sondern für einige Anfänger kann es etwas, das noch führt ein wenig Verwirrung. Im Grunde, was Sie hier tun, ist das gesamte Rendering der aktiven Spuren in Ihrem Projekt in einer einzigen Datei.
Dies kann nützlich sein für das Aufprallen ganze Projekte in einer Stereo-Datei für das Mastering oder Verbreitung, oder vielleicht müssen Sie einen Teil, der eine große Anzahl von Effekten Verarbeitung hat bounce. Dies kann frei CPU-Overhead und in der Regel halten Sie Ihre Projekte übersichtlich und aufgeräumt. Diese exportierten "Stiele" können dann auf andere Künstler remix oder der weiteren Verarbeitung übergeben werden.
Die Export-Fenster befindet sich eine ganze Reihe von Optionen und erlaubt dem Benutzer, eine Feinabstimmung genau das, was die Audio geschieht, wie es gemacht wird. Wir werden einen Blick auf das Format und die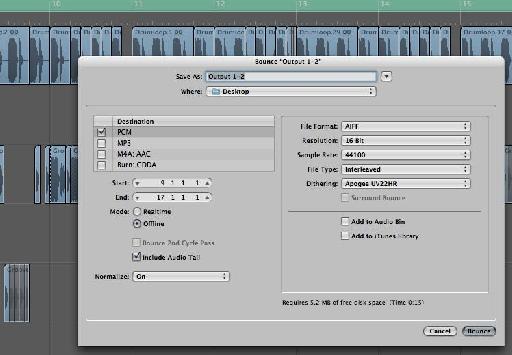 Für weitere Einzelheiten zu den anderen Funktionen in der Bounce-Dialog-Fenster und auf den Export von Logic im Allgemeinen lesen Sie in diesem Tutorial ...
2 - Wahl des richtigen Formats und Ziel
Sobald Ihr Projekt fertig ist und Sie sind in der Bounce-Fenster müssen Sie das konzentrieren, was Format, das Sie möchten, um iTunes zu übertragen. Die wichtigsten Entscheidung zu treffen ist, ob Sie komprimiert oder unkomprimiert Audio nutzen möchte?
Uncompressed ist natürlich, höhere Qualität und bietet die beste Hörerlebnis, aber die zahlen sich aus, dass die Dateien werden viel größer. Wenn Sie fortfahren mit dieser Option möchten, müssen Sie "PCM" unter dem Ziel-Menü wählen. Sie können dann gehen Sie vor und wählen Sie WAVE-oder AIFF in der gewohnten Stelle auf der rechten Seite.

Wenn es um die Verwendung von komprimierten Dateien kommt man konnte für die traditionelle mp3-Format gehen. Es ist immer noch weit verbreitet und hat einen ziemlich guten Job, aber ein weitaus gebildeter Wahl wäre AAC-oder M4A werden. Dies ist ein Format, das sehr gut funktioniert in Kombination mit iTunes und bietet im Allgemeinen weit überlegen Wiedergabe-Qualität als mp3, mit ähnlichen Kompression Größen.

Remember, that if you want to experiment with a few different formats you can actually choose more than one file type to export. Once you have chosen your formats be sure to tick the '
Add to iTunes library
', this will ensure the results are sent straight to iTunes.
3 - Playing Ihr Projekt wieder in iTunes
Sobald alle Ihre Export-Arbeit ist getan und die Bounce-Taste getroffen wurde, sehen Sie eine Fortschrittsanzeige und iTunes wird automatisch geöffnet. Eine neue Wiedergabeliste wird der gemacht namens "Logic" und die Ergebnisse Ihrer bounce wird dort sein.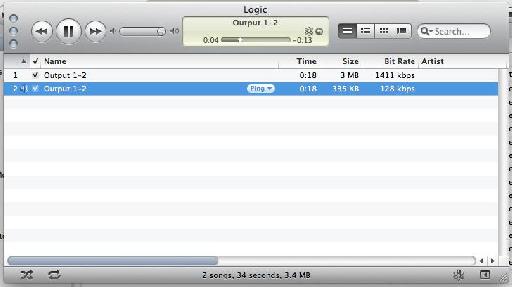 Denken Sie daran, bei der Wiedergabe von Audio in iTunes, wenn Sie hören Ihre Ergebnisse völlig unverfälscht, müssen Sie sicherstellen, dass sowohl die interne EQ und Sound-Enhancer ausgeschaltet werden soll. Wenn Sie nicht können Sie am Ende nicht zu denken Ihre Arbeit besser klingt als es wirklich ist!

Bounce vorbei und sehen dieses Tutorial für alle die Grundlagen in Logic, davor bis zum Finishing Produktion und den Export ein Lied begonnen!