If you are a Logic user you may want to audition your finished projects in iTunes, or perhaps you need to make playlists to burn and distribute. Regardless of the reason you will need a streamlined te
Si usted es un usuario de Logic es posible que desee a la audición de sus proyectos terminados en iTunes, o tal vez usted necesita para hacer listas de reproducción para grabar y distribuir.
Independientemente de la razón por la que se necesita una técnica eficiente para la transferencia de su material en diferentes formatos entre las dos aplicaciones. Afortunadamente, la lógica contiene un sistema que le permite hacer esto.
Read on to learn how...

1 - Exportar proyectos de Logic
Muchos usuarios de la lógica ya estarán familiarizados con el proceso de exportación de sus proyectos, pero para algunos principiantes puede ser algo que aún causa un poco de confusión. Básicamente lo que estamos haciendo aquí es la representación de todas las pistas activas en su proyecto en un solo archivo.
Esto puede ser útil para despedir proyectos completos en un solo archivo estéreo para dominar o distribución, o tal vez lo que necesita para recuperarse una parte que tiene una gran cantidad de procesamiento de efectos en él. Esto puede liberar carga de la CPU y en general a mantener sus proyectos claro y ordenado. Estos exportan 'cañas' se puede pasar a otros artistas para remix o una mayor producción.
La ventana de exportación, cuenta con un buen número de opciones y permite al usuario ajustar con exactitud lo que sucede con el audio como se dicte. Vamos a echar un vistazo a la forma y el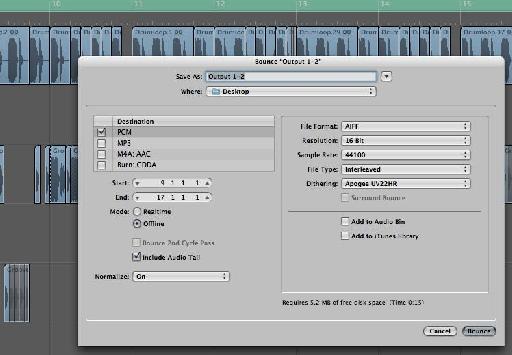 Para más detalles sobre las otras características en la ventana de diálogo de rebote y en la exportación de la lógica, en general, echa un vistazo a este tutorial ...
2 - Elección del formato adecuado y el destino
Una vez que el proyecto está terminado y se encuentra en la ventana de rebote tendrá que centrarse en qué formato desea transmitir a iTunes. La principal decisión a tomar es si usted desea utilizar audio comprimido o sin comprimir?
Sin comprimir, por supuesto, mejor calidad y ofrece la mejor experiencia auditiva, pero pagar la compensación es que los archivos serán mucho mayores en tamaño. Si desea seguir adelante con esta opción, tendrá que elegir "PCM" en el menú de destino. A continuación, puede seguir adelante y elegir WAVE o AIFF en el lugar habitual de la derecha.

Cuando se trata de usar los archivos comprimidos se puede ir por el formato mp3 tradicionales. Sigue siendo ampliamente utilizado y hace un trabajo bastante bueno, pero una opción mucho más educados se AAC o M4A. Este es un formato que funciona muy bien en combinación con iTunes y en general proporciona una calidad de reproducción muy superior a mp3, con un tamaño de compresión similar.

Remember, that if you want to experiment with a few different formats you can actually choose more than one file type to export. Once you have chosen your formats be sure to tick the '
Add to iTunes library
', this will ensure the results are sent straight to iTunes.
3 - Reproducción de sus proyectos en iTunes
Una vez que todo su trabajo de exportación que se hace y el botón de rebote ha sido golpeado, usted verá una barra de progreso y de iTunes se abre automáticamente. Una nueva lista de reproducción se ha hecho de la llamada "lógica" y los resultados de su despedida será en ese país.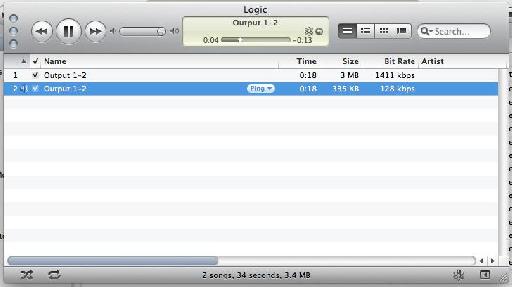 Recuerde que al reproducir el audio en iTunes si quieres escuchar sus resultados completamente adulterada tendrá que asegurarse de que tanto los internos de EQ y potenciador de sonido esté apagado. Si usted no puede llegar a pensar su trabajo suena mejor de lo que realmente es!

Rebotar una y ver este tutorial para todos los elementos básicos de la lógica, de empezar a terminar la producción y exportación de una canción!