If you are a Logic user you may want to audition your finished projects in iTunes, or perhaps you need to make playlists to burn and distribute. Regardless of the reason you will need a streamlined te
Se sei un utente Logic è possibile ascoltare i vostri progetti finiti in iTunes, o forse hai bisogno di creare playlist da masterizzare e distribuire.
Indipendentemente dal motivo per cui avrà bisogno di una tecnica semplificata per trasferire il proprio materiale in vari formati tra le due applicazioni. Per fortuna, Logic contiene un sistema che ti permette di fare proprio questo.
Read on to learn how...

1 - Esportare i vostri progetti Logic
Molti utenti Logic saranno già familiarità con il processo di esportare i loro progetti, ma per alcuni principianti, può essere qualcosa che fa ancora un po 'di confusione. Fondamentalmente quello che state facendo qui sta rendendo tutte le tracce attivo nel progetto in un unico file.
Questo può essere utile per rimbalzare interi progetti in un unico file stereo per il mastering o la distribuzione, o magari avete bisogno di far rimbalzare una parte che ha un gran numero di effetti di elaborazione su di esso. Questo può liberare overhead della CPU e, in generale mantenere i vostri progetti chiaro e ordinato. Queste esportato 'deriva' può quindi essere passato ad altri artisti per remix o ulteriore produzione.
La finestra di esportazione ospita un buon numero di opzioni e permette all'utente di mettere a punto esattamente ciò che accade per l'audio come è reso. Daremo uno sguardo al formato e la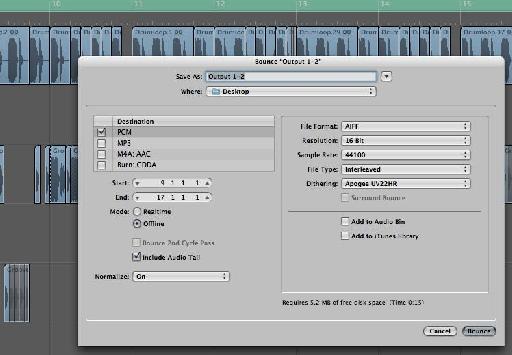 Per ulteriori dettagli sulle altre caratteristiche della finestra di dialogo Bounce e sull'esportazione da Logic in generale verificare questo tutorial ...
2 - Scegliere il formato e destinazione
Una volta che il progetto è finito e voi siete nella finestra Bounce avrete bisogno di concentrarsi su quale formato si desidera trasmettere a iTunes. La decisione principale da fare è se si desidera utilizzare audio compresso o non compresso?
Compresso è, naturalmente, maggiore qualità e offre la migliore esperienza di ascolto, ma il pay off è che i file saranno molto più grandi dimensioni. Se si vuole andare avanti con questa opzione è necessario scegliere 'PCM' nel menu di destinazione. È quindi possibile andare avanti e scegliere Wave o Aiff al solito posto a destra.

Quando si tratta di utilizzare i file compressi si potrebbe andare per il tradizionale formato mp3. E 'ancora ampiamente utilizzato e fa un buon lavoro ma una scelta molto più educati sarebbe AAC o M4A. Si tratta di un formato che funziona molto bene in combinazione con iTunes e fornisce in generale la qualità della riproduzione di gran lunga superiore rispetto mp3, con dimensioni di compressione simile.

Remember, that if you want to experiment with a few different formats you can actually choose more than one file type to export. Once you have chosen your formats be sure to tick the '
Add to iTunes library
', this will ensure the results are sent straight to iTunes.
3 - Giocare al progetto di nuovo in iTunes
Una volta che tutto il vostro lavoro di esportazione è fatto e il pulsante di rimbalzo è stato colpito, si vedrà una barra di avanzamento e iTunes si aprirà automaticamente. Una playlist di nuovo state fatte chiamato 'logica' e i risultati del vostro rimbalzo sarà in là .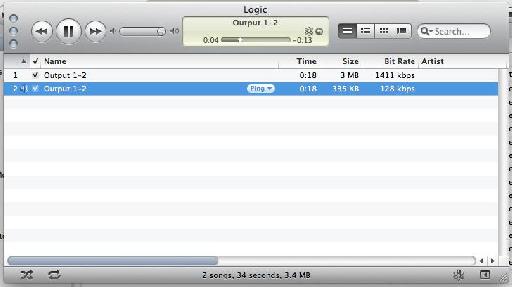 Ricordate quando la riproduzione di audio in iTunes se si vuole sentire la tua risultati del tutto genuino è necessario assicurarsi che sia l'interno EQ e Sound Enhancer è spento. Se non si può finire per pensare il lavoro suona meglio di quanto lo sia davvero!

Rimbalzo più e guarda questo tutorial per tutte le basi in Logic, da iniziare alla finitura produce ed esporta una canzone!