If you are a Logic user you may want to audition your finished projects in iTunes, or perhaps you need to make playlists to burn and distribute. Regardless of the reason you will need a streamlined te
Если вы являетесь пользователем логики вы можете прослушать ваш готовых проектов в Itunes, или, возможно, вам нужно сделать, чтобы сжечь плейлистов и распространения.
Независимо от причины, вам необходимо обтекаемый технику для передачи вашего материала в различных форматах между двумя приложениями. К счастью, логика содержит система, которая позволяет сделать именно это.
Read on to learn how...

1 - Экспорт Ваших проектов логики
Многие пользователи логики уже будут знакомы с процессом экспорта своих проектов, но для некоторых начинающих это может быть то, что до сих пор вызывает немного путаницы. В основном, что вы делаете здесь является оказание всех активных треков в ваш проект в одном файле.
Это может быть полезно для подпрыгивая все проекты в один стерео файл для освоения и распространения, а может быть, вам нужно, чтобы подпрыгнуть часть, которая имеет большое количество эффектов обработки на нем. Это может освободить нагрузку на процессор и вообще держать ваши проекты четкие и аккуратные. Эти экспортировала "стебли" может быть передан другим художникам для ремикса или дальнейшего производства.
Экспорт окна домов большое количество вариантов и позволяет пользователю настроить именно то, что происходит с аудио как он визуализируется. Мы посмотрим на формат и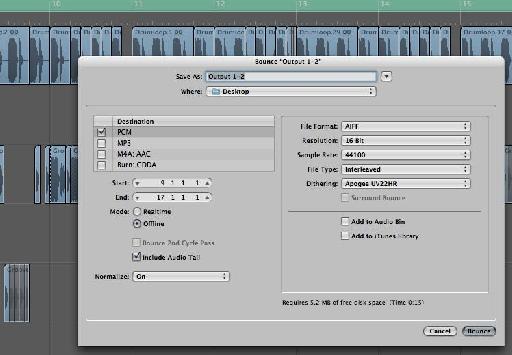 Более подробную информацию о других особенностей в диалоговом окне отказов и на экспорт из логики вообще проверить этот учебник ...
2 - Выбор нужного формата и назначения
После того как проект будет завершен, и вы находитесь в отказов окне вы должны сосредоточиться на том, что формат, который вы хотели бы передать Itunes. Главное решение, чтобы сделать это, хотите ли вы использовать сжатый или несжатый аудио?
Несжатого, конечно, более высокое качество и обеспечивает лучший прослушивания, но окупаются в том, что файлы будут намного больше по размеру. Если вы хотите идти вперед с помощью этой опции вы должны будете выбрать "PCM" в пункт назначения меню. После этого можно идти вперед и выбирать волны или Aiff в обычном месте справа.

Когда речь заходит об использовании сжатых файлов, которые вы могли бы пойти на традиционном формате mp3. Он по-прежнему широко используется и делает очень хорошую работу, но гораздо более образованные выбор был бы AAC или M4A. Это формат, который очень хорошо работает в сочетании с ITunes и в целом обеспечивает гораздо выше, чем качество воспроизведения mp3, с аналогичными размерами сжатия.

Remember, that if you want to experiment with a few different formats you can actually choose more than one file type to export. Once you have chosen your formats be sure to tick the '
Add to iTunes library
', this will ensure the results are sent straight to iTunes.
3 - Игра ваш проект еще в ITunes
После того как все экспортировать ваши работы выполняются и отказов кнопка была хитом, вы увидите прогресс бар и ITunes откроется автоматически. Новый список воспроизведения воли были сделаны называется «Логика» и результаты вашей отскок будет там.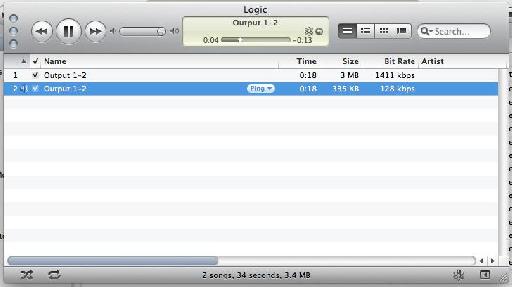 Помните при воспроизведении аудио в ITunes, если вы хотите услышать ваши результаты полностью чистейший вам необходимо убедиться, что обе внутренние эквалайзер и усилитель звука выключен. Если вы не в конечном итоге можно мышления вашей работе звучит лучше, чем есть на самом деле!

Отказов снова и смотреть этот учебник для всех основам логики, от начинающих до отделки производстве и экспорте песня!