If you have a lot of .Rex files in your library, or are just a fan of the format, you'll be glad to learn that Logic handles them pretty well.
If you have a lot of .Rex files in your library, or are just a fan of the format, you'll be glad to learn that Logic handles them pretty well. This isn't just a one click process though and there are a few options available here. Let's take a look at how the whole thing works...

Step 1 - Importing your .Rex file

Importing .Rex files into Logic Pro is much the same as importing any other audio file. You can use the same '˜Import audio..' function, or even the more direct drag and drop approach.
As long as you are importing to an audio track you should hit no issues and Logic should recognise your Rex file as a perfectly acceptable format. After this point however you will start to see some differences in the process and some new dialogue boxes will appear. We'll take a look at these next...
Step 2 - Decisions, Decisions...

The first dialogue that Logic will present you with is some information on the origin of the .Rex technology / format and some copyright info. Obviously this is incredibly useful!?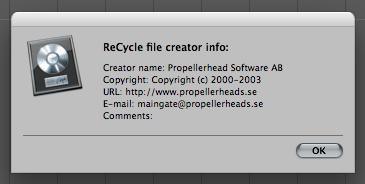 Some very interesting info about Propellerhead's Copyright
Next up you'll be given a number of options and this is pretty important stuff. Essentially Logic needs to know what to do with the individual slices a Rex file is made up of. Let's take a brief look at these options and what each of them does.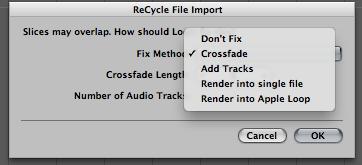 Some options will now pop up...
Don't Fix - This option will import your Rex file in its raw state, put all the slices in order and on the same track. They will overlap and you may experience some drop outs due to this overlap. Things will be tight and well timed but you may experience a few playback issues.

The don't fix option
Crossfade - This will do much the same as the option above but will actually create small crossfades to smooth the transition between the overlapping slices. This is certainly a better option but can be a little tough to edit if you are used to slicing raw audio files.

The crossfades are applied
Add Tracks - This is without a doubt the least used option in my studio. Logic will actually add a track for every slice in the file!! This could possibly be useful for Rex files with very few slices, but in most scenarios it simply creates too many files.

Slices are placed on several tracks
That said this mode will give you 100% guaranteed smooth playback, regardless of the amount of slices in your loop.

Render into a single file - An extremely useable option that renders your Rex slices into a single raw audio file. Nice and simple.


The Rex file becomes one raw audio file
Render into Apple loop - This is arguably the most transparent option here. Your Rex file will be immediately transformed into Apple's proprietary '˜Apple loop' format. This will not only give you a single, solid file but you will also retain the ability to change the tempo of the file in realtime.


... And now an Apple loop
Step 3 - Editing the Results

The method you use to edit your Rex files will really depend on the conversion mode you choose. The modes that create slices will require you to click on a '˜folder' or group part that is automatically created. This in turn will give you access to all the slices.

The folder containing all our slices
Once you have finished your edit you can click on the arrange page background and you will return to the main project.
The other modes will simply create a single consolidated part that can, in most situations, be edited in the same way as any other audio file or Apple loop.
Need a bundle more Logic tips and tricks? Check out Logic TNT2 and Logic TNT3.