While Logic Pro 9 comes bundled with a very capable Multiband Compressor it lacks the circuit types found in the standard compressor. Mike Watkinson wires up a solution using Aux channels.
Logic Pro hasnt bekam einen dedizierten Multiband-Kompressor-Plugin Rohr. Es gab einige Spekulationen, dass der gleiche Kompressor-Schaltung Typ Optionen in Logics gefunden Standard Compressor Plug-in wäre die Multipressor in Version 9 hinzugefügt werden, aber es sollte nicht sein. Vielleicht in Logic Pro X? In der Zwischenzeit können Sie bauen Ihr eigenes mit Auxiliary-Kanäle. Vielleicht ist es nicht der schnellste Weg, um ein Signal-Prozessor zu schaffen, aber vielleicht eher zu verstehen, was es gerade tut!
Die Idee hinter Multiband-Kompressoren ist, dass man verschiedene Kompressions-Einstellungen auf verschiedene Frequenzbänder gelten, und im Falle eines mit Vakuum-Schläuche oder Ventile eingebaut, jedes Frequenzband kann die Vorteile der einzigartigen Klangcharakter zu nehmen, dass diese Komponenten können einen Sound zu verleihen , vor allem wenn getrieben hart.
Erstellen eines Multiband Tube Compressor mit 3-Frequenz-Bänder:
Add three stereo auxiliary channels by clicking the '+' button on the far left of the mixer (choose the first available bus as the input, and tick the 'Ascending' box)

Set up a send to each auxiliary channel from the channel that contains the file you are mastering

Set send levels to 0dB by Option-Clicking on the send level

Add a low-pass filter to the first Aux channel (the low end signal), and a hi-pass filter to the third Aux channel (the top end signal) and set the cutoff points to taste

Add a High Cut and a Low Cut filter to the second Aux channel (the mid-range); this is in place of a bandpass filter which Logic does not provide. Set the cutoff points to coincide with those in the lo and hi-pass filters

Add Logic's Compressor plug-in to each auxiliary channel (after the filter)

Set each compressor to the circuit type of your choice (see below)

Jetzt können Sie die entsprechenden Einstellungen auf jeden Verdichter zu machen: eine parallele Kompression Ansatz besteht darin, die Schwelle niedriger gesetzt und das Verhältnis hoch ist, um wünschenswerte Verzerrungsartefakte erstellen, dann diese Mischung in die unkomprimierte Signal mit dem Aux-Channel-Output Fader.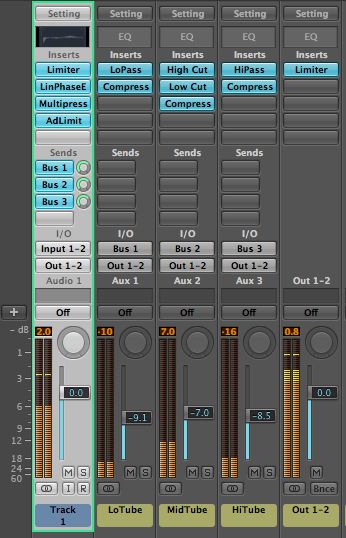 Multiband Röhren-Kompression mit drei Bands.
Als Alternative zu der Verwendung von Filtern, um die Frequenzbänder Kontrolle, könnten Sie MultiPressors als Filter (eine in jedem Aux-Kanal) zu verwenden, durch Soli der geltenden Band in jeder Instanz des Plug-in, und Einstellung der Kompressionsrate in der Multipressor auf 1:1, so dass die Kompression wird durch den Kompressor bearbeitet Plug-in statt.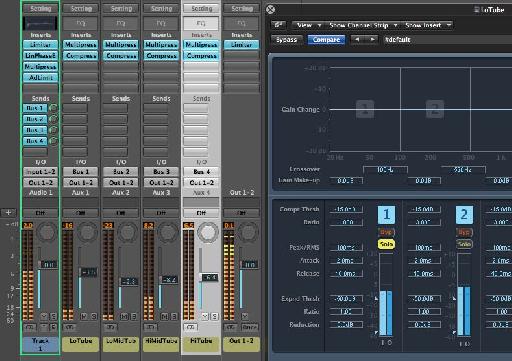 Multiband Röhren-Kompression verwenden Multipressors als Filter.
Zwar gibt es keine Informationen in Logics Dokumentation scheint es allgemeine Ãœbereinstimmung, dass der Circuit-Typen in Logics Kompressor sollen die folgenden klassischen Kompressoren emuliert werden:
Platinum: Emagic's own compression algorithm

Class A_R: Neve 2264/33609; the R is for Rupert. This would be vacuum tube style compression

Class A_U: Vari-Mu e.g. Fairchild 670/Manley. Again a vacuum tube emulation, but designed to be more transparent than the R.

VCA: DBX 160/SSL G-Master buss compressor

FET: Urei 1176 or similar

Opto: Teletronix LA2A or similar

Erfahren Sie mehr über Logic Compressor und Multipressor in Logic Mastering Toolbox und Olav Electronica Workflows Tutorial .