While Logic Pro 9 comes bundled with a very capable Multiband Compressor it lacks the circuit types found in the standard compressor. Mike Watkinson wires up a solution using Aux channels.
Logic Pro hasnt consiguió un tubo dedicado multibanda plugin de compresor. Hubo cierta especulación de que el mismo compresor de opciones de tipo de circuito se encuentran en las lógicas estándar del compresor plug-in se añade a la Multipressor en la versión 9, pero no fue así. Tal vez en Logic Pro X? Mientras tanto, usted puede construir su propio uso de los canales auxiliares. Tal vez no en su forma más rápida de crear un procesador de señal, pero puede ser más propensos a entender lo que está haciendo!
La idea detrás de compresores multibanda es que se pueden aplicar diferentes ajustes de compresión para diferentes bandas de frecuencia, y en el caso de uno construido con tubos de vacío o válvulas, cada banda de frecuencia puede tomar ventaja de las características acústicas únicas que estos componentes se pueden prestar a un sonido , sobre todo cuando se maneja con fuerza.
La creación de un compresor a válvulas multibanda con 3 bandas de frecuencias:
Add three stereo auxiliary channels by clicking the '+' button on the far left of the mixer (choose the first available bus as the input, and tick the 'Ascending' box)

Set up a send to each auxiliary channel from the channel that contains the file you are mastering

Set send levels to 0dB by Option-Clicking on the send level

Add a low-pass filter to the first Aux channel (the low end signal), and a hi-pass filter to the third Aux channel (the top end signal) and set the cutoff points to taste

Add a High Cut and a Low Cut filter to the second Aux channel (the mid-range); this is in place of a bandpass filter which Logic does not provide. Set the cutoff points to coincide with those in the lo and hi-pass filters

Add Logic's Compressor plug-in to each auxiliary channel (after the filter)

Set each compressor to the circuit type of your choice (see below)

Ahora usted puede realizar los ajustes adecuados en cada compresor: un enfoque de compresión paralela para establecer el umbral bajo y la alta tasa de creación de objetos interesantes distorsión, a continuación, mezclar estos con la señal sin comprimir con los faders de canal de salida auxiliar.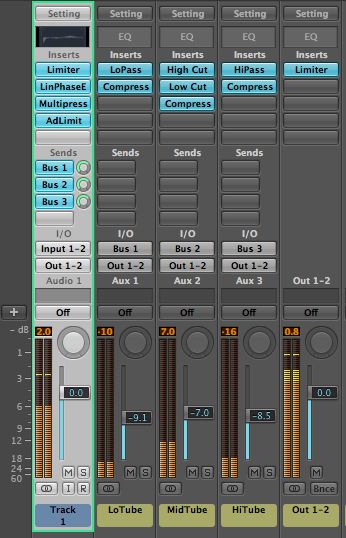 Compresión multibanda tubo con tres bandas.
Como alternativa a la utilización de filtros para controlar las bandas de frecuencia, se puede utilizar MultiPressors como filtros (uno en cada canal auxiliar), por los solos de la banda vigente en cada instancia del plug-in, y el establecimiento de la relación de compresión en el Multipressor a 1:1, para que la compresión es manejado por el compresor plug-in en su lugar.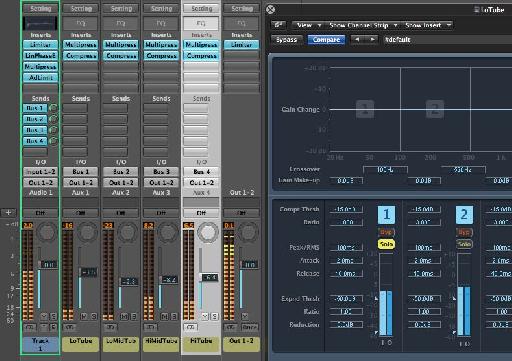 Compresión multibanda tubo mediante Multipressors como filtros.
Aunque no hay información proporcionada en la documentación de las lógicas, parece que hay acuerdo general en que los tipos de circuito en el compresor lógicas tienen la intención de emular a los compresores clásicos siguientes:
Platinum: Emagic's own compression algorithm

Class A_R: Neve 2264/33609; the R is for Rupert. This would be vacuum tube style compression

Class A_U: Vari-Mu e.g. Fairchild 670/Manley. Again a vacuum tube emulation, but designed to be more transparent than the R.

VCA: DBX 160/SSL G-Master buss compressor

FET: Urei 1176 or similar

Opto: Teletronix LA2A or similar

Descubra más sobre la lógica del compresor y Multipressor en Caja de herramientas Dominar Logic y tutorial Olav Electronica flujos de trabajo .