While Logic Pro 9 comes bundled with a very capable Multiband Compressor it lacks the circuit types found in the standard compressor. Mike Watkinson wires up a solution using Aux channels.
Pro Logic hasnt obtenu un plugin dédié multibandes Tube compresseur. Il y avait des spéculations selon lesquelles les mêmes options de compresseur du circuit type trouvé dans Logiques compresseur standard de plug-in serait ajouté à la Multipressor dans la version 9, mais il ne devait pas être. Peut-être que dans Logic Pro X? En attendant, vous pouvez construire votre propre en utilisant les canaux auxiliaires. Peut-être que ce n'est pas le meilleur moyen de créer un processeur de signal, mais vous pourriez être plus susceptible de comprendre ce qu'il est en train de faire!
L'idée derrière compresseurs multibandes, c'est que vous pouvez appliquer des paramètres de compression différents pour différentes bandes de fréquence, et dans le cas d'un construit avec des tubes à vide ou des vannes, chaque bande de fréquence peuvent profiter des caractéristiques uniques de Sonic que ces composants peuvent prêter à une saine , surtout quand conduit dur.
Créer un compresseur multibandes Tube avec 3 bandes de fréquences:
Add three stereo auxiliary channels by clicking the '+' button on the far left of the mixer (choose the first available bus as the input, and tick the 'Ascending' box)

Set up a send to each auxiliary channel from the channel that contains the file you are mastering

Set send levels to 0dB by Option-Clicking on the send level

Add a low-pass filter to the first Aux channel (the low end signal), and a hi-pass filter to the third Aux channel (the top end signal) and set the cutoff points to taste

Add a High Cut and a Low Cut filter to the second Aux channel (the mid-range); this is in place of a bandpass filter which Logic does not provide. Set the cutoff points to coincide with those in the lo and hi-pass filters

Add Logic's Compressor plug-in to each auxiliary channel (after the filter)

Set each compressor to the circuit type of your choice (see below)

Maintenant, vous pouvez effectuer les réglages appropriés pour chaque compresseur: une approche de compression parallèle est de définir le seuil bas et le ratio élevé de créer des artefacts de distorsion souhaitable, puis mélanger ces avec le signal non compressé en utilisant les curseurs de sortie auxiliaire du canal.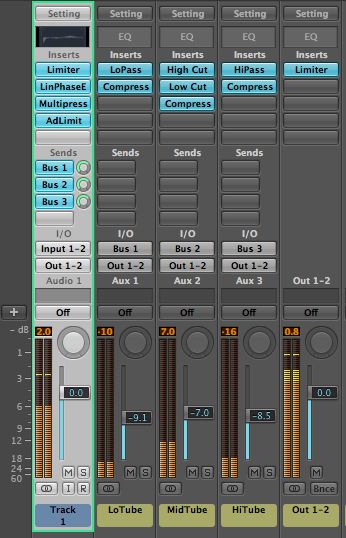 La compression multibande du tube avec trois bandes.
Comme une alternative à l'utilisation de filtres pour contrôler les bandes de fréquences, vous pouvez utiliser les filtres MultiPressors (un dans chaque canal auxiliaire), par la bande en solo applicables dans chaque instance du plug-in, et fixant les taux de compression dans le Multipressor à 01h01 afin que la compression est assurée par le compresseur du plug-in à la place.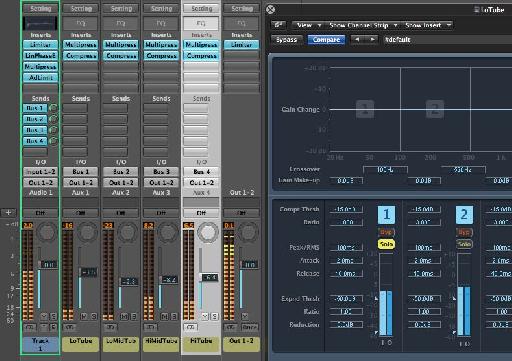 La compression multibande du tube à l'aide Multipressors comme des filtres.
Bien qu'il n'existe aucune information fournie dans la documentation de Logics, il semble y avoir un accord général que les types de circuits logiques dans Compressor sont destinés à émuler les compresseurs classiques suivants:
Platinum: Emagic's own compression algorithm

Class A_R: Neve 2264/33609; the R is for Rupert. This would be vacuum tube style compression

Class A_U: Vari-Mu e.g. Fairchild 670/Manley. Again a vacuum tube emulation, but designed to be more transparent than the R.

VCA: DBX 160/SSL G-Master buss compressor

FET: Urei 1176 or similar

Opto: Teletronix LA2A or similar

En savoir plus sur Logic compresseur et Multipressor dans Toolbox Maîtriser Logic et Olav Electronica workflows tutoriel .