It might not sound like much, but the ability to manage, organize and arrange plug-ins the way you want in Logic Pro X (10.1) is a big feature many pros have been wishing for. Here's how it works.
With the Logic Pro X 10.1 Update, you can now organize and arrange how your plug-ins are viewed in Logic. This is super helpful as now you can customize where your plug-ins sit in the plug-in viewer. This includes the bundled Logic plug-ins and third-party plug-ins. Let's take a look at the update and how it can help your workflow.
Logic Preferences
Before Logic 10.1 when you went to search for a specific plug-in to add to your channel strip it would list Logic's bundled plug-ins first in the Top Level. Then under that the Audio Unit and Logic sub'"sections.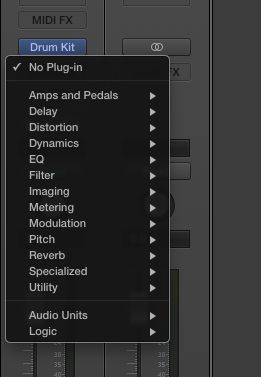 There was no way of changing this or re-organizing the plug-in list, but this has changed in 10.1. You can now go to the Logic Pro X > Preferences > Plug-in Manager to re-organize your plug-ins.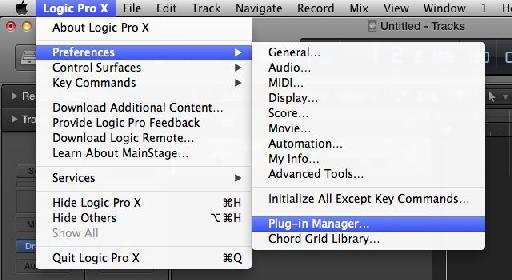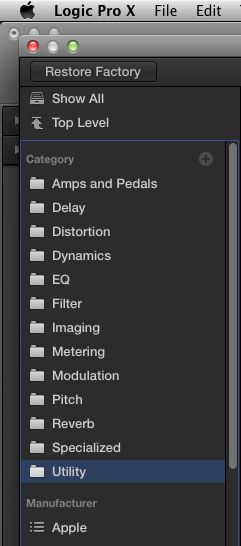 The Plug-in Hierarchy
Let's first go over the plug-in hierarchy and see how it works. On the top left, click on Show All to view a list of all the plug-ins that are installed on your Mac. Under this is the Top Level hierarchy, where you used to see all the Logic plug-ins, and then the third-party plug-ins were shown under the Top Level. But now you can choose what to show in the Top Level.
Let's add a third-party plug-in to the Top Level. At the bottom of the left pane under Top Level, you have Category (I'll go over this in the next section) and then Manufacturer. Under Manufacturer, navigate to a third-party plug-in. I'm going to my McDSP folder, and I'll drag my 6030 Ultimate Comp to the Top Level. Now when I go to add a plug-in, I'll see the 6030 Ultimate Comp now in my Top Level, making it much easier and faster to get to this plug-in.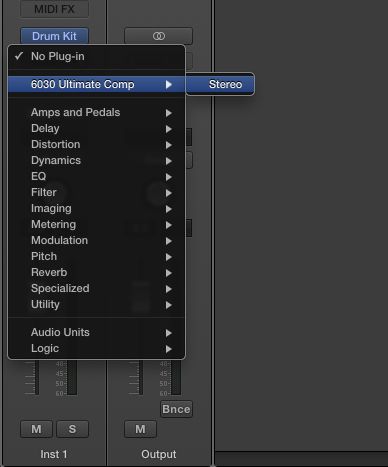 Using Categories
Using Categories, we can take it a step further with re-organizing your plug-in list. I'm now going to add the 6030 Ultimate Comp to my Dynamics folder. So do the same, navigate to the Manufacturer, and then choose a plug-in on the right window. Now drag this to the Dynamics folder under category.
Now check when you go to your Dynamics folder how it now lists the newly added compressor.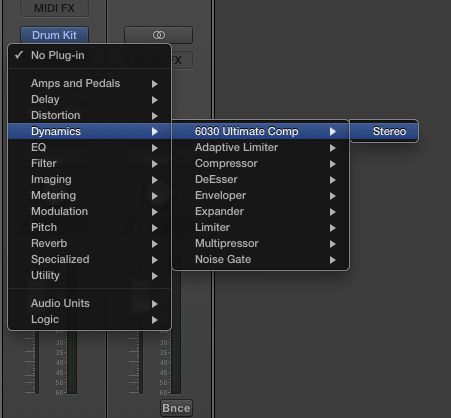 To streamline your workflow you could move all your third-party dynamic processor plug-ins into this folder, making it much easier to add the dynamic plug-in you need, instead of having to go into extra subsections to get to the third-party plug-ins. How neat is that?
If you want to remove a plug-in from a category, just right-click on its name in the Plug-in manager and select Remove. This doesn't remove the plug-in from your Mac, just from this category. So don't worry about that.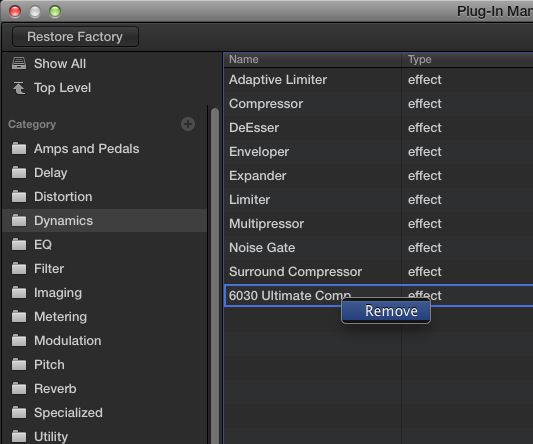 Creating Your Own Categories
Lastly, let's look at creating your own categories. I want to create a category so that I can see all my third-party synths together. Click the + sign next to the Category header and then give the folder a name, for example, Synths. Navigate to the Manufacturer section and drag the synths you want into this Synth category folder. I'm dragging Massive, Absynth, FM8, Kontakt, Sylenth1, and Zebra into this folder.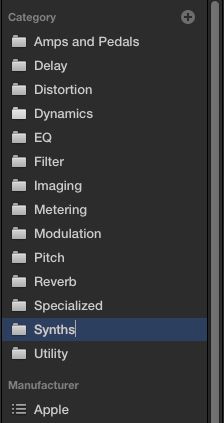 Now I can quickly jump to the third-party synths I use on a regular basis instead of having to hunt around for them. Let's add Sculpture, the ES2, and Retro Synth as well. So it now includes my favorite Logic synths and my third-party ones. I noticed that even if you drag your Logic instruments to a new category folder they don't show in the Plug-in Manager. But when you look at the list in your channel strip, they show up there.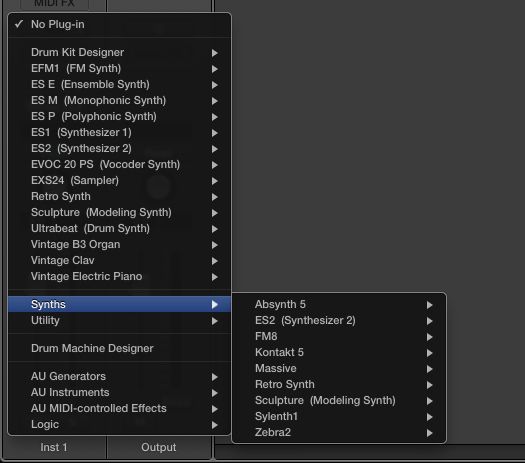 Conclusion
That's how to make use of Logic 10.1's new Plug-in Manager to re-organize your plug-ins. Now you can speed up your workflow when hunting for plug-ins and instruments thanks to these categorizing tools.