Creating your own sampler instruments from rhythmic loops can be a great way to add variety and realism to the loop. For example, if you have an audio file of a drum loop and you want to rearrange t
يمكن خلق الأدوات الخاصة بك العينات من حلقات إيقاعية أن يكون وسيلة رائعة لإضافة متنوعة والواقعية للحلقة. على سبيل المثال ، إذا كان لديك ملف صوتي لحلقة البرميل ، وترغب في إعادة ترتيب للفوز ، في الإصدارات السابقة من المنطق ، وهذا سيكون عملية يدوية للغاية وتستغرق وقتا طويلا. مطلوب الدقة والوقت لتكبير وقطع في كل عابر ، وتحويل كل المنطقة إلى ملف صوتي جديد ومن ثم تحميلها إلى أداة جديدة EXS24 العينات ، وتكليف كل ملف الصوت إلى منطقة بحد ذاته ومن ثم حفظه.... 9 المنطق يأخذ من المتاعب للخروج من هذه العملية مع تحويل جديدة لعينات جديدة ميزة المسار. ونحن نعلم جميعا أن الاستغناء عن القيام بالمهام الحياتية الوقت يعني المزيد من الوقت على الابداع والاستمتاع بالموسيقى!

الخطوة 1 -- اختر الصوت الخاص

لقد بدأت باستخدام حلقة أبل دعا Beatbox 08.caf. إذا كانت هذه هي المرة الأولى التي تستخدم في تحويل جديدة لعينات ميزة المسار ، فما استقاموا لكم فاستقيموا نوصي باستخدام حلقة الايقاعي. هذه الميزة يعمل بشكل أفضل مع الصوت مع العابرين محددة.
Drag or add your Audio loop onto an Audio Track in Logic's Arrange area.


الخطوة 2 -- ضبط العابرون

موافق. هذه الخطوة اختيارية... منطق يقوم بعمل جيد جدا لصناعة السيارات في تحليل ملف صوتي ، والبحث عن العابرين انها (القمم الرئيسية في الموجي) ، ووضع علامات عابر في هذه البقع. ومع ذلك ، وأحيانا قد المنطق إضافة علامات عابرة كثيرة جدا أو قليلة جدا لترضيك أو أنك قد ترغب في التحول من موقف علامة عابر. يمكننا أن نفعل كل هذا في محرر نموذج.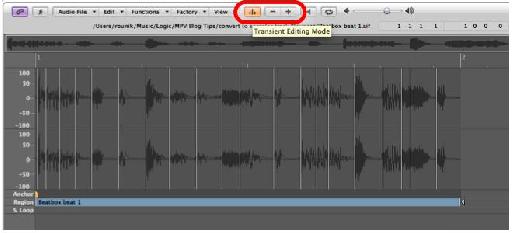 Double-click on the Audio Region to open it in the Sample Editor.
Click on the Transient Editing Mode Button. It will turn orange and Logic will quickly calculate and place transient markers where it thinks they should go.

You can now use the - and + buttons to remove or add transient markers or double click a transient marker to remove it or add your own using the pencil tool. To move a Transient marker simply drag it to a new position.

فما استقاموا لكم فاستقيموا نوصي بشدة أن تقوم بتكبير عند ضبط علامات عابر والحفاظ على الاستماع مرة أخرى كما هو الحال في منطق الخطوة المقبلة وضع جزء من واحد الى آخر علامة عابرة على عينة منفصلة (والمنطقة في EXS24).
الخطوة 3 -- تحويل ذلك!

ذات مرة كنت راضيا عن الطريقة التي وضعت علامات عابر (تذكر المنطق غالبا ما تحصل نتائج ممتازة في حد ذاتها!) حان الوقت لإغلاق محرر نموذج. ذات مرة كنت قد اخترت المنطقة (ق)
من القائمة اختيار ترتيب المحلية : أغنية
على المنطقة انقر بالزر الايمن واختر : تحويل لتتبع عينات جديدة
Use (or assign your own custom) Key Command. Mine is set to Control + E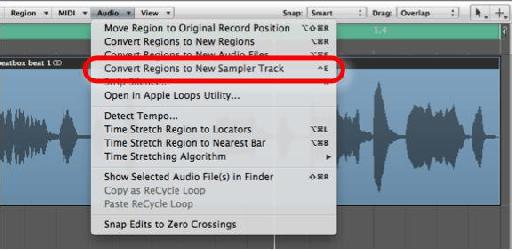 .

الخطوة 4 -- خيارات تعقب سامبلر

نافذة الحوار يبدو مما يتيح لك خيارين الابتدائي. إذا ، لأي سبب كان ، لديك عدة مناطق مختارة ، وترغب في تقديم صك عينات من هذه المناطق ، يمكنك اختيار إنشاء مناطق EXS24 في كل المنطقة المحددة.
اختيار علامات عابر. هذا سوف تعيين القسم بين كل علامة عابرة إلى منطقة (MIDI المذكرة) في الصك العينات.
ملاحظة : القدرة على إنشاء مناطق من مناطق يسمح لك لقطع يدويا وتعيين كل منطقة على الطريق إلى منطقة منفصلة.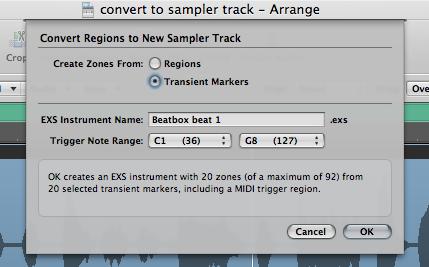 إنشاء اسم المطلوب للصك العينات الخاصة بك وضبط متوسط ​​ملاحظة الزناد عن طريق اختيار أدنى علما المستخدمة لتشغيل أول منطقة ، الخ
قبل النقر فوق موافق للمتابعة ، لاحظ أن الجزء السفلي من نافذة حوار تحتوي على معلومات حول كيفية العديد من المناطق وسيتم إنشاؤه في الصك الخاص EXS جديدة من المنطقة التي اخترتها (ق).
الخطوة 5 -- النتائج

Once you click OK. Logic now creates a new sampler instrument from your selection and mutes the original audio region. Not only that, it creates a new Software Instrument track, with an EXS24 loaded with the new Sampler Instrument and creates a MIDI region with trigger notes for every zone!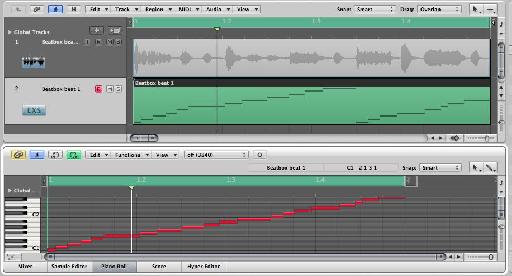 لذا ، ماذا بعد؟ حسنا ، هذا هو الجزء الممتع ، يمكنك الآن بسهولة يستكمم أو تحويل الأحداث ملاحظة MIDI في بالطريقة التي ترغب في ذلك. وهذا هو صك EXS24 يمكنك مثيل أيضا على أنه موضوع متعدد إخراج الصك. هذا يعني أنه يمكنك تعيين مناطق مختلفة لنواتج مختلفة من أجل هذه العملية "أصوات" أو النواتج مع تأثيرات مختلفة. على سبيل المثال ، مع حلقة طبل القياسية قد ترغب أن يكون لها تأثير إدراج تأخير في فخ ولكن ليس أي جزء آخر من هذه المجموعة. للأسف هذا هو خارج نطاق تلميح اليوم ، ولكن اسمحوا لي أن نعرف في التعليقات أدناه إذا كنت تريد أن تعرف أكثر!
الأهم من ذلك ، إذا كنت ترغب في استخدام هذه الأداة عينات في مشاريع أخرى ، واحفظه في قائمة عينات من EXS24 في الإعداد المسبق. إذا لم يكن عندها فقط هذا الصك عينات جديدة يتم حفظها إلى مجلد المشروع الحالي.
لمعرفة المزيد عن EXS24 تحقق من هذا الفيديو .