Creating your own sampler instruments from rhythmic loops can be a great way to add variety and realism to the loop. For example, if you have an audio file of a drum loop and you want to rearrange t
Erstellen Ihrer eigenen Sampler-Instrumenten aus rhythmischen Loops kann ein guter Weg, um Vielfalt und Realismus, um die Schleife hinzuzufügen. Zum Beispiel, wenn Sie eine Audio-Datei eines Drum-Loop und haben Sie den Beat, in früheren Versionen von Logic neu anordnen, wäre dies ein sehr manuell und zeitaufwändig sein. Es geforderte Genauigkeit und Zeit zum Vergrößern und schneiden bei jedem vergänglich, wandeln jede Region eine neue Audio-Datei und laden Sie diese dann in ein neues EXS24 Sampler-Instrument, die Zuweisung jeder Audio-Datei, um sie der eigenen Zone und dann speichern .... Logic 9 nimmt den Streit aus diesem Prozess mit dem neuen Convert to neuen Sampler Track-Funktion. Und wir alle wissen, dass das Ausschneiden der Zeit der Durchführung alltäglicher Aufgaben bedeutet mehr Zeit, kreativ zu sein und genießen Sie Ihre Musik!

Schritt 1 - Wählen Sie Ihre Audio

Ich habe durch einen Apple Loop genannt Beatbox 08.caf gestartet. Wenn dies das erste Mal mit dem Konvertieren zu neuen Sampler Track-Funktion, würde ich empfehlen, mit einem rhythmischen Loop. Dieses Feature funktioniert am besten mit Ton mit definierten Transienten.
Drag or add your Audio loop onto an Audio Track in Logic's Arrange area.


Schritt 2 - Einstellen der Transienten

OK. Dieser nächste Schritt ist optional ... Logic hat einen ziemlich guten Job auto-Analyse eine Audio-Datei, auf der Suche nach es Transienten (Hauptpeaks in der Wellenform) und Platzierung Transienten-Markern in diesen Punkten. Aber manchmal Logic möglicherweise zu viele oder zu wenige Transienten-Markern für Ihren Geschmack hinzufügen oder Sie können die Position eines transienten Markierung verschieben. Wir alle können diese im Sample-Editor zu tun.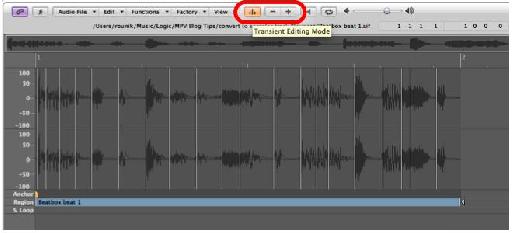 Double-click on the Audio Region to open it in the Sample Editor.
Click on the Transient Editing Mode Button. It will turn orange and Logic will quickly calculate and place transient markers where it thinks they should go.

You can now use the - and + buttons to remove or add transient markers or double click a transient marker to remove it or add your own using the pencil tool. To move a Transient marker simply drag it to a new position.

Ich würde empfehlen, dass Sie in bei der Einstellung Transient Marker Zoom und halten Hören zurück in eine Zukunft Schritt Logic wird der Anteil von einem vorübergehenden Marker zu einem anderen als separate Probe (und die Zone in EXS24) statt.
Schritt 3 - Konvertieren Sie es!

Sobald Sie mit dem Verlauf der Transienten-Markern platziert werden (denken Sie daran Logic wird oft ein perfektes Ergebnis von selbst!) Ist es Zeit, den Sample-Editor zu schließen zufrieden. Sobald Sie die Region (en) ausgewählt
Von der Arrange lokalen Menü wählen: Audio
Auf die Region mit der rechten Maustaste und wählen Sie: Wandeln Sie auf neue Sampler Track
Use (or assign your own custom) Key Command. Mine is set to Control + E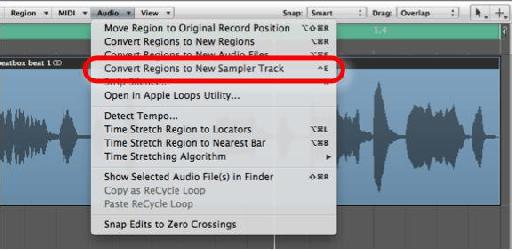 .

Schritt 4 - Sampler Track-Optionen

Es erscheint ein Dialogfenster geben Sie zwei primäre Optionen. Wenn aus irgendeinem Grund, Sie mehrere Regionen ausgewählt und haben wollen ein Sampler-Instrument aus diesen Regionen zu machen, können Sie Zonen in EXS24 für jeden ausgewählten Region zu schaffen.
Wählen Sie Transienten-Markern. Dadurch wird der Abschnitt zwischen den einzelnen vorübergehenden Markierung, um eine Zone (MIDI-Note) in der Sampler-Instrument zugeordnet werden.
HINWEIS: Die Fähigkeit, Zonen von Regionen erstellen können Sie manuell geschnitten und weisen jede Region auf der Strecke, um separate Zone.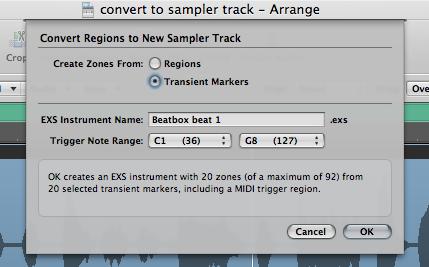 Erstellen Sie den gewünschten Namen für Ihre Sampler-Instrument und setzen Trigger Note Reichweite, indem Sie die tiefste Note verwendet, um die erste Zone, etc. auslösen
Bevor Sie auf OK, um fortzufahren, feststellen, dass die Unterseite des Dialog-Fenster Informationen darüber, wie viele Zonen wird es in Ihrem neuen EXS Instrument aus Ihrer Region (en) erstellt werden enthält.
Schritt 5 - Die Ergebnisse

Once you click OK. Logic now creates a new sampler instrument from your selection and mutes the original audio region. Not only that, it creates a new Software Instrument track, with an EXS24 loaded with the new Sampler Instrument and creates a MIDI region with trigger notes for every zone!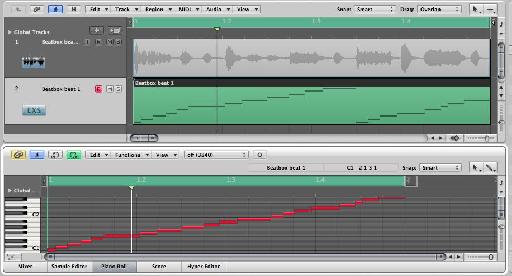 Also, was nun? Nun, das ist der lustige Teil ist, können Sie nun leicht quantisieren oder verwandeln den MIDI Note Events in irgendeiner Weise Sie es wünschen. Da dies ein EXS24 Instrument können Sie auch instanziieren es als Multi-Output-Instrument. Das heißt, Sie können verschiedene Zonen auf verschiedene Ausgänge zuweisen, um diese 'sounds' oder Ausgänge mit unterschiedlichen Effekten Prozess. Zum Beispiel mit einem Standard-Drum-Loop möchten Sie vielleicht eine Verzögerung Insert-Effekt auf der Snare, aber nicht jeder andere Teil des Kits haben. Dies ist leider nicht in den Geltungsbereich der heutigen Spitze, aber lassen Sie mich in den Kommentaren unten wissen, wenn Sie möchten mehr wissen!
Vor allem, wenn Sie diesen Sampler Instrument in anderen Projekten verwenden wollen, speichern Sie es in den EXS24 der Sampler Preset-Menü. Wenn Sie nicht tun, dann diese neue Sampler-Instrument wird nur auf den aktuellen Projekt-Ordner gespeichert werden.
Um mehr über die EXS24 überprüfen dieses Video aus .