Creating your own sampler instruments from rhythmic loops can be a great way to add variety and realism to the loop. For example, if you have an audio file of a drum loop and you want to rearrange t
La creación de su propio dechado de los instrumentos de loops rítmicos puede ser una gran manera de añadir variedad y realismo al bucle. Por ejemplo, si usted tiene un archivo de audio de un loop de batería y que desea reorganizar el ritmo, en las versiones anteriores de la lógica, esto sería un proceso muy manual y el tiempo. Se requiere precisión y el tiempo para acercarse y cortar a cada pasajero, convertir cada región a un nuevo archivo de audio y luego cargarlos en un instrumento sampler EXS24, la asignación de todos los archivos de audio para la propia zona y luego guardarlo .... Logic 9 se toma la molestia de este proceso con el nuevo converso a la nueva característica de seguimiento Sampler. Y todos sabemos que cortar el tiempo de realización de tareas rutinarias, más tiempo de ser creativo y disfrutar de tu música!

Paso 1 - Selección de Audio

He empezado con un bucle Apple Loops llamado Beatbox 08.caf. Si esta es tu primera vez que utiliza la nueva función Convertir a la pista Sampler, le recomiendo usar un bucle rítmico. Esta característica funciona mejor con el audio con transitorios definidos.
Drag or add your Audio loop onto an Audio Track in Logic's Arrange area.


Paso 2 - Ajuste de los transitorios

Aceptar. El siguiente paso es opcional ... La lógica hace un buen trabajo de auto-análisis de un archivo de audio, en busca de que es transitorios (picos principales en la forma de onda) y la colocación de los marcadores transitorios en estos puntos. Sin embargo, a veces, la lógica puede agregar marcadores de transitorios demasiado grande o demasiado pequeño para su gusto, o puede que desee cambiar la posición de un marcador de transitorio. Podemos hacer todo esto en el Editor de muestras.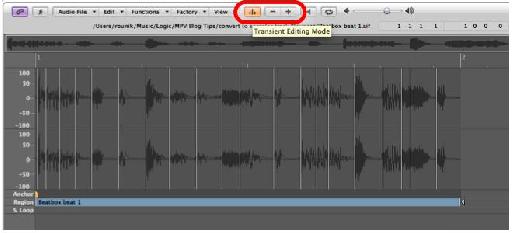 Double-click on the Audio Region to open it in the Sample Editor.
Click on the Transient Editing Mode Button. It will turn orange and Logic will quickly calculate and place transient markers where it thinks they should go.

You can now use the - and + buttons to remove or add transient markers or double click a transient marker to remove it or add your own using the pencil tool. To move a Transient marker simply drag it to a new position.

Yo recomiendo que se acerque la hora de ajustar los marcadores de transitorios y seguir escuchando de nuevo como en una lógica paso futuro será el lugar de la porción de un marcador de transitorio a otro como una muestra separada (y la zona en EXS24).
Paso 3 - Convertir ella!

Una vez que estés satisfecho con la forma en que los marcadores de transitorios se colocan (recordar la lógica a menudo da resultados perfectos por sí mismo!) Es el momento de cerrar el Editor de muestras. Una vez que haya seleccionado la región (s)
En el menú Organizar locales elegir: Audio
Haga clic derecho en la región y elegir: Convertir a la pista de muestras nuevas
Use (or assign your own custom) Key Command. Mine is set to Control + E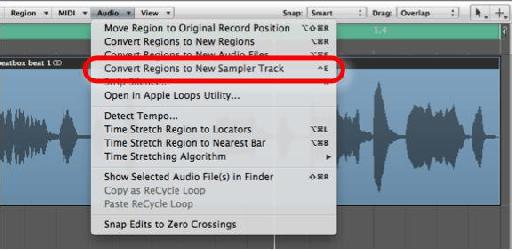 .

Paso 4 - Opciones de la pista Sampler

Una ventana de diálogo aparece que le da dos opciones principales. Si, por cualquier razón, usted tiene múltiples regiones seleccionadas y desea hacer un instrumento de toma de muestras de estas regiones, se puede optar por crear zonas de EXS24 para cada región seleccionada.
Elija marcadores de transitorios. Esto asignará el tramo comprendido entre cada marcador de transitorio a una zona (de notas MIDI) en el instrumento sampler.
NOTA: La capacidad de crear zonas de las regiones le permite cortar manualmente y asigne a cada región en el camino a la zona por separado.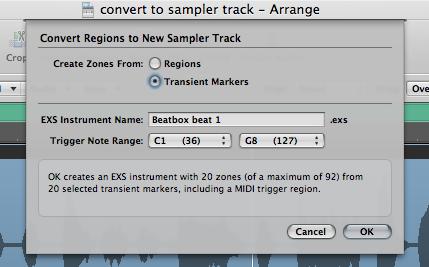 Crear un nombre para su instrumento sampler y ajustado en el rango de disparo Nota de la elección de la nota más baja para disparar la primera zona, etc
Antes de hacer clic en OK para continuar, observe que la parte inferior de la ventana de diálogo contiene información sobre cuántas zonas se creará en el nuevo instrumento EXS de su región seleccionada (s).
Paso 5 - Los Resultados

Once you click OK. Logic now creates a new sampler instrument from your selection and mutes the original audio region. Not only that, it creates a new Software Instrument track, with an EXS24 loaded with the new Sampler Instrument and creates a MIDI region with trigger notes for every zone!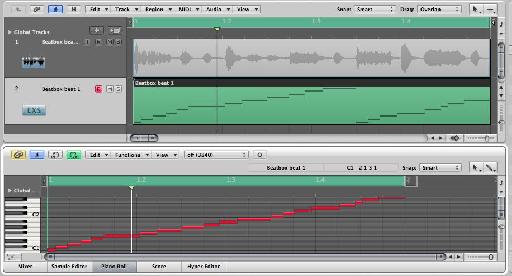 Así que, ¿qué sigue? Bueno, esta es la parte divertida, ahora se puede cuantificar fácilmente o transformar los eventos de nota MIDI en cualquier forma que desee. Como se trata de un instrumento EXS24 también se puede crear una instancia como instrumento de un Multi-Output. Esto significa que usted puede asignar diferentes zonas para diferentes productos con el fin de procesar estos "sonidos" o salidas con diferentes efectos. Por ejemplo, con un loop de batería estándar que usted puede desear tener un efecto de inserción retraso en la trampa, pero no cualquier otra parte del kit. Desgraciadamente, esto es fuera del alcance de la punta de hoy, pero que me haga saber en los comentarios si quieres saber más!
Lo más importante, si usted desea utilizar este instrumento sampler en otros proyectos, salvo en el menú de degustación preestablecidos de EXS24. Si no, entonces este instrumento sampler sólo se guardará en la carpeta de proyecto actual.
Para obtener más información sobre el EXS24 ver este video .