Creating your own sampler instruments from rhythmic loops can be a great way to add variety and realism to the loop. For example, if you have an audio file of a drum loop and you want to rearrange t
Créer vos propres instruments échantillonnés à partir de boucles rythmiques peuvent être une excellente façon d'ajouter de la variété et le réalisme de la boucle. Par exemple, si vous avez un fichier audio d'une boucle de batterie et vous voulez réorganiser le rythme, dans les versions précédentes de la logique, ce serait un processus très manuel et fastidieux. Il a fallu précision et le temps de zoomer et de coupe à chaque passage, convertir chaque région à un nouveau fichier audio, puis de les charger dans un instrument nouveau sampler EXS24, en attribuant chaque fichier audio à son propre zone puis en l'enregistrant .... Logic 9 prend les tracas de ce processus avec le nouveau converti à la fonction Sampler nouvelle piste. Et nous savons tous que la découpe du temps à effectuer des tâches banales signifie plus de temps à être créatif et de profiter de votre musique!

Étape 1 - Choisissez votre audio

J'ai commencé par utiliser une boucle Apple Loop appelé Beatbox 08.caf. Si cela est votre première fois à l'aide de la fonction Convert to Sampler nouvelle piste, je vous recommande d'utiliser une boucle rythmique. Cette fonctionnalité fonctionne mieux avec audio aux transitoires définies.
Drag or add your Audio loop onto an Audio Track in Logic's Arrange area.


Étape 2 - Réglage de la Transitoires

OK. Cette prochaine étape est facultative ... Logic fait un bon travail d'auto-analyse d'un fichier audio, la recherche de son transitoires (pics principaux dans la forme d'onde) et en plaçant des marqueurs transitoires dans ces taches. Cependant, parfois, la logique peut ajouter trop ou trop peu de marqueurs transitoires à votre goût ou vous pouvez déplacer la position d'un marqueur transitoire. Nous pouvons faire tout cela dans l'Éditeur d'échantillon.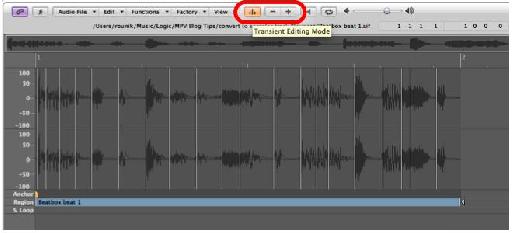 Double-click on the Audio Region to open it in the Sample Editor.
Click on the Transient Editing Mode Button. It will turn orange and Logic will quickly calculate and place transient markers where it thinks they should go.

You can now use the - and + buttons to remove or add transient markers or double click a transient marker to remove it or add your own using the pencil tool. To move a Transient marker simply drag it to a new position.

Je recommande vivement que vous zoomer lors du réglage des marqueurs transitoires et rester à l'écoute de retour que dans une logique étape future placera la portion d'un marqueur transitoire à l'autre comme un échantillon séparé (et zone EXS24).
Étape 3 - Convertissez!

Une fois que vous êtes satisfait de la façon dont les marqueurs transitoires sont placés (souvenez-Logic reçoit souvent des résultats parfaits en soi!), Il est temps de fermer l'Éditeur d'Échantillons. Une fois que vous avez sélectionné la région (s)
Dans le menu Organiser locales choisir: Audio
Faites un clic droit sur ​​la région et de choisir: Convertir en piste nouveau sampler
Use (or assign your own custom) Key Command. Mine is set to Control + E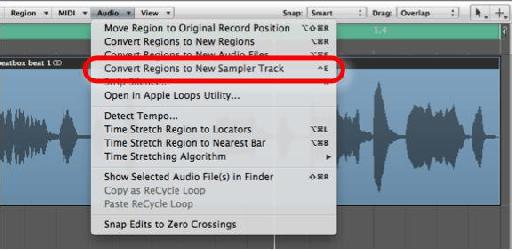 .

Étape 4 - Options de piste Sampler

Une fenêtre de dialogue apparaît vous donnant deux options principales. Si, pour une raison quelconque, vous avez plusieurs régions sélectionnées et qui veulent faire un instrument d'échantillonnage de ces régions, vous pouvez choisir de créer des zones de EXS24 pour chaque région sélectionnée.
Choisissez Marqueurs Transient. Cela assignera la section entre chaque marqueur transitoire à une zone (note MIDI) dans l'instrument de l'échantillonneur.
REMARQUE: La capacité à créer des zones de régions vous permet de couper manuellement et attribuer à chaque région sur la voie de zone distincte.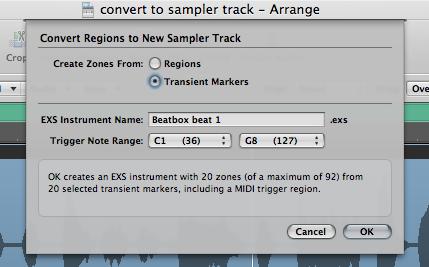 Créez le nom souhaité pour votre instrument sampler et Range Remarque Kit déclencheur en choisissant la note la plus utilisée pour déclencher la première zone, etc
Avant de cliquer sur OK pour continuer, notez que le bas de la fenêtre de dialogue contient des informations sur le nombre de zones seront créées dans votre instrument EXS nouvelles de votre région sélectionnée (s).
Étape 5 - Les résultats

Once you click OK. Logic now creates a new sampler instrument from your selection and mutes the original audio region. Not only that, it creates a new Software Instrument track, with an EXS24 loaded with the new Sampler Instrument and creates a MIDI region with trigger notes for every zone!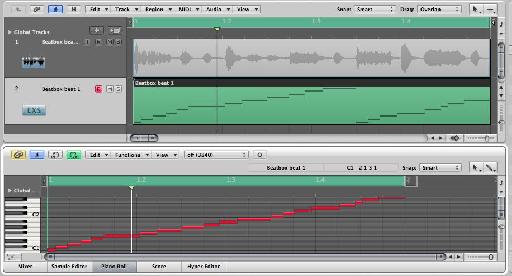 Alors, que faire? Eh bien, c'est la partie amusante, vous pouvez désormais facilement quantification ou transformer les événements de note MIDI de quelque façon que vous le souhaitez. Comme il s'agit d'un instrument EXS24 vous pouvez également instancier comme un multi-sortie de l'instrument. Cela signifie que vous pouvez attribuer différentes zones pour différentes sorties afin de traiter ces «bruits» ou des sorties avec des effets différents. Par exemple, avec une boucle de batterie standard, vous pouvez souhaiter avoir un effet d'insérer un retard de la Caisse, mais pas n'importe quelle autre partie de la trousse. Ce n'est malheureusement hors de la portée de la pointe d'aujourd'hui, mais laissez-moi savoir dans les commentaires ci-dessous si vous souhaitez en savoir plus!
Surtout, si vous souhaitez utiliser cet instrument Sampler dans d'autres projets, l'enregistrer dans le menu Sampler Preset l'EXS24 est. Si vous n'avez pas alors de cet instrument nouveau sampler ne seront enregistrées que le dossier du projet actuel.
Pour en savoir plus sur l' EXS24 vérifier cette vidéo sur .