Creating your own sampler instruments from rhythmic loops can be a great way to add variety and realism to the loop. For example, if you have an audio file of a drum loop and you want to rearrange t
Creazione di strumenti campionatore proprio da loop ritmici possono essere un ottimo modo per aggiungere varietà e realismo alla rete. Per esempio, se si dispone di un file audio di un loop di batteria e si desidera riorganizzare il ritmo, nelle precedenti versioni di Logic, questo sarebbe un processo molto manuale e richiede tempo. E 'richiesta la precisione e il tempo per ingrandire e tagliare ad ogni transitoria, convertire ogni regione in un nuovo file audio e poi caricarli in un nuovo strumento campionatore EXS24, assegnando ogni file audio ad esso è propria zona e poi salvarlo .... Logic 9 prende la seccatura di questo processo con la Conversione nuova nuova funzione Traccia Sampler. E sappiamo tutti che tagliare il tempo di eseguire compiti banali significa più tempo di essere creativi e di godere la vostra musica!

Fase 1 - Scegli il tuo audio

Ho iniziato utilizzando un loop Apple chiamato Beatbox 08.caf. Se questa è la prima volta utilizzando la nuova funzione Converti in pista Sampler, mi consiglia di utilizzare un ciclo ritmico. Questa caratteristica funziona meglio con audio con transitori definiti.
Drag or add your Audio loop onto an Audio Track in Logic's Arrange area.


Fase 2 - Regolazione della transitori

OK. Questo passo è facoltativo ... Logica fa un buon lavoro di auto-analisi di un file audio, la ricerca per la sua transitori (picchi principali nella forma d'onda) e l'immissione marcatori transitoria in questi luoghi. Tuttavia, a volte Logic può aggiungere marcatori transitoria troppe o troppo poche per i vostri gusti o si potrebbe desiderare di spostare la posizione di un marker transitoria. Possiamo fare tutto questo nel Sample Editor.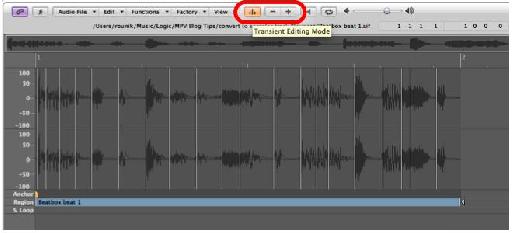 Double-click on the Audio Region to open it in the Sample Editor.
Click on the Transient Editing Mode Button. It will turn orange and Logic will quickly calculate and place transient markers where it thinks they should go.

You can now use the - and + buttons to remove or add transient markers or double click a transient marker to remove it or add your own using the pencil tool. To move a Transient marker simply drag it to a new position.

Consiglio vivamente che si ingrandisce quando si regola marcatori transitori e continuare ad ascoltare di nuovo come in una logica passo futuro sarà porre il campione da un marcatore transitoria ad un altro come campione separato (e zona in EXS24).
Fase 3 - Conversione è!

Una volta che siete soddisfatti del modo in cui sono collocati i marcatori Transient (ricordate Logic ottiene spesso risultati perfetti da solo!) È il momento di chiudere il Sample Editor. Una volta selezionata la regione (s)
Dal menu Disponi locale scegliere: Audio
Tasto destro del mouse sulla regione e scegliere: Converti in pista nuovo campionatore
Use (or assign your own custom) Key Command. Mine is set to Control + E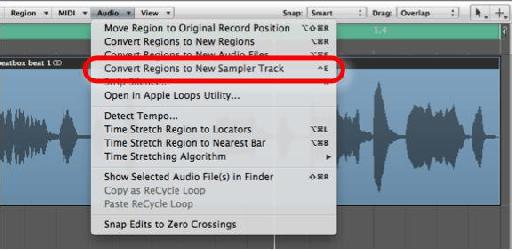 .

Fase 4 - Opzioni Traccia Sampler

Una finestra di dialogo offrendo due opzioni principali. Se, per qualsiasi ragione, avete più regioni selezionati per produrre uno strumento campionatore da queste regioni, è possibile scegliere di creare zone in EXS24 per ogni regione selezionata.
Scegli Marcatori transitori. Questo assegnerà il tratto tra ogni marcatore transitorio ad una zona (MIDI nota) nello strumento campionatore.
NOTA: La possibilità di creare zone di regioni permette di tagliare manualmente e assegnare a ciascuna regione sulla buona strada per zona separata.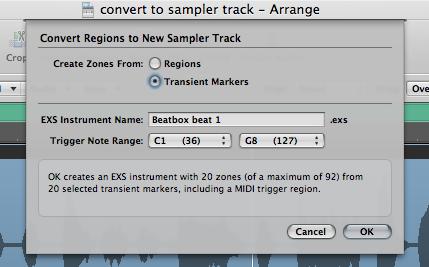 Crea il nome scelto per il vostro strumento campionatore e Trigger Range impostato Nota scegliendo la nota più utilizzato per attivare la prima zona, ecc
Prima di fare clic su OK per continuare, si noti che la parte inferiore della finestra di dialogo contiene le informazioni su quante zone saranno creati nel vostro nuovo strumento EXS dalla vostra regione selezionata (s).
Fase 5 - I risultati

Once you click OK. Logic now creates a new sampler instrument from your selection and mutes the original audio region. Not only that, it creates a new Software Instrument track, with an EXS24 loaded with the new Sampler Instrument and creates a MIDI region with trigger notes for every zone!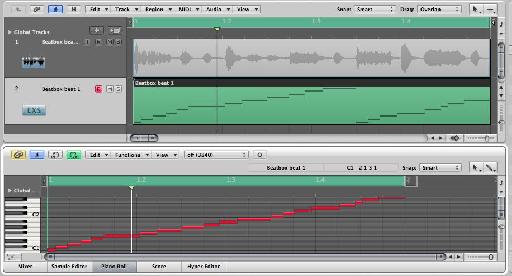 Allora, che cosa poi? Bene, questa è la parte divertente, si può ora facilmente quantizzare o trasformare gli eventi di nota MIDI in qualsiasi modo lo si desidera. Poiché si tratta di uno strumento EXS24 è anche possibile istanziare come un Multi-Output strumento. Questo significa che è possibile assegnare differenti zone a diverse uscite per il trattamento di questi 'suoni' o uscite con effetti diversi. Ad esempio, con un loop di batteria standard che si potrebbe desiderare di avere un effetto insert ritardo sul rullante, ma non qualsiasi altra parte del kit. Questo è, purtroppo, al di fuori della portata di punta di oggi, ma fatemi sapere nei commenti qui sotto se volete saperne di più!
Più importante, se si desidera utilizzare questo strumento campionatore in altri progetti, salvarlo nel menu Preset Sampler la EXS24 è. Se non si allora questo strumento campionatore nuovo essere salvati solo nella cartella del progetto corrente.
Per saperne di più sulle EXS24 controllo fuori questo video .