Creating your own sampler instruments from rhythmic loops can be a great way to add variety and realism to the loop. For example, if you have an audio file of a drum loop and you want to rearrange t
Criar o seu próprio a partir de instrumentos sampler loops rítmicos podem ser uma ótima maneira de adicionar variedade e realismo para o loop. Por exemplo, se você tiver um arquivo de áudio de um loop de bateria e quer reorganizar a batida, nas versões anteriores do Logic, este seria um processo muito manual e demorado. Foi necessária precisão e tempo para ampliar e cortar em cada transitória, converter cada região para um novo arquivo de áudio e então colocá-las em um novo instrumento sampler EXS24, atribuindo a cada arquivo de áudio à sua própria zona e depois salvá-la .... 9 lógica leva a trabalheira fora deste processo com o novo convertido ao novo recurso Sampler Track. E todos nós sabemos que cortar o tempo realizando tarefas mundanas significa mais tempo a ser criativo e desfrutar da sua música!

Passo 1 - Escolha o seu áudio

Eu comecei usando um loop da Apple chamada Beatbox 08.caf. Se esta é sua primeira vez usando o novo recurso Converter para Sampler Track, eu recomendo usar um loop rítmico. Esse recurso funciona melhor com áudio com transientes definido.
Drag or add your Audio loop onto an Audio Track in Logic's Arrange area.


Passo 2 - Ajustar o Transients

OK. Este próximo passo é opcional ... Lógica faz um bom trabalho de auto-análise de um arquivo de áudio, procurando é transientes (picos principais na forma de onda) e colocar marcadores Transient nesses locais. No entanto, às vezes Logic pode adicionar muitos ou poucos marcadores transitória para o seu gosto ou você pode querer mudar a posição de um marcador transitória. Nós podemos fazer tudo isso no editor de amostra.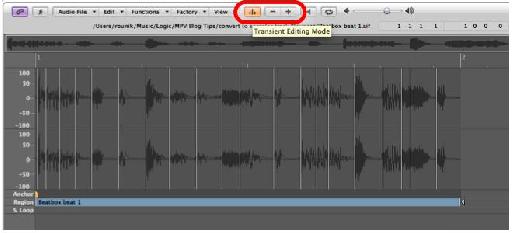 Double-click on the Audio Region to open it in the Sample Editor.
Click on the Transient Editing Mode Button. It will turn orange and Logic will quickly calculate and place transient markers where it thinks they should go.

You can now use the - and + buttons to remove or add transient markers or double click a transient marker to remove it or add your own using the pencil tool. To move a Transient marker simply drag it to a new position.

Eu recomendo que você zoom in quando ajustar marcadores transitória e continuar a ouvir de volta como em um passo futuro Logic vai colocar a parte de um marcador transitória para outro, como uma amostra separada (e na zona EXS24).
Passo 3 - Converter-lo!

Quando estiver satisfeito com a maneira como os marcadores de transientes são colocados (lembre-se muitas vezes fica Logic resultados perfeitos por si só!) É hora de fechar o Editor de amostra. Depois de ter selecionado a região (s)
No menu Organizar locais escolha: Audio
Botão direito do mouse sobre a região e escolha: Converter para acompanhar sampler novo
Use (or assign your own custom) Key Command. Mine is set to Control + E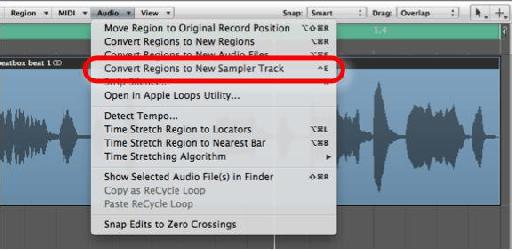 .

Passo 4 - Opções de Track Sampler

A janela de diálogo aparece dando-lhe duas opções principais. Se, por qualquer razão, você tem várias regiões selecionadas e deseja fazer um instrumento sampler destas regiões, você pode optar por criar Zonas EXS24 para cada região selecionada.
Escolha Marcadores Transient. Isso vai atribuir o troço entre cada marcador transitória a uma zona (MIDI nota) no instrumento sampler.
NOTA: A capacidade de criar zonas das regiões permite que você manualmente cortadas e atribuir a cada região na pista para zona separada.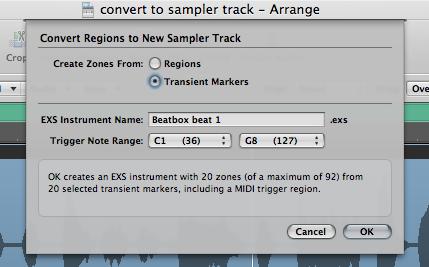 Criar o nome desejado para o seu instrumento sampler e Faixa set Nota Gatilho escolhendo a nota mais baixa utilizada para acionar a primeira zona, etc
Antes de clicar em OK para continuar, observe que na parte inferior da janela de diálogo contém informações sobre como muitas zonas serão criadas em seu instrumento a partir do seu novo EXS região selecionada (s).
Passo 5 - Os Resultados

Once you click OK. Logic now creates a new sampler instrument from your selection and mutes the original audio region. Not only that, it creates a new Software Instrument track, with an EXS24 loaded with the new Sampler Instrument and creates a MIDI region with trigger notes for every zone!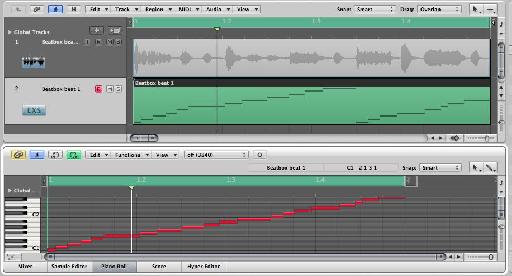 Então, o que vem depois? Bem, esta é a parte divertida, agora você pode facilmente quantizar ou transformar os eventos Nota MIDI em qualquer maneira que você desejar. Como este é um instrumento EXS24 você também pode instanciá-lo como um Multi-Saída de Instrumento. Isto significa que você pode atribuir diferentes zonas para saídas diferentes, a fim de processar estes "sons" ou saídas com efeitos diferentes. Por exemplo, com um loop de bateria padrão que você pode desejar ter um efeito insert atraso no Snare, mas não qualquer outra parte do kit. Esta é, infelizmente, fora do âmbito da dica de hoje, mas deixe-me saber nos comentários abaixo se você gostaria de saber mais!
Mais importante, se você deseja utilizar este instrumento Sampler em outros projetos, salve-o no menu inicial do EXS24 do Sampler Preset. Se você não seguir este instrumento Sampler novos só serão salvos na pasta do projeto atual.
Para saber mais sobre o EXS24 verificar este vídeo para fora .