Maschine is so deep you could happily work only with it... but, there'll probably come a time when you want to move your patterns and sounds into a DAW. Mo Volans shows how to do this with Logic Pro.
If you are a Maschine user and work within Logic Pro, it's pretty likely that at some point you will want to move your audio from the plug-in to a dedicated audio or MIDI track. This is a simple yet essential process. Here's how it's done...'¨

Step 1 - Choosing The Export Type
Initially, you will need to have Maschine loaded as a plug-in within Logic and a beat (or musical pattern) to be programmed. The next move you'll have to make is to tell Maschine what kind of export you want it to perform.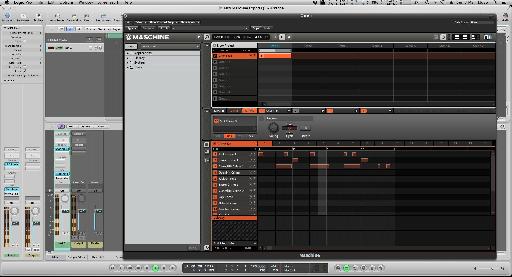 A simple beat ready to export into Logic.
The Maschine based loop we'll be using:

This is done by using a small drop down menu in the lower section of Maschine's sequencer. You can choose between MIDI and Audio. Both kinds of data can be dragged and dropped, transforming your Maschine based patterns into information Logic can digest.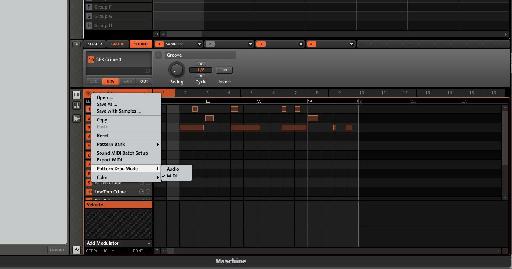 Choosing the export type.
Once you have selected the correct option, you are ready to start moving your patterns around. We'll tackle MIDI first.
Step 2 - Exporting MIDI Data
Your patterns can now be dragged to an empty MIDI channel, of course it makes sense to use the channel that Maschine is already using. The pattern is dragged by grabbing the small '˜crosshair' icon and moving the resulting part to your chosen location. The process is almost instantaneous.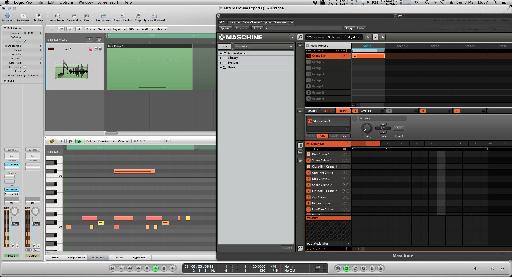 Exported MIDI data in Logic.
Once your MIDI is in place, it's pretty important to remember to select a blank pattern in Maschine. If you don't, you'll end up hearing a duplicate part playing. This will create a phasing effect. Not great.
You are now free to edit your part in Logic as you would any other MIDI. Remember that if you use the multi-output version of Maschine, you can also send your separate drum parts to their own channels at this point too. This, however, is a subject for another tutorial!
Step 3 - Drag And Drop Audio
Next up let's look at the same process for audio export. In truth you'll be performing a very similar sequence of actions to get your audio into Logic but there are a few key differences.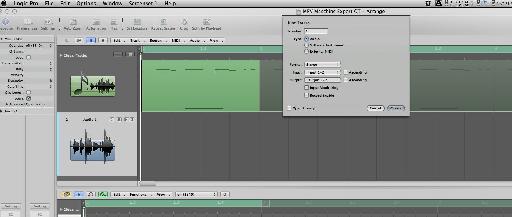 Making a fresh audio track ready for our export.
Of course you'll need to change the drag and drop mode to audio. Once done you can drag your sequence in the same manner as before. The real difference here is that it actually takes a little while for the new clip to be generated. You will be warned of this and even notified when Maschine is ready, so it's really very straightforward.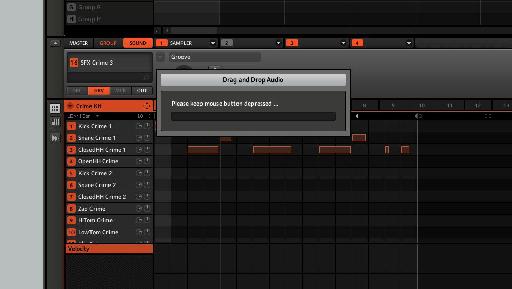 The audio is prepared for drag '˜n' drop.
With your audio in place, you are now free to turn off your instance of Maschine and free up some precious CPU resources. Remember that anything that was present in your Maschine pattern will be permanently embedded into your new audio file, so it's well worth thinking carefully about what elements and effects you include here.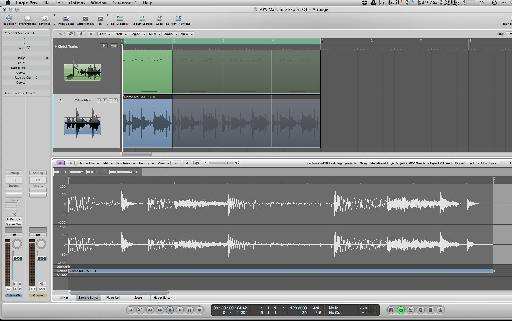 The Maschine audio is in place in Logic.
These two simple techniques should give you all you need to get your Maschine patterns into your Logic projects and use them to build a fresh new arrangement.