Stock plugin chains on instruments might provide immediate "wow factor", but they're rarely suitable for building a whole mix. Here's why.
If you go to a store and play a keyboard with built in sounds, the chances are that the patches will sound really good in a way that gives you instant gratification. The manufacturer does this because it is intended to make you want to buy the keyboard. However, if you turn off the FX then you hear the raw sounds, and the keyboard's patches will probably not sound as good to you. If you are playing it live the FX make it sound great and you want them, but if you are mixing with those sounds in a project, you may well find that the FX are actually getting in the way of achieving a good mix. The same is true of Logic Pro X's channel strip settings, and the FX that get included when you use green Apple Loops (software instrument loops.)
They are designed so that when you load one and play it, you get a "wow moment." But mixing is not about making each and every part sound great by itself, it is about making them all work together to make a cohesive whole.
Changing Your Tune
So what I did is drag a whole bunch of Apple Loops into the Workspace, which created software instruments with LOTS of plug-ins, just as they would if I loaded Channel Strip Setting form the Logic Pro X Library. I deleted the content and played my own parts.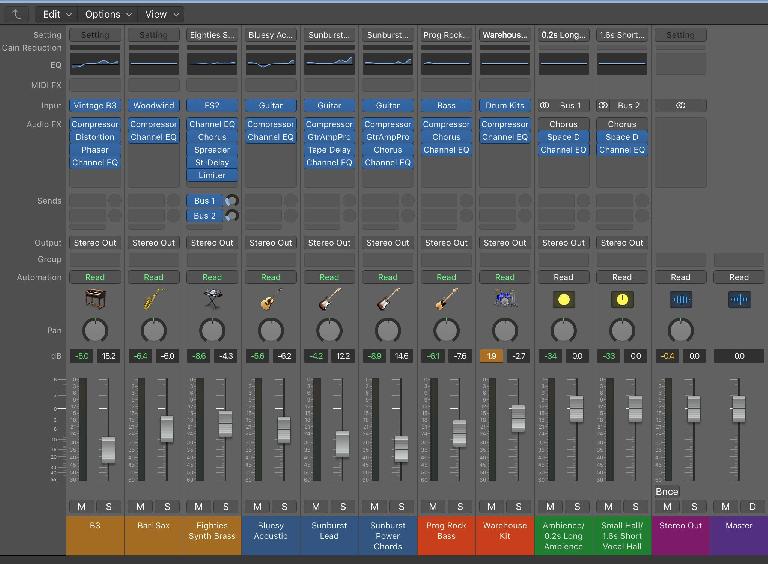 Each patch sounded pretty darned good on its own but even after doing some volume balancing and panning, the end result is muddy. (Yes, the fact that it is overly busy doesn't help).
But what happens if I bypass all those plug-ins? Does it sound better or does it sound worse?
To my ears, it sounds a lot better already, and now I can begin the process of thinning out the arrangement so that the parts are just right, and then add back some of the plug-ins and tweak the settings to my own satisfaction. I like the compressor and EQ on the drums, but when I turn those default plug-ins back on the bass to me sounds a little muddy and when I look at the Channel EQ preset, I can see why.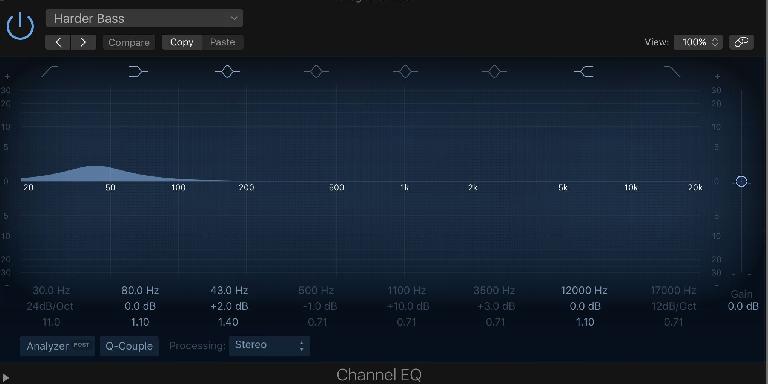 They may call it Harder Bass, but I call it Muddier Bass. I prefer this.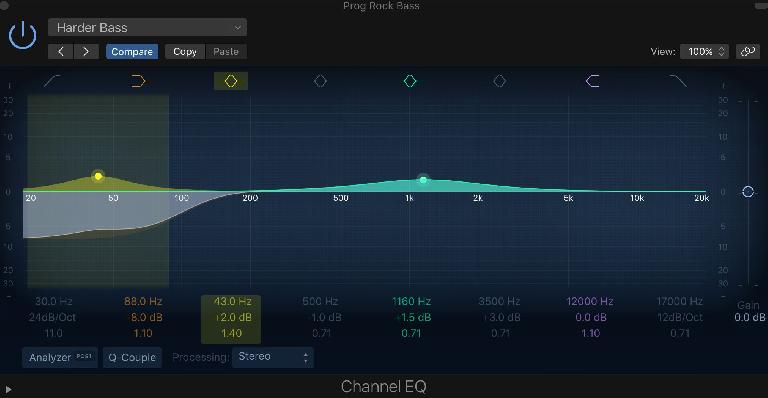 So I then proceed on, removing plug-ins, changing their settings, adding plug-ins, until I arrive at a satisfactory result.
The End Result
This is of course all subjective and you may not like the decisions I made. The point is that now I am making the decisions while listening to how the plug-ins can help make a good sounding and cohesive mix, not having plug-ins added for the sake of having each instrument have maximum impact as the developers did. The principles apply to all DAWs and software instruments in general. You should drive the bus (pun intended) and not let the presets decide for you.