There are literally hundreds of techniques for increasing the impact of your drum sounds in any DAW. Having said that, there are a few key methods I use repeatedly...
There are literally hundreds of techniques for increasing the impact of your drum sounds in any DAW. Having said that, there are a few key methods I use repeatedly that have proven to be indispensable.
You can repeat the techniques we are going to cover here in most DAWs but this time around we'll be using Logic Pro 9 and its bundled native plug-ins. Let's get stuck in and work on adding some attitude to a kick drum sound.
Step 1 - Identifying the Sound to Process
The first step is to identify which sound you want to focus on. In this case I've got an electronic drum pattern and all is well except the kick drum, which lacks something. It could be a little deeper, fatter and generally ... well, better!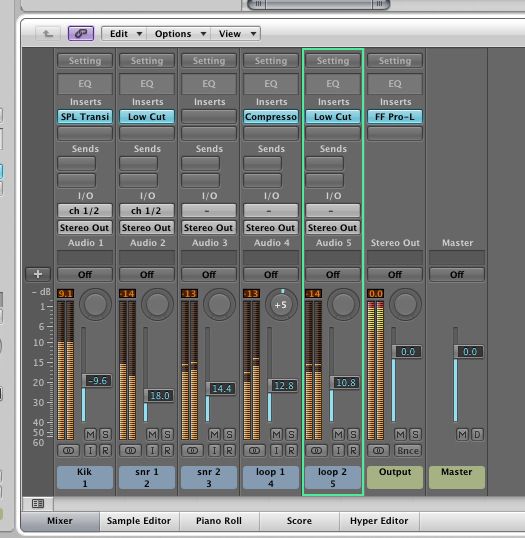 The original pattern we'll be treating
Of course we want to make sure that any improvements we make work both in isolation and in the mix, so try to make a habit of switching between the isolated sound and the full mix throughout the following process.

The kick I'll be targeting
The original loop with the weak kick drum:
Step 2 - Layering Up
Next up we need to think about what is lacking in our sound and what needs to be done to improve the situation. This workflow process will be the same regardless of which drum sound you are working on in your mix.
In this case the kick drum we are using lacks low end emphasis and punch. In this situation many would immediately reach for their favorite EQ but I tend to find that layering with secondary sounds is a much more solid way of adding missing frequencies.
To do this I have simply added a second track, chosen a kick containing more low end content and started to mix the two together. To ensure that there is minimal clashing of frequencies I have actually filtered a lot of the high end from the second '˜low end' kick.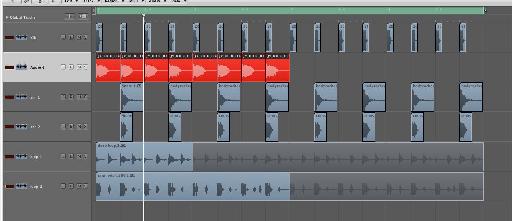 The second kick is added
The new kick, added to the mix then taken out, demonstrates the improvement:

This mix means that our original kick supplies the high end bite and the secondary kick supplies the body. This has already made a huge improvement to our sound. But there is more we can do here.
Step 3 - Subtle Equalization
If you find that your sound is still a little too bright or lacks low end after the layering, some subtle EQ can be used to correct these areas. This minimal approach to EQ is much healthier than using extreme settings and it ultimately means you will hear more audio than processing!
Here I have used Logic's standard Channel EQ plug-in to add even more extension to the low frequencies. As this is an electronic beat and probably destined for club sound systems, the low end is very important. In other situations you may need to concentrate on other frequencies.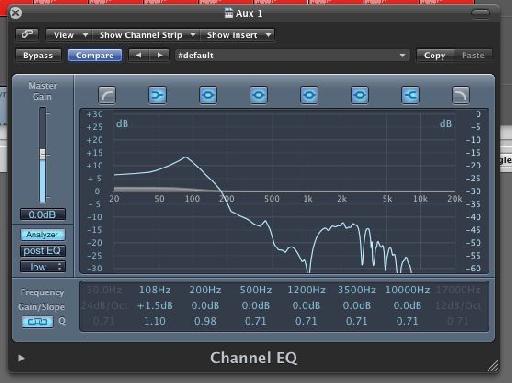 Logic's Channel EQ is used to further extend the low end
The combination of layering and equalization have resulted in a much meatier, bottom heavy sound. Mixed with the original beat the overall improvement can be clearly heard.
The EQ-ed kick is mixed:
Step 4 - Transient Design and Mixing
I often find that although using layering and equalization does a great job in adding missing frequencies it can rob your sound of a little dynamic impact. The perfect tool for adding some of this missing bite is a transient designer.
These processors are generally given different names by different manufacturers, Logic's transient designer is called the Enveloper. Although they may be named differently they will generally all do the same job.
The Enveloper is capable of accentuating or attenuating both the attack and release phase of your sound. This is perfect for making drums more snappy, adding or removing room sound or generally cleaning up sounds.
Here I have used Logic's Enveloper to increase the attack phase of the layered kick drum. Be careful not to take this effect too far or you'll end up with more click on the start of your drum than anything else.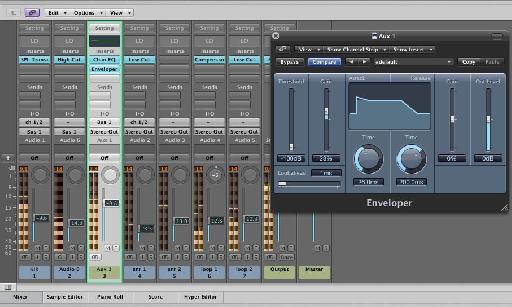 The Enveloper is added to the mix
Another thing to note is that you will probably have to remix your levels after the process has been applied. You may need to reduce the level of your new super snappy drum to avoid clipping and overs.
And here is the final kick in action: