Logic 9 comes bundled with masses of loops, instruments and effects. Best of all, the instruments and effects can be highly customized! Once you've made changes to the settings of any plug-in, it's cu
Logic 9 comes bundled with masses of loops, instruments and effects. Best of all, the instruments and effects can be highly customized! Once you've made changes to the settings of any plug-in, its current state will be saved in your project. So, there's no need to dial in those settings every time you open the project! Likely hood is that you'll want to use some of the presets and your own settings in different projects. Again, there's no need to get out pen and paper and manually record these by hand. Logic has sophisticated ways to help you save and recall plug-in and channel strip settings to your User Account folder on your Mac.
Read on to find out how to take advantage of this time-saving feature.
01 - Plug-in Settings. The Basics.
When you insert an Instrument or Effect plug-in directly on any Channel Strip, by default, Logic opens the plug-in window. In this example, I've inserted a Compressor on the top Insert Slot of a Software Instrument Channel Strip. But whatever plug-in you choose there will be the plug-in menu area at the top. Here you can change the View size, link mode, bypass state and of course access the settings menu amongst other useful items.
Click on the plug-in's Setting Bar to view the pop-up Settings menu.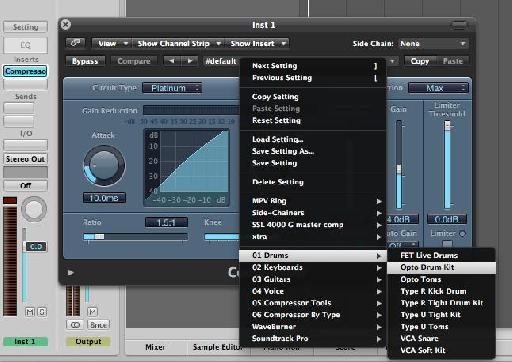 Here you can select a preset for that plug-in towards the bottom of the menu.
Although you can access the same settings for the selected plug-in in the Library (via the Media Area), this pop-up Settings menu has some advantages.
02 - Save and Recall
Loading your desired setting for a plug-in in Logic's Library is straightforward enough. Either use the keyboard's arrow keys or select the setting with your mouse. However, in Logic 8 and 9, there is no way to save a plug-in setting in the Library. This is a real shame and something I hope the Logic developers will change one day soon, but in the meantime clicking on the Settings menu on the plug-in will reveal the three following essential commands:

Load Setting...

Save Settings As...

Save Setting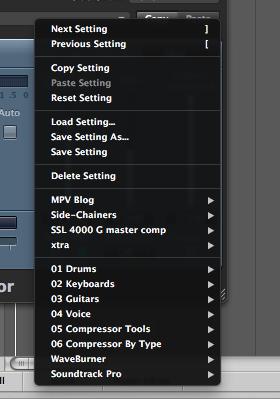 Selecting Save Setting As... allows you to save the current state of the plug-in as a custom setting file. This setting will be placed in the relevant folder in the following location on your Mac:
~/Library/Application Support/Logic/Plug-In Settings/

Now you where Logic stores these types of settings files, it's a good idea to back them up from time to time!
03 - All in One
Channel Strip Settings are the best invention since sliced bread... well, almost. A Channel Strip Setting contains all plug-ins and their settings on the selected Channel Strip. This is a great way to recall an entire Channel Strip's worth of often used plug-ins in other projects.
There are two ways to access Channel Strip Settings. First is the Library (in the Media area). Notice in the image below that the Software Instrument Channel Strip has a subtle white border (key focus) around the Channel Strip's Setting button at the top. More on this later...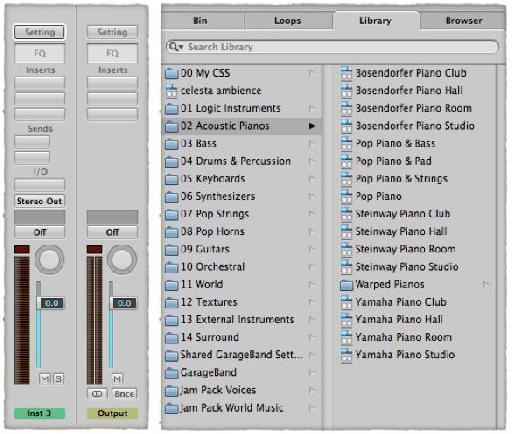 The second way, of course, is to click (and hold for half a second) on the Setting button at the top of a Channel Strip. Now, if you click and hold and DO NOT depress the mouse button, the menu will appear... but as soon as you release the mouse button the menu disappears, which makes navigating these menus quite fiddly.
Well here's a trick to help avoid the above which even experienced Logic users may not know...

Click and hold on the Setting button for half a second and release and wait. The menu will appear and you can navigate the menu without fear of it disappearing!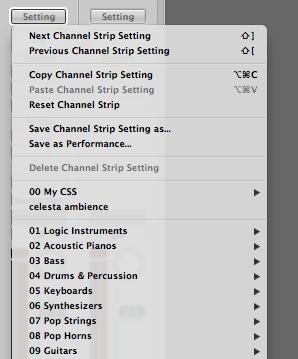 04 - Keeping Focus
Remember in the previous step that I mentioned Key Focus? Here's why: The Library is context sensitive and can display the settings for any plug-in on the selected track or the Channel Strip Settings for that selected track. It all depends on what is selected / has Key Focus.
With the Library open single-click on the slot of an insert or instrument plug-in on the left Channel Strip in the Inspector. That plug-in has key focus and the Library will update to display its settings only.
In this example, I've selected Logic's Compressor (on the top Insert slot).


With the Library open, single-click on the Channel Strip's Setting button and the Library displays only Channel Strip Settings for that particular Channel Strip type.
05 - Swap Around
The more you explore (or create your own) plug-in and/or Channel Strip Settings the more wonderful they become! However, what if you want to use the Channel Strip settings specifically saved for an Aux Channel strip on an Audio or Software Instrument track? Or vice-versa?
One way is to recall that Channel Strip setting on that track type and then in the Mixer move or copy all those plug-ins across to the Audio channel... A better way is to Option-click on the Channel Strip's Setting button. This will give you the choice of selecting other Channel Strip settings not normally available for your selected Channel Strip type!
This turns out to be an excellent way to experiment and quickly access Channel Strip Settings created for different track types.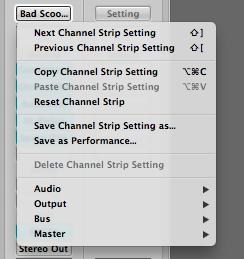 06 - Goodbye Library...
If you like a larger Arrange area without the Inspector or Library area open, but still want to be able to change Channel Strip Settings for your selected tracks here's a solution for you.
First, make sure that your Track Headers name label are set up in the following way:
Right-Click (or Control-Click) on any Track Header and choose: Configure Track Header.
Select Channel Strip Setting Name in the Names area and click Done.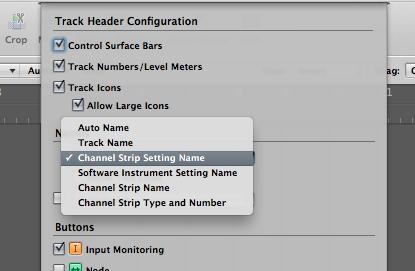 Choose any Channel Strip Setting first and then click and hold (for a short time) on the Name Label on that track header. The Channel Strip Setting Menu appears where your mouse cursor is! A great time-saver and alternative to using the Inspector and/or Media area.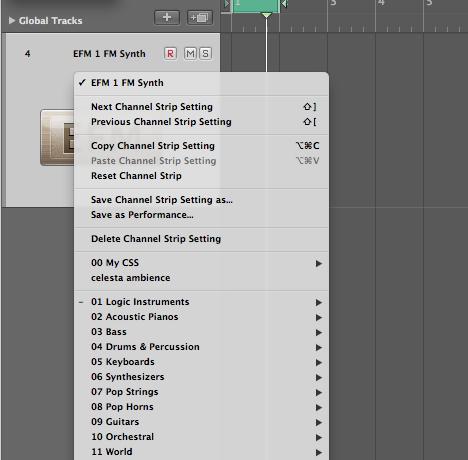 07 - Taking Shortcuts
Using the Arrow keys on your keyboard can make navigating through and selecting plug-in or Channel Strip Settings in the Library a breeze. Try it out!
But, if you're hankering after even more instant control open the Key Commands window (Logic Pro > Preferences > Key Commands...) and type setting in the Search field. You'll find a number of useful key commands to help you reset, copy, paste, save, delete and of course select the next/previous plug-in and Channel Strip Settings for the selected track.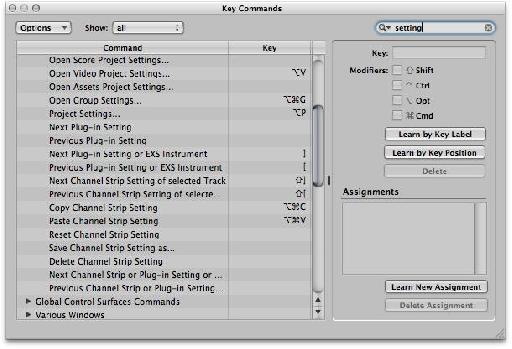 Some of these items are not assigned to key commands. If you wish to assign a key command to Reset Channel Strip Setting for example try the following:
Click on Reset Channel Strip Setting to select it.
Click on the Learn by Key Label button so it is highlighted.
Now press on the modifier keys and the alpha key you wish to assign. If accepted it will appear next to the command.
Finally click on Learn by Key Label button to disable it and close the Key Commands window.

That's all there is to it! Go as crazy as you like with this and you can even assign buttons, knobs or keys from your external MIDI Controller to any commands using the Learn New Assignment button! The possibilities are endless and well suited to getting you working more quickly with plug-in and Channel Strip Settings.
If you have any more plug-in or Channel strip setting tips let us know in the Comments below & if you want to learn more Logic check out this tutorial!