Logic 9 comes bundled with masses of loops, instruments and effects. Best of all, the instruments and effects can be highly customized! Once you've made changes to the settings of any plug-in, it's cu
Logic 9 kommt im Bundle mit Massen von Loops, Instrumente und Effekte. Best of all, können die Instrumente und Effekte werden sehr individuell! Sobald Sie Änderungen an den Einstellungen der aus jedem Plug-in, es ist Stand in Ihrem Projekt gespeichert werden. Es gibt also keine Notwendigkeit, in den Einstellungen wählen bei jedem Öffnen des Projekts! Wahrscheinlich Haube ist, dass Sie wollen, um einige der Voreinstellungen und Ihre eigenen Einstellungen in verschiedenen Projekten verwendet werden. Auch hier gibt es keine Notwendigkeit, um aus Papier und Stift und manuell zu erfassen diese mit der Hand. Logic verfügt über ausgereifte Methoden, damit Sie speichern und abrufen Plug-in und Channel-Strip-Einstellungen Ihres Benutzerkontos Ordner auf Ihrem Mac.
Lesen Sie weiter, um herauszufinden, wie man die Vorteile dieser zeitsparenden Funktion übernehmen.
01 - Plug-in Settings. Die Grundlagen.
Wenn Sie ein Instrument oder Effekt-Plug-in direkt einfügen auf jedem Channel Strip, standardmäßig öffnet Logic Plug-in Fenster. In diesem Beispiel habe ich einen Kompressor auf den obersten Insert-Slot eines Software-Instrument-Channel Strip eingefügt. Aber was auch immer-Plug-in wählen Sie dort das Plug-In-Menü am oberen Rand sein. Hier können Sie die Ansicht Größe, Link-Modus, Bypass-Zustand und natürlich Zugriff auf die Einstellungen-Menü unter anderem nützliche Gegenstände.
Klicken Sie auf das Plug-In-Einstellung Bar, um das Popup-Menü Einstellungen zu sehen.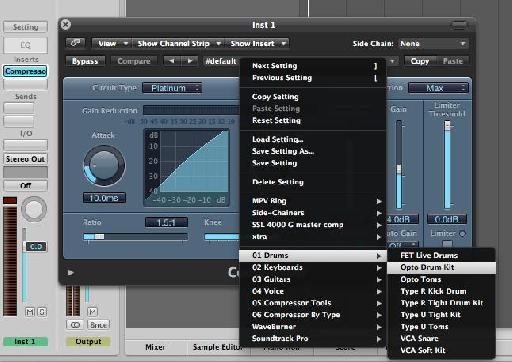 Hier können Sie eine Voreinstellung für die Plug-in auf den unteren Rand des Menüs.
Obwohl Sie die gleichen Einstellungen für das ausgewählte Plug-In in der Bibliothek (über das Media Area) zugreifen können, hat dieses Pop-Up-Menü einige Vorteile.
02 - Speichern und Laden
Lädt die gewünschte Einstellung für ein Plug-in in Logic Library ist einfach genug. Entweder über die Tastatur den Pfeil-Tasten oder wählen Sie die Einstellung mit der Maus. Doch in Logic 8 und 9, gibt es keinen Weg, um ein Plug-In-Einstellung in der Bibliothek speichern. Dies ist eine echte Schande und etwas, was ich hoffe, dass die Logic-Entwickler eines Tages bald ändern, aber in der Zwischenzeit einen Klick auf das Menü Einstellungen auf das Plug-in werden die drei folgenden grundlegenden Befehle anzuzeigen:

Load Setting...

Save Settings As...

Save Setting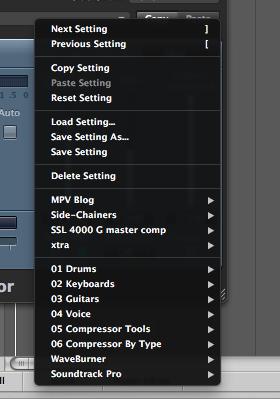 Selecting Save Setting As... allows you to save the current state of the plug-in as a custom setting file. This setting will be placed in the relevant folder in the following location on your Mac:
~/Library/Application Support/Logic/Plug-In Settings/

Jetzt, wo Logic speichert diese Arten von Einstellungen-Dateien, ist es eine gute Idee, sie wieder von Zeit zu Zeit!
03-All in One
Channel Strip Settings sind die beste Erfindung seit geschnittenem Brot ... na ja, fast. Ein Channel Strip Einstellung enthält alle Plug-Ins und deren Einstellungen auf die ausgewählten Channel-Strip. Dies ist eine großartige Möglichkeit, um eine ganze Kanalzug im Wert von häufig verwendeten Plug-Ins in anderen Projekten wieder zu verwenden.
Es gibt zwei Möglichkeiten, um Channel Strip Settings zugreifen. Zuerst ist die Bibliothek (in der Media-Bereich). Beachten Sie in das Bild unten, dass die Software-Instrument-Channel Strip hat eine subtile weißen Rand (Schwerpunkt) rund um die Schaltfläche Einstellung der Channel Strip ist an der Spitze. Mehr dazu später ...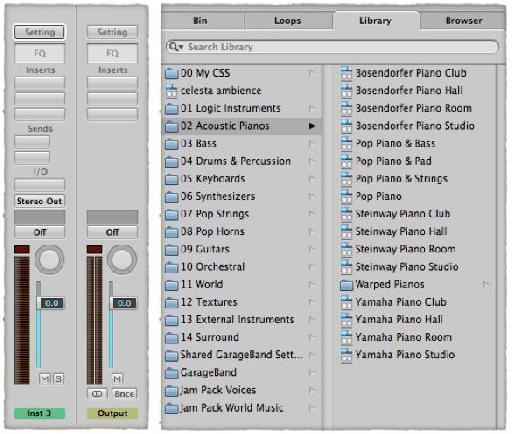 Der zweite Weg, ist natürlich zu klicken (und halten für eine halbe Sekunde) auf die Schaltfläche Einstellungen auf der Spitze eines Channel-Strip. Nun, wenn Sie und klicken Sie halten und NICHT drücken Sie die Maustaste loslassen, wird das Menü angezeigt wird ... aber sobald Sie die Maustaste loslassen das Menü ausgeblendet, was macht das Navigieren in diesen Menüs recht knifflig.
Also hier ist ein Trick, um zu verhindern, dass Situation, die selbst erfahrene Logic Benutzer können nicht wissen ...

Click and hold on the Settings button for half a second and release and wait. The menu will appear and you can navigate the menu without fear of it disappearing!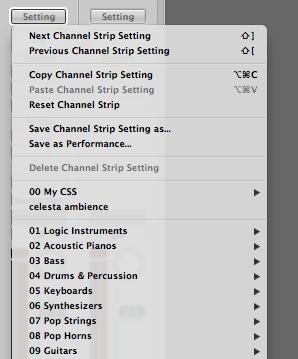 04 - Keeping Fokus
Denken Sie daran, in den vorherigen Schritt, dass ich Key Focus erwähnt? Hier die Gründe: Die Bibliothek ist kontextabhängig und kann die Einstellungen für jedes Plug-in auf der ausgewählten Spur oder die Channel Strip Settings für die ausgewählten Titel anzuzeigen. Es hängt alles davon ab, was ausgewählt wird / wurde Key Focus.
Mit der Bibliothek offen auf den Slot eines Einsatzes oder Instrument-Plug-in auf der linken Channel Strip in der Inspector mit einem Klick. Das Plug-in Schwerpunkt und die Bibliothek wird aktualisiert, um es Einstellungen nur anzeigen.
In this example, I've selected Logic's Compressor (on the top Insert slot).


Mit der Bibliothek zu öffnen, auf der Channel Strip ist Einstelltaste Ein-Klick und die Bibliothek wird nur angezeigt, Channel Strip Settings für die jeweilige Channel Strip-Typ.
05 - Swap Around
Je mehr Sie zu erkunden (oder erstellen Sie Ihre eigenen) Plug-in und / oder Channel Strip Settings umso schöner werden sie! Was aber, wenn Sie den Channel-Strip-Einstellungen speziell für einen Aux-Channel Strip auf einer Audio-oder Software-Instrument-Spur gespeichert nutzen möchte? Oder umgekehrt?
Eine Möglichkeit besteht darin, dass Kanal-Strip-Einstellung auf diesem Track auswählen und dann in den Mixer verschieben oder kopieren alle Plug-Ins über den Audio-Kanal erinnern ... Ein besserer Weg ist es, Option-Klick auf den Channel-Strip Einstelltaste. Dies gibt Ihnen die Möglichkeit der Auswahl anderer Kanal-Strip-Einstellungen in der Regel nicht zur Verfügung für Ihre Channel Strip-Typ!
Dies erweist sich als eine hervorragende Möglichkeit, zu experimentieren und schnellen Zugriff auf Channel Strip Settings für verschiedene Track-Typen erstellt.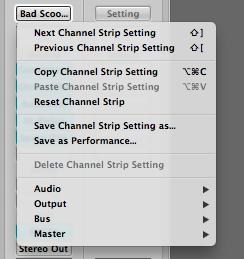 06 - Auf Wiedersehen Library ...
Wenn Sie eine größere Arrangierbereich ohne Inspector oder Bibliothek zu öffnen, wollen aber trotzdem in der Lage sein Channel Strip Settings für Ihre ausgewählten Titel zu ändern ist hier eine Lösung für Sie.
First, make sure that your Track Headers name label are set up in the following way:
Right-Click (or Control-Click) on any Track Header and choose: Configure Track Header.
Wählen Sie Channel Strip Name der Einstellung in den Names Bereich und klicken Sie auf Fertig.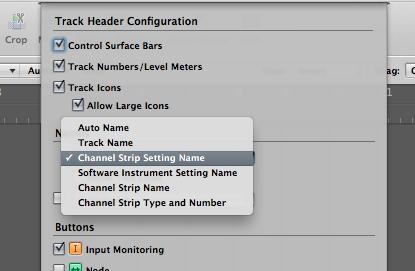 Choose any Channel Strip Setting first and then click and hold (for a short time) on the Name Label on that track header. The Channel Strip Setting Menu appears where your mouse cursor is! A great time-saver and alternative to using the Inspector and/or Media area.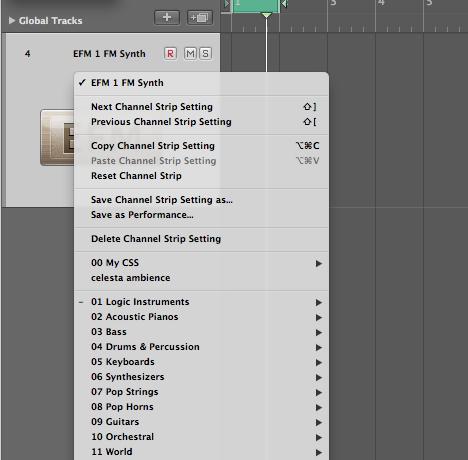 07 - Unter Shortcuts
Mit den Pfeiltasten auf Ihrer Tastatur können das Navigieren durch und wählen Sie Plug-In oder Channel Strip Settings in der Bibliothek ein Kinderspiel. Probieren Sie es aus!
Aber, wenn Sie nach noch mehr sofortige Kontrolle Verlangen öffnen Sie das Key Commands-Fenster (Logic Pro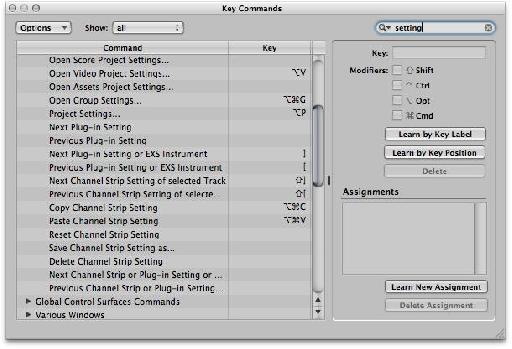 Einige dieser Punkte werden nicht auf Tastaturbefehle zugewiesen. Wenn Sie einen Tastaturbefehl Channel Strip-Einstellung für zB Zurücksetzen zuweisen möchten versuchen Sie Folgendes:
Click on Reset Channel Strip Setting to select it.
Click on the Learn by Key Label button so it is highlighted.
Now press on the modifier keys and the alpha key you wish to assign. If accepted it will appear next to the command.
Finally click on Learn by Key Label button to disable it and close the Key Commands window.

Das ist alles, damit Sie es! Gehe so verrückt, wie Sie mit diesem wie und Sie können sogar frei belegbare Tasten, Knöpfe oder Tasten von Ihrem externen MIDI-Controller, um beliebige Befehle mit Hilfe der Learn New Assignment-Taste! Die Möglichkeiten sind endlos und gut geeignet, um das Erhalten Sie arbeiten schneller mit Plug-in und Channel Strip Settings.
Wenn Sie weitere Plug-in oder Channel-Strip-Einstellung haben Tipps lassen Sie uns in den Kommentaren unten weiß