Logic 9 comes bundled with masses of loops, instruments and effects. Best of all, the instruments and effects can be highly customized! Once you've made changes to the settings of any plug-in, it's cu
Logic 9 viene con masas de loops, instrumentos y efectos. Lo mejor de todo, los instrumentos y efectos pueden ser altamente personalizados! Una vez que haya realizado cambios en la configuración de cualquier plug-in, su estado actual se guardará en su proyecto. Por lo tanto, no hay necesidad de marcar en los ajustes cada vez que abra el proyecto! Campana probable es que usted desea utilizar algunos de los presets y sus propios ajustes en diferentes proyectos. Una vez más, no hay necesidad de salir lápiz y papel y registrar manualmente estos a mano. La lógica tiene formas sofisticadas que le permitirán guardar y recuperar los plug-in y ajustes de canal en la carpeta de la cuenta del usuario en su Mac.
Siga leyendo para averiguar cómo tomar ventaja de esta característica para ahorrar tiempo.
01 - Plug-in Settings. Los fundamentos.
Cuando se inserta un instrumento o efecto plug-in directamente en cualquier canal, por defecto, la lógica se abre la ventana de módulo. En este ejemplo, he insertado un compresor en la ranura de inserción superior de una banda de canal de software del instrumento. Pero cualquiera que sea el plug-in que usted elija no será el plug-en el área de menú en la parte superior. Aquí puede cambiar el tamaño de vista, el modo de enlace, el bypass del Estado y, por supuesto, acceder al menú de configuración, entre otros artículos útiles.
Haga clic en el plug-in de barra de ajuste para ver el menú emergente Configuración.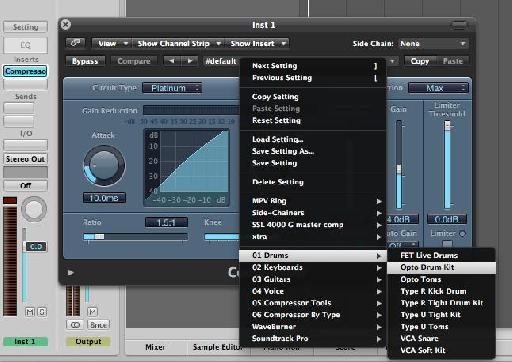 Aquí usted puede seleccionar un valor predeterminado para que el plug-in hacia la parte inferior del menú.
Aunque se puede acceder a la misma configuración para el plug-in seleccionado en la biblioteca (a través del Área de Medios de Comunicación), este menú emergente Configuración tiene algunas ventajas.
02 - Guardar y Recuperar
Cargando la configuración deseada para un plug-in en la Biblioteca de la lógica es bastante sencillo. O bien utilizar las teclas de flecha del teclado o seleccionar la configuración con el ratón. Sin embargo, en Logic 8 y 9, no hay manera de salvar a un plug-in de configuración en la Biblioteca. Esta es una verdadera lástima y algo que espero que los desarrolladores de la lógica va a cambiar un día, pronto, pero mientras tanto, hacer clic en el menú de configuración en el plug-in se revelan los tres comandos esenciales siguientes:

Load Setting...

Save Settings As...

Save Setting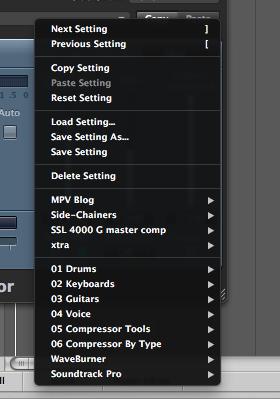 Selecting Save Setting As... allows you to save the current state of the plug-in as a custom setting file. This setting will be placed in the relevant folder in the following location on your Mac:
~/Library/Application Support/Logic/Plug-In Settings/

Ahora en las tiendas de la lógica de este tipo de archivos de configuración, que es una buena idea para una copia de seguridad de vez en cuando!
03-Todo en Uno
Ajustes de canal son el mejor invento desde el pan rebanado ... bueno, casi. Un ajuste de canal contiene todos los plug-ins y su configuración en el canal seleccionado. Esta es una buena manera de recordar vale la pena un canal entero de uso frecuente plug-ins en otros proyectos.
Hay dos formas de acceder a ajustes de canal. En primer lugar se encuentra la Biblioteca (en el área de los medios de comunicación). Observe en la imagen de abajo que la franja de los canales de software de instrumentos tiene una frontera sutil blanco (enfoque clave) alrededor del botón Configuración de la tira de canal en la parte superior. Más sobre esto más adelante ...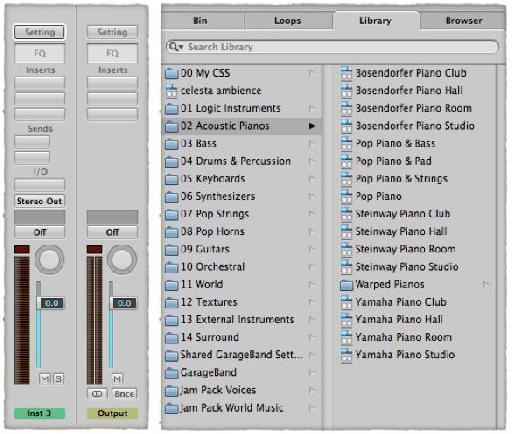 La segunda forma, por supuesto, es hacer clic en (y mantener durante medio segundo) en el botón Configuración en la parte superior de un canal. Ahora, si hace clic en la tecla y NO presione el botón del ratón, aparecerá el menú ... pero tan pronto como se suelta el botón del ratón en el menú desaparece, lo que hace que la navegación de estos menús muy complicados.
Bueno aquí hay un truco para ayudar a evitar que la situación de que incluso los usuarios experimentados de la lógica no puede saber ...

Click and hold on the Settings button for half a second and release and wait. The menu will appear and you can navigate the menu without fear of it disappearing!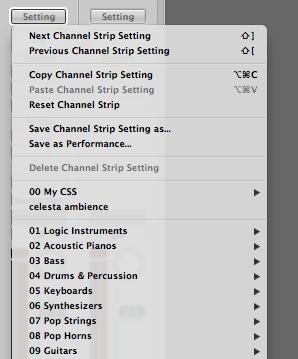 04 - Mantener Enfoque
Recuerde que en el paso anterior que he mencionado enfoque clave? He aquí por qué: La Biblioteca es sensible al contexto y puede mostrar la configuración de cualquier plug-in en la pista seleccionada o de la configuración de canal para la pista seleccionada. Todo depende de lo que se ha seleccionado / tiene el foco Key.
Con la biblioteca abierta con un solo clic en la ranura de una inserción o instrumento plug-in en el canal izquierdo en el Inspector. Plug-in que tiene el foco clave de la Biblioteca y se actualizará para mostrar su configuración única.
In this example, I've selected Logic's Compressor (on the top Insert slot).


Con la biblioteca abierta, con un solo clic en el botón Configuración de la tira de canal y la Biblioteca sólo muestra ajustes de canal para este tipo de canal en particular.
05 - Alrededor de intercambio
Cuanto más se explore (o crear uno propio) plug-in y / o ajustes de canal de la más maravillosa de que se conviertan! Sin embargo, lo que si desea utilizar la configuración del canal guardar específicamente para una tira de canal auxiliar en una pista de audio o de instrumentos de software? O viceversa?
Una forma es la de recordar que el establecimiento de canal en ese tipo de pista y luego en el mezclador de mover o copiar todos los plug-ins en el canal de audio ... Una mejor manera es a Opción y haga clic en el botón Configuración de la Franja de Channel. Esto le dará la opción de seleccionar otros ajustes de canal normalmente no están disponibles para su tipo de canal seleccionado!
Esta resulta ser una excelente manera de experimentar y acceder rápidamente a ajustes de canal creado para los tipos de vía diferentes.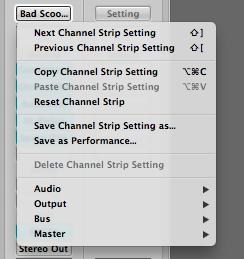 06 - Adiós Biblioteca ...
Si te gusta una mayor área Organizar sin el Inspector o área de la biblioteca abierta, pero todavía quiero ser capaz de cambiar la configuración de canal para las pistas seleccionadas aquí está la solución para usted.
First, make sure that your Track Headers name label are set up in the following way:
Right-Click (or Control-Click) on any Track Header and choose: Configure Track Header.
Seleccione Channel Strip Nombre del ajuste en el área de nombres y haga clic en Hecho.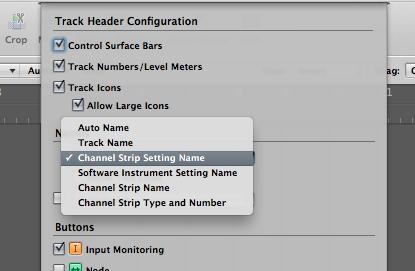 Choose any Channel Strip Setting first and then click and hold (for a short time) on the Name Label on that track header. The Channel Strip Setting Menu appears where your mouse cursor is! A great time-saver and alternative to using the Inspector and/or Media area.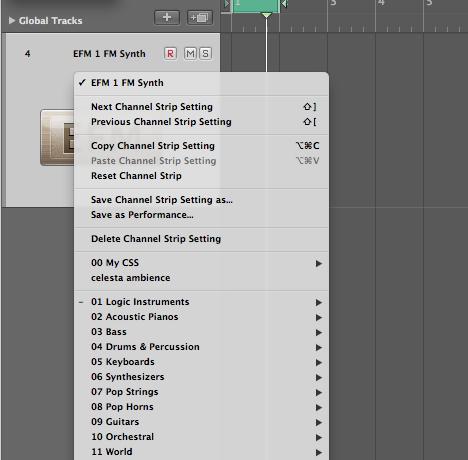 07 - Tomando Atajos
Usando las flechas del teclado puede navegar a través de la selección y el plug-in o ajustes de canal en la biblioteca de una brisa. ¡Pruébalo!
Pero, si usted es anhelo de un mayor control instantáneo abrir la ventana de comandos de teclado (Pro Logic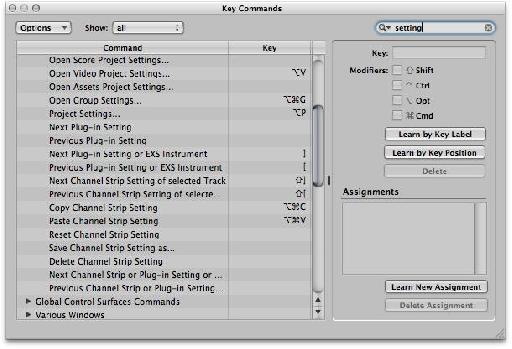 Algunos de estos artículos no están asignados a comandos de teclado. Si desea asignar un comando de teclado para restablecer la configuración de canal, por ejemplo, intente lo siguiente:
Click on Reset Channel Strip Setting to select it.
Click on the Learn by Key Label button so it is highlighted.
Now press on the modifier keys and the alpha key you wish to assign. If accepted it will appear next to the command.
Finally click on Learn by Key Label button to disable it and close the Key Commands window.

Eso es todo lo que hay que hacer! Ir tan loco como tú quieras con esta e incluso se puede asignar a los botones, botones o teclas de su controlador MIDI externo a los comandos con el botón Aprender nueva asignación! Las posibilidades son infinitas y muy adecuado para conseguir que trabajar más rápidamente con el plug-in y ajustes de canal.
Si tiene alguna más plug-in o el canal consejos tira establecimiento, háganoslo saber en los comentarios