Logic 9 comes bundled with masses of loops, instruments and effects. Best of all, the instruments and effects can be highly customized! Once you've made changes to the settings of any plug-in, it's cu
Logic 9 est livré avec des masses de boucles, instruments et effets. Le meilleur de tous, les instruments et les effets peuvent être très personnalisés! Une fois que vous avez apporté des modifications aux paramètres d'un plug-in, son état actuel sera sauvegardé dans votre projet. Donc, il n'ya pas besoin de composer dans ces paramètres à chaque fois que vous ouvrez le projet! Capot probable est que vous aurez envie d'utiliser certains des presets et vos propres paramètres dans différents projets. Encore une fois, il n'y a aucun besoin de sortir un stylo et du papier et d'enregistrer manuellement les à la main. Logic a des moyens sophistiqués pour vous aider à sauvegarder et rappeler le plug-in et les paramètres de bande de canaux pour votre dossier de compte utilisateur sur votre Mac.
Lisez la suite pour savoir comment profiter de cette fonctionnalité de gagner du temps.
01 - Plug-In Settings. Les bases.
Lorsque vous insérez un instrument ou effet de plug-in directement sur n'importe quel Channel Strip, par défaut, Logic ouvre la fenêtre de plug-in. Dans cet exemple, j'ai inséré un compresseur sur le logement d'insertion supérieur d'un Channel Strip Instrument Software. Mais quel que soit le plug-in que vous choisissez, il y aura le plug-in zone de menu en haut. Ici vous pouvez changer la taille lien Afficher le mode, l'état de contournement et bien sûr d'accéder au menu des paramètres parmi d'autres objets utiles.
Cliquez sur le plug-in barre de réglage pour afficher le menu pop-up sur Paramètres.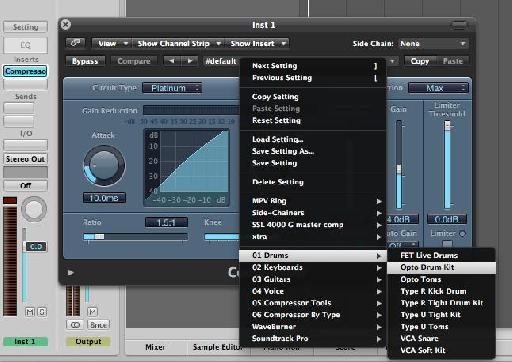 Ici vous pouvez choisir un préréglage pour ce plug-in vers le bas du menu.
Bien que vous puissiez accéder aux paramètres de même pour le plug-in sélectionné dans la bibliothèque (par le biais de l'Espace Media), ce menu pop-up Settings présente certains avantages.
02 - Enregistrer et rappeler
Chargement de votre réglage désiré pour un plug-in dans la bibliothèque de Logic est assez simple. Soit utiliser les touches fléchées du clavier ou sélectionner le réglage de votre souris. Toutefois, dans Logic 8 et 9, il n'ya aucun moyen de sauver un plug-in réglage dans la bibliothèque. C'est une véritable honte et quelque chose j'espère que les développeurs Logic va changer un jour bientôt, mais en attendant, en cliquant sur ​​le menu Réglages sur le plug-in va révéler les trois commandes suivantes essentielles:

Load Setting...

Save Settings As...

Save Setting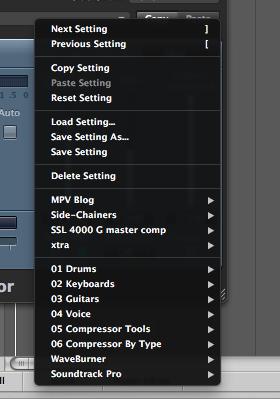 Selecting Save Setting As... allows you to save the current state of the plug-in as a custom setting file. This setting will be placed in the relevant folder in the following location on your Mac:
~/Library/Application Support/Logic/Plug-In Settings/

Maintenant, vous, où les magasins logique de ces types de fichiers de paramètres, c'est une bonne idée de les retourner de temps en temps!
03-Tout en Un
Channel Settings bande sont la meilleure invention depuis le pain tranché ... enfin, presque. A Réglage Channel Strip contient tous les plug-ins et leurs paramètres sur la bande de canal sélectionné. Ceci est une excellente façon de se rappeler d'une valeur de bande canal entier de souvent utilisé des plug-ins dans d'autres projets.
Il ya deux façons d'accéder à des paramètres Channel Strip. La première est la bibliothèque (dans la zone des médias). Notez dans l'image ci-dessous que le Channel Strip Instrument Software a une frontière subtile blanc (objectif clé) autour du bouton Configuration du Channel Strip au sommet. Plus sur cela plus tard ...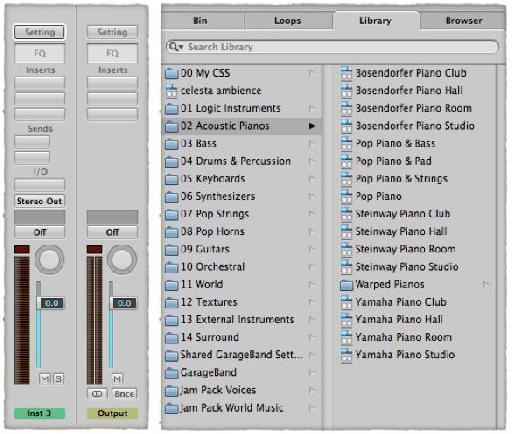 La seconde manière, bien sûr, est de cliquer (et maintenir pendant une demi-seconde) sur le bouton Paramètres en haut d'un Channel Strip. Maintenant, si vous cliquez et maintenez enfoncé et NE PAS appuyer sur le bouton de la souris, le menu apparaîtra ... mais dès que vous relâchez le bouton de la souris, le menu disparaît, ce qui rend la navigation dans ces menus assez fastidieux.
Eh bien voici une astuce pour éviter cette situation qui, même les utilisateurs expérimentés peuvent Logic ne sais pas ...

Click and hold on the Settings button for half a second and release and wait. The menu will appear and you can navigate the menu without fear of it disappearing!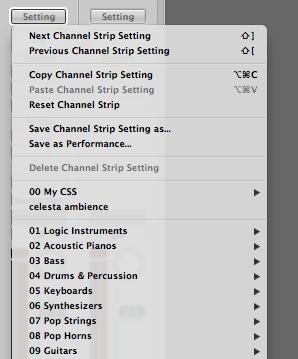 04 - Focus Garder
Rappelez-vous à l'étape précédente que j'ai mentionné Key Focus? Voici pourquoi: La bibliothèque est sensible au contexte et peut afficher les paramètres de n'importe quel plug-in sur la piste sélectionnée ou les réglages de bandes de canaux pour cette piste sélectionnée. Tout dépend de ce qui est sélectionné / a Key Focus.
Avec la bibliothèque ouverte simple clic sur la fente d'un insert ou d'un instrument plug-in sur la bande de Channel gauche dans l'Inspecteur. Ce plug-in a le focus clés et de la Bibliothèque sera mise à jour pour afficher ses paramètres seulement.
In this example, I've selected Logic's Compressor (on the top Insert slot).


Avec la bibliothèque ouverte, simple clic sur le bouton Configuration du Channel Strip et la Bibliothèque affiche uniquement les paramètres Channel Strip pour ce type de bande de canal particulier.
05 - Swap Autour
Le plus vous explorer (ou créez vos propres) du plug-in et / ou Channel Settings bande de plus merveilleux qu'ils deviennent! Toutefois, si vous souhaitez utiliser les paramètres de bande de canal spécifiquement sauvegardés pour une bande de canal auxiliaire sur une piste audio ou instrument logiciel? Ou vice-versa?
Une façon est de se rappeler que la mise en bande de canaux sur ce type de piste et ensuite dans le mixeur de déplacer ou copier tous ces plug-ins dans le canal audio ... Une meilleure façon est d'Option-clic sur le bouton Réglage de la bande de la Manche. Cela vous donnera la possibilité de choisir d'autres réglages de bandes de canaux habituellement pas disponible pour votre type de Channel Strip sélectionné!
Cela s'avère être un excellent moyen d'expérimenter et d'accéder rapidement aux réglages de bandes de canaux créés pour les types de pistes différentes.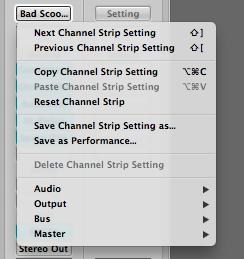 06 - Au revoir ... Bibliothèque
Si vous aimez un plus grand espace sans Organiser l'inspecteur ou de la zone Bibliothèque ouverte, mais veulent toujours être en mesure de changer les paramètres Channel Strip pour vos pistes sélectionnées voici une solution pour vous.
First, make sure that your Track Headers name label are set up in the following way:
Right-Click (or Control-Click) on any Track Header and choose: Configure Track Header.
Sélectionnez le nom du canal Réglage bande dans la zone Noms et cliquez sur Terminé.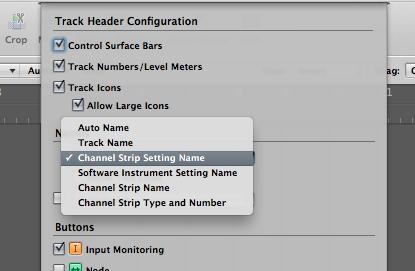 Choose any Channel Strip Setting first and then click and hold (for a short time) on the Name Label on that track header. The Channel Strip Setting Menu appears where your mouse cursor is! A great time-saver and alternative to using the Inspector and/or Media area.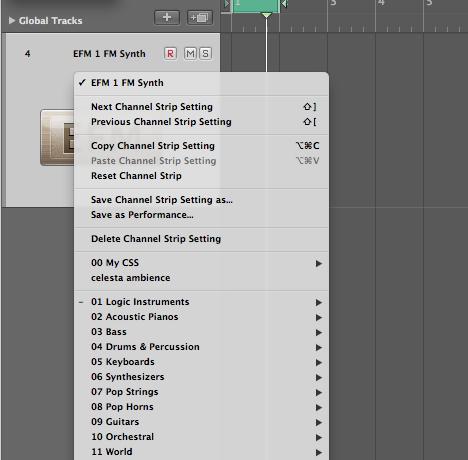 07 - Prendre des raccourcis
En utilisant les touches fléchées du clavier peuvent rendre la navigation et la sélection par le biais de plug-in ou Paramètres Channel Strip dans la bibliothèque une brise. Essayez-le!
Mais, si vous êtes nostalgie d'un contrôle encore plus instantanée ouvrir la fenêtre Raccourcis Clavier (Pro Logic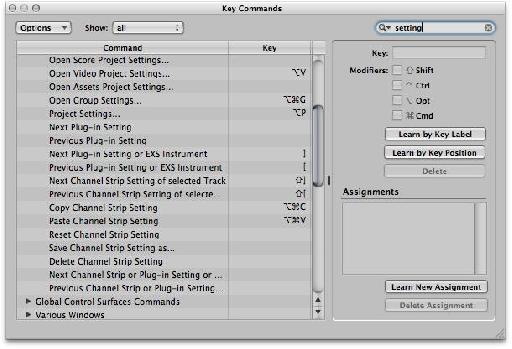 Certains de ces articles ne sont pas affectés à des raccourcis clavier. Si vous souhaitez attribuer un raccourci clavier pour réinitialiser Réglage Channel Strip, par exemple essayer ce qui suit:
Click on Reset Channel Strip Setting to select it.
Click on the Learn by Key Label button so it is highlighted.
Now press on the modifier keys and the alpha key you wish to assign. If accepted it will appear next to the command.
Finally click on Learn by Key Label button to disable it and close the Key Commands window.

C'est tout ce qu'il ya à faire! Allez aussi fou que vous aimez avec ceci et vous pouvez même attribuer des boutons, des boutons ou des touches de votre contrôleur MIDI externe pour toutes les commandes en utilisant le bouton Apprendre Affectation Nouveau! Les possibilités sont infinies et bien adapté à obtenir que vous travaillez plus rapidement avec le plug-in and Settings Channel Strip.
Si vous avez plus de plug-in ou Channel conseils de bande mise en faites-nous savoir dans les commentaires ci-dessous