Logic 9 comes bundled with masses of loops, instruments and effects. Best of all, the instruments and effects can be highly customized! Once you've made changes to the settings of any plug-in, it's cu
Logic 9 viene fornito con masse di loop, strumenti ed effetti. Migliore di tutti, gli strumenti e gli effetti possono essere altamente personalizzati! Una volta apportate modifiche alle impostazioni di ogni plug-in, è stato attuale verrà salvato nel progetto. Quindi, non c'è bisogno di comporre in queste impostazioni ogni volta che si apre il progetto! Cappuccio probabile è che si vorrà utilizzare alcuni dei preset e le proprie impostazioni in progetti diversi. Anche in questo caso, non c'è bisogno di uscire carta e penna e registrare manualmente questi a mano. La logica ha un modo sofisticato per aiutarti a salvare e richiamare il plug-in e le impostazioni di channel strip nella cartella account utente sul vostro Mac..
Continuate a leggere per scoprire come approfittare di questo tempo funzione di risparmio.
01 - Plug-in Settings. Le nozioni di base.
Quando si inserisce uno strumento o un effetto plug-in direttamente su qualsiasi Channel Strip, per impostazione predefinita, Logic apre la finestra plug-in. In questo esempio, ho inserito un compressore sullo slot Inserisci cima di una striscia di canale software dello strumento. Ma qualunque sia il plug-in scegli ci sarà il plug-in menù in alto. Qui è possibile modificare le dimensioni View, la modalità di collegamento, bypass stato e, naturalmente, accedere al menu impostazioni, tra gli altri oggetti utili.
Fare clic sul plug-in Bar Impostare per visualizzare il menu a comparsa Impostazioni.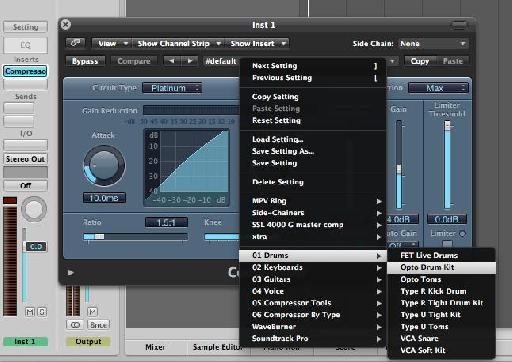 Qui è possibile selezionare un preset per il plug-in verso la parte inferiore del menu.
Sebbene sia possibile accedere alle stesse impostazioni per il plug-in selezionato nella Biblioteca (via dello Spazio Media), questo pop-up menu Impostazioni ha alcuni vantaggi.
02 - Salva e Recall
Caricamento in corso l'impostazione desiderata per un plug-in nella libreria La logica è abbastanza semplice. Utilizzare i tasti freccia della tastiera o selezionare l'impostazione con il mouse. Tuttavia, in Logic 8 e 9, non c'è modo di salvare un plug-in impostazione della Biblioteca. Questo è un vero peccato e una cosa spero che gli sviluppatori Logic cambierà un giorno non lontano, ma nel frattempo cliccando sul menu Impostazioni del plug-in rivelerà i tre comandi seguenti elementi essenziali:

Load Setting...

Save Settings As...

Save Setting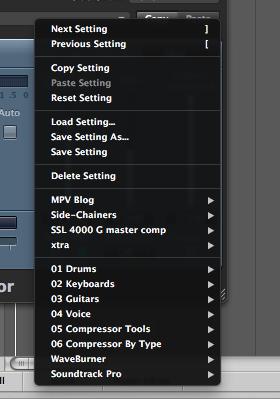 Selecting Save Setting As... allows you to save the current state of the plug-in as a custom setting file. This setting will be placed in the relevant folder in the following location on your Mac:
~/Library/Application Support/Logic/Plug-In Settings/

Ora dove memorizza Logic questi tipi di file di impostazioni, è una buona idea farne un backup di tanto in tanto!
03-All in One
Canale Impostazioni Striscia sono la migliore invenzione dopo il pane affettato ... beh, quasi. A Impostazione Channel Strip contiene tutti i plug-in e le relative impostazioni sulla striscia di canale selezionato. Questo è un ottimo modo per richiamare la pena una striscia intero canale di spesso utilizzati i plug-in in altri progetti.
Ci sono due modi per accedere Impostazioni Channel Strip. Il primo è la Biblioteca (nella zona Media). Notate nell'immagine qui sotto che la Striscia di Canale strumento software ha un bordo bianco sottile (obiettivo chiave) intorno pulsante Impostazione del Channel Strip in cima. Più in seguito ...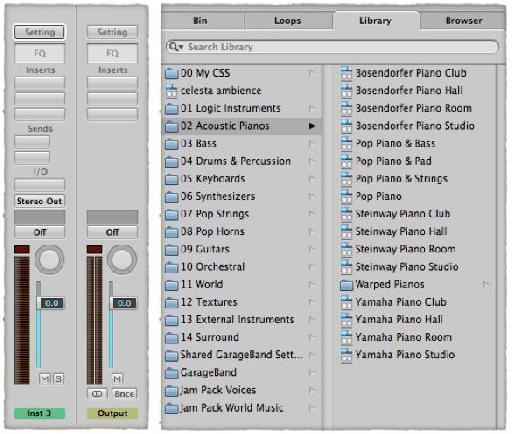 Il secondo modo, ovviamente, è quello di cliccare (e tenere premuto per mezzo secondo) sul pulsante Impostazioni nella parte superiore di una striscia di canale. Ora, se si fa clic e tenere premuto e NON premere il pulsante del mouse, il menu apparirà ... ma non appena si rilascia il pulsante del mouse il menu scompare, il che rende la navigazione questi menu abbastanza laborioso.
Beh ecco un trucco per evitare quella situazione che anche gli utenti esperti di logica non può sapere ...

Click and hold on the Settings button for half a second and release and wait. The menu will appear and you can navigate the menu without fear of it disappearing!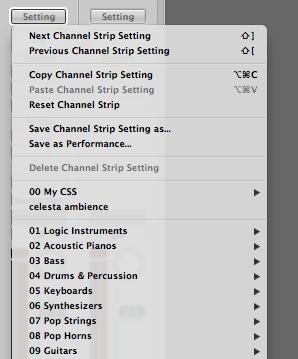 04 - Messa a fuoco Keeping
Ricordate nella fase precedente di cui ho parlato di messa a fuoco Key? Ecco perché: La Biblioteca è sensibile al contesto e può visualizzare le impostazioni per ogni plug-in sulla traccia selezionata o le impostazioni Channel Strip per quella traccia selezionata. Tutto dipende da ciò che è stato selezionato / ha di messa a fuoco chiave.
Con la Biblioteca aperta solo clic sullo slot di un inserto o strumento plug-in sul Channel Strip sinistra nella finestra di ispezione. Questo plug-in ha lo stato attivo chiave e la Biblioteca verrà aggiornato per visualizzare le sue impostazioni solo.
In this example, I've selected Logic's Compressor (on the top Insert slot).


Con la Biblioteca aperta, un solo clic sul pulsante Impostazione del Channel Strip e la Biblioteca visualizza solo Impostazioni Channel Strip per quel particolare tipo Channel Strip.
05 - Intorno Swap
Il più si esplora (o crearne di propri) plug-in e / o Channel Settings Striscia il più meraviglioso diventano! Tuttavia, quello che se si desidera utilizzare le impostazioni di channel strip specificamente salvato per una striscia di canale Aux su una traccia audio o strumento software? O viceversa?
Un modo è quello di ricordare che l'impostazione striscia di canale su quel tipo di pista e poi nel mixer spostare o copiare tutti i plug-in attraverso il canale audio ... Un modo migliore è quello di Opzione-clic sul pulsante Impostazioni nella Striscia Channel. Questo vi darà la scelta di selezionare altre impostazioni di channel strip normalmente non disponibili per il tipo di canale selezionato Strip!
Questo risulta essere un ottimo modo per sperimentare e accedere rapidamente alle impostazioni della Striscia di Canale creato per i tipi di traccia diversa.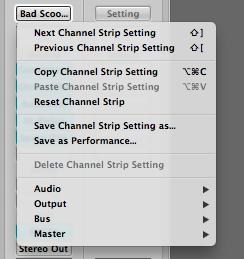 06 - Arrivederci Biblioteca ...
Se ti piace un più ampio spazio senza Disporre l'Ispettore o area Biblioteca aperta, ma ancora voglia di essere in grado di modificare le impostazioni Channel Strip per le vostre tracce selezionate ecco una soluzione per voi.
First, make sure that your Track Headers name label are set up in the following way:
Right-Click (or Control-Click) on any Track Header and choose: Configure Track Header.
Seleziona Nome Channel Strip Impostazione della zona Nomi e scegliere OK.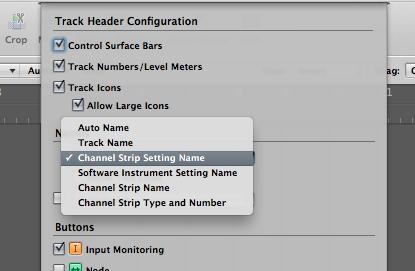 Choose any Channel Strip Setting first and then click and hold (for a short time) on the Name Label on that track header. The Channel Strip Setting Menu appears where your mouse cursor is! A great time-saver and alternative to using the Inspector and/or Media area.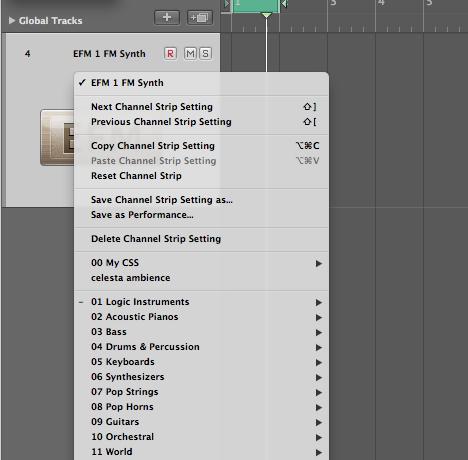 07 - Scorciatoie Facendo
Utilizzando i tasti freccia sulla tastiera può rendere la navigazione e la selezione attraverso plug-in o Impostazioni Channel Strip nella Biblioteca una brezza. Provalo!
Ma, se tu abbia voglia dopo un controllo ancora più immediato aprire la finestra chiave Comandi (Pro Logic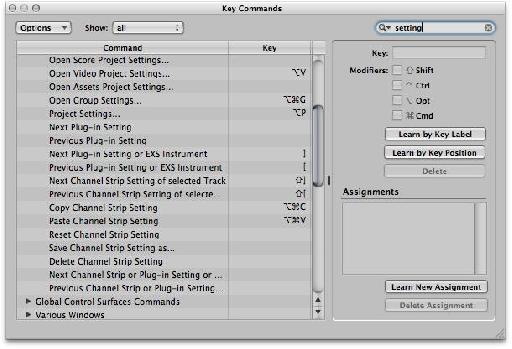 Alcuni di questi elementi non sono assegnati a comandi da tastiera. Se si desidera assegnare un comando chiave per la reimpostazione di Striscia Impostazione canale per esempio, provare quanto segue:
Click on Reset Channel Strip Setting to select it.
Click on the Learn by Key Label button so it is highlighted.
Now press on the modifier keys and the alpha key you wish to assign. If accepted it will appear next to the command.
Finally click on Learn by Key Label button to disable it and close the Key Commands window.

Questo è tutto quello che c'è da fare! Vai così folle come vi piace con questa e si può anche assegnare i tasti, manopole o chiavi dal vostro controller MIDI esterno per qualsiasi comando tramite il pulsante Nuova assegnazione Ulteriori! Le possibilità sono infinite e adatte ad ottenere che lavora più velocemente con il plug-in e impostazioni Channel Strip.
Se avete più plug-in o Canale suggerimenti impostazione striscia fateci sapere nei commenti qui sotto