Logic 9 comes bundled with masses of loops, instruments and effects. Best of all, the instruments and effects can be highly customized! Once you've made changes to the settings of any plug-in, it's cu
Logic 9 vem com massas de loops, instrumentos e efeitos. O melhor de tudo, os instrumentos e efeitos podem ser altamente personalizado! Depois que você fizer alterações nas configurações de qualquer plug-in, é actual estado será salvo em seu projeto. Assim, não há necessidade de discar essas configurações toda vez que você abrir o projeto! Capa provável é que você vai querer usar algumas das predefinições e suas próprias configurações em diferentes projetos. Novamente, não há necessidade de sair caneta e papel e registrar manualmente estes à mão. Lógica tem formas sofisticadas para ajudar você a economizar e relembrar plug-in e as configurações de faixa de canal para a sua pasta de Conta de Usuário no seu Mac.
Leia mais para descobrir como tirar proveito desse recurso de economia de tempo.
01 - Plug-in Settings. O Básico.
Quando você insere um instrumento ou efeito plug-in diretamente em qualquer faixa de canal, por padrão, Logic abre a janela do plug-in. Neste exemplo, eu tenho inserido um compressor sobre o Slot Inserir topo de uma Faixa de Canal Software Instrumento. Mas qualquer que seja plug-in que você escolher, haverá o plug-in área de menu no topo. Aqui você pode alterar o tamanho, modo de Ver link,, bypass estado e, claro, acessar o menu de configurações, entre outros itens úteis.
Clique no plug-in do Bar Definir para exibir o menu pop-up Configurações.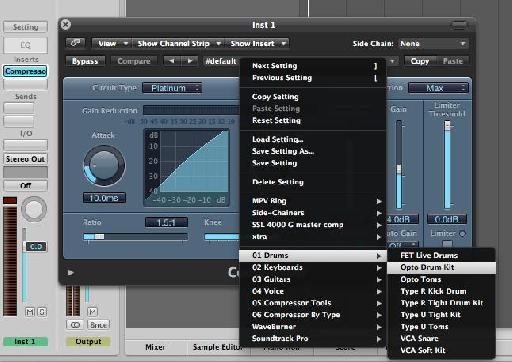 Aqui você pode selecionar uma predefinição para esse plug-in para o fundo do menu.
Embora você possa acessar as mesmas configurações para o plug-in selecionado na Biblioteca (por meio da Área de Media), este pop-up menu Settings tem algumas vantagens.
02 - Salve e acesse
Carregando a configuração desejada para um plug-in na Biblioteca Logic é bastante simples. Ou use as teclas de seta do teclado ou selecionar a configuração com o mouse. No entanto, no Logic 8 e 9, não há maneira de salvar um plug-in configuração na Biblioteca. Esta é uma verdadeira vergonha e algo que eu espero que os desenvolvedores Logic vai mudar um dia em breve, mas enquanto isso clicando no menu Settings no plug-in irá revelar os três seguintes comandos essenciais:

Load Setting...

Save Settings As...

Save Setting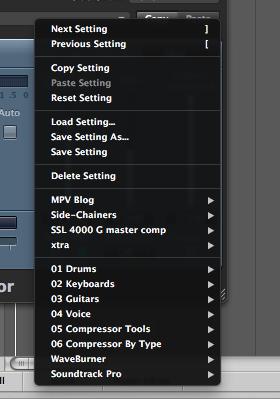 Selecting Save Setting As... allows you to save the current state of the plug-in as a custom setting file. This setting will be placed in the relevant folder in the following location on your Mac:
~/Library/Application Support/Logic/Plug-In Settings/

Agora você onde as lojas Logic esses tipos de arquivos de configurações, é uma boa idéia para apoiá-los de vez em quando!
03-Tudo em Um
Configurações de Canal são a melhor invenção desde o pão fatiado ... bem, quase. A Faixa de Ajuste Canal contém todos os plug-ins e suas configurações na faixa de canal selecionado. Esta é uma ótima maneira de lembrar o valor de uma faixa de canal inteiro de muitas vezes utilizados plug-ins em outros projetos.
Existem duas formas para acessar as configurações do canal. Primeira é a Biblioteca (na área de Media). Repare na imagem abaixo que a Faixa de Canal Software Instrumento tem uma fronteira sutil branco (foco principal) em torno de botão Definição da Faixa de Canal no topo. Mais sobre isso mais tarde ...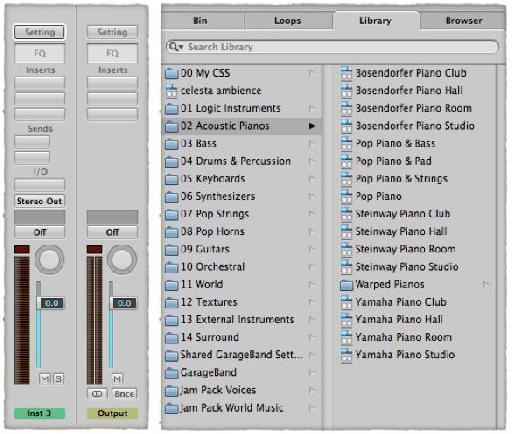 A segunda maneira, é claro, é clicar (e segure por meio segundo) no botão Configurações na parte superior da Faixa Channel. Agora, se você clicar e segurar e NÃO aperte o botão do mouse, o menu aparecerá ... mas assim que você soltar o botão do mouse o menu desaparece, o que torna a navegação esses menus bastante complicadas.
Bem, aqui está um truque para ajudar a evitar essa situação que até usuários experientes Logic pode não saber ...

Click and hold on the Settings button for half a second and release and wait. The menu will appear and you can navigate the menu without fear of it disappearing!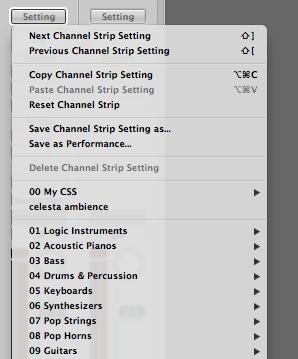 04 - Manter Foco
Lembre-se no passo anterior que eu mencionei Foco Key? Eis o porquê: A Biblioteca é sensível ao contexto e pode exibir as configurações para qualquer plug-in na faixa selecionada ou o canal configurações para essa faixa selecionada. Tudo depende do que for selecionado / tem foco principal.
Com a Biblioteca aberto um único clique no slot de um instrumento de inserção ou plug-in na Faixa de Canal esquerda no Inspector. Plug-in que tem foco principal e da Biblioteca será atualizado para mostrar que é apenas configurações.
In this example, I've selected Logic's Compressor (on the top Insert slot).


Com a Biblioteca aberto, com um só clique no botão na Faixa de Canal de Configuração e da Biblioteca exibe apenas configurações de faixa de canal para esse tipo particular Canal Strip.
05 - Cerca de swap
Quanto mais você explora (ou criar o seu próprio) plug-in e / ou Canal Faixa de configurações mais maravilhosas que se tornam! No entanto, se você quiser usar as configurações de canal de strip especialmente guardado para uma faixa em um canal Aux de áudio ou faixa Instrumento Software? Ou vice-versa?
É uma maneira de lembrar que a fixação de faixa de canal em que tipo de via e, em seguida, na Mixer mover ou copiar todos os plug-ins através do canal de áudio ... A melhor maneira é Option no botão Faixa Channel Setting. Isto lhe dará a opção de selecionar as configurações outro canal strip normalmente não disponíveis para o seu tipo selecionado Channel Strip!
Este acaba por ser uma excelente maneira de experimentar e acessar rapidamente as configurações Faixa Canal criado para os tipos de pista diferente.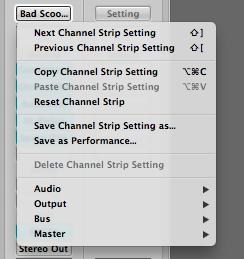 06 - Adeus Biblioteca ...
Se você gosta de uma área maior Organizar sem o Inspector ou área de biblioteca aberta, mas ainda quero ser capaz de mudar configurações de faixa de canal para o seu faixas selecionadas aqui está uma solução para você.
First, make sure that your Track Headers name label are set up in the following way:
Right-Click (or Control-Click) on any Track Header and choose: Configure Track Header.
Selecione Canal Nome da Configuração na área Faixa de Nomes e clique em Concluído.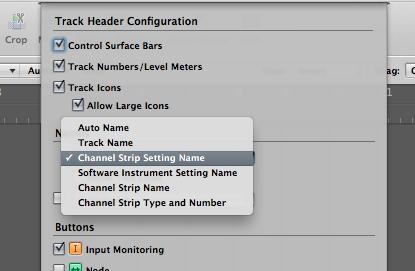 Choose any Channel Strip Setting first and then click and hold (for a short time) on the Name Label on that track header. The Channel Strip Setting Menu appears where your mouse cursor is! A great time-saver and alternative to using the Inspector and/or Media area.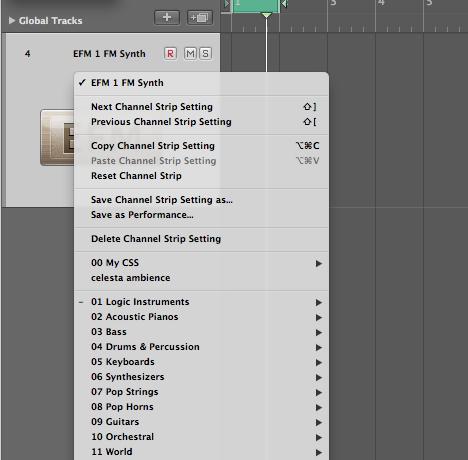 07 - Atalhos Tomar
Usando as setas do teclado pode tornar a navegação através de e selecionando plug-in ou canal configurações na biblioteca de uma brisa. Experimentá-lo!
Mas, se você estiver com vontade depois que o controle ainda mais instantânea abrir a janela de Comandos Key (Logic Pro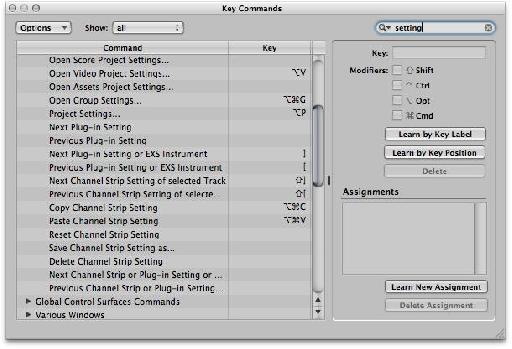 Alguns desses itens não são atribuídos aos comandos principais. Se você deseja atribuir um comando chave para Repor Definição Faixa de Canal, por exemplo, tente o seguinte:
Click on Reset Channel Strip Setting to select it.
Click on the Learn by Key Label button so it is highlighted.
Now press on the modifier keys and the alpha key you wish to assign. If accepted it will appear next to the command.
Finally click on Learn by Key Label button to disable it and close the Key Commands window.

Isso é tudo que há para fazer! Ir tão louco quanto você gosta com isso e você pode até atribuir teclas, botões ou teclas de seu controlador MIDI externo para todos os comandos usando o botão Learn Atribuição Novo! As possibilidades são infinitas e adequada para você ficar a trabalhar mais rapidamente com o plug-in and Settings Faixa Channel.
Se você tem mais plug-in ou Canal dicas definição strip deixe-nos saber nos comentários abaixo