In today's tip we'll explore some of Logic's powerful, yet underused Automation features. There are two types of Automation: Track-based and Region-based (HyperDraw - not to be confused with the Hyp
오늘의 팁은 우리는 로직의 강력한, 아직 underused 자동화 기능 중 일부를 탐험합니다. 트랙 기반과 지역 기반 (- 하이퍼 에디터와 혼동되지 않도록 HyperDraw) : 자동화의 두 종류가 있습니다. 로직 완전히 거의 모든 채널 스트립, 효과 및 계기 (또는 시간이 지남에 따라 변화) 설정을 자동화할 수 있습니다 매우 정교한 트랙 기반 자동화 시스템을 갖추고 있습니다. 이것은 믹스에 추가 생명을 가져다 줄 수 있습니다. 의 이러한 자동화 파워 사용자 팁 몇 가지 살펴 봅시다.

1 단계 - Autom ation의 곡선

Logic has a dedicated Automation Curve Tool. In all honesty I never use it anymore. Once you master the key command to create your own curves, there really is no need to switch between the Pointer tool and the Automation Curve Tool!
1. 보기 : 먼저 배열 지역의 로컬 메뉴에서 자동화 사용
2. 노드의 몇을 만듭니다. 이 트랙에 부드러운 볼륨 페이드를 만드는 작업입니다.

3. Hold down the Shift and Control keys and position the Pointer tool over the line between the nodes.
4. Drag to the right or left to create an S-curve or up/down to create concave or convex curve.
참고 : 다시 직선으로 곡선을 재설정하려면 시프트 제어 및 곡선에서 한 번의 클릭을 누른 상태!


2 단계 - 트랙 자동화 데이터를 조정하고 반전
그래서, 당신은 painstakingly 일부 복잡한 볼륨 자동화 (예를 들어)에 그리 오랜 시간 촬영했는데 지금은 여러 노드의 전반적인 매개 변수 수준을 신속하게 조정하려면 ....

1. Shift 키를 누른하고 조정하고자하는 모든 노드를 통해 선택 영역을 드래그합니다.
2. , 아래, 왼쪽 또는 오른쪽으로 모든 노드를 이동 노드 또는 라인에서 드래그 .... 또는

3. 자동화 가치를 반전하는 (하지만 노드 또는 라인)를 강조 지역 끕니다. 이것은 제로 정적에 대한 노드를 유지 및 / 더 극단에 노드 이동 - 가치를.
그 차이를보기 위해 밖으로보십시오! 아래 그림에 나는 트랙에 팬 설정을 반대하는 쉬운 방법으로 사용됩니다.

3 단계 - 다른 매개 변수로 복사 자동화 데이터
종종 당신은 다른 매개 변수에 적용하거나 다른 매개 변수에 복사하고 싶은 경우 중 더 나은 소리만한 매개 변수에 대해 작성의 자동화를 찾을 수 있습니다 ... 이 예제에서,이 트랙에서 볼륨 자동화를 그려 놨지만, 같은 트랙에서 자동화를 이동에 복사하고 싶습니다.
1. 자동화를 선택합니다.
2. 명령이나 옵션 (Alt) 키를 누른 상태에서 트랙 헤더에서 자동화 매개 변수 메뉴를 클릭합니다.
3. 팬 (또는 기존 자동화 데이터를 복사하고자하는 매개 변수)를 선택하고 다음 옵션 키를 놓습니다.

대화 상자가 당신에게 두 개의 옵션을 제공합니다. 당신은 기존의 자동화 데이터를 보존뿐만 아니라 선택한 매개 변수에 복사하려면 복사를 선택하고 변환합니다.


단계 4 - 트랙 사이 복사 트랙 자동화
그것은 같은 트랙의 다른 섹션으로 추적 자동화 데이터를 복사 쉽습니다. 단순히 노드를 선택하고 원하는 위치로 선택 옵션 - 드래그합니다.
많은 사용자는 두 트랙 사이 추적 자동화 데이터를 복사하는 것은 매우 어려운 것이라 믿습니다. 이 작업을 수행하는 여러 기술이 있지만, 여기에을 (필요하다면 가장 간과) 이것을 달성하는 방법은 간단합니다.
1. 트랙 자동화를 선택하고 편집을 선택합니다
2. 당신이 트랙 자동화를 복사하고자하는 트랙을 선택합니다.
3. 편집 선택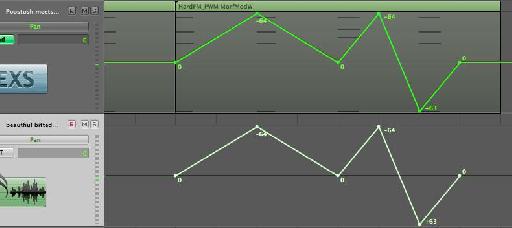 5 단계 - 그리드에 맞추기 및 Offsetting 자동화
당신이 자동화 스냅 옵션을 사용하지 않으면 논리의 그리드에 관련된 특정 위치로 자동화 그리기 것은 까다로운 수 있습니다.
정렬 영역의 스냅 메뉴에서 자동화를 낚아채 선택합니다.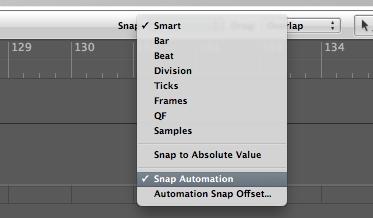 생성, 이동하거나 노드를 복사하는 것은 훨씬 그리드에 맞추기 쉬워졌습니다!
그러나 노드의 위치가 몇 진드기에 의해 상쇄되어있을 수 있습니다. 클릭하고 노드 만요. 제 경우에는 노드의 위치 -5 진드기에 의해 상쇄됩니다.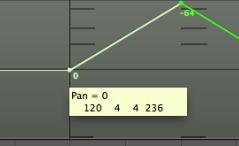 다른 값을 오프셋을 변경하거나 자동화가 원하는 격자 값을 정확히 일이 완전히 그것을 제거하려면, 로직 프로로 이동
여기 0 스냅 오프셋 값 또는 다른 체크 기반의 값을 변경할 수 있습니다.

자동화에 대한 자세한 내용을 보려면 관심이 있으십니까? 을 확인