In today's tip we'll explore some of Logic's powerful, yet underused Automation features. There are two types of Automation: Track-based and Region-based (HyperDraw - not to be confused with the Hyp
在今天的小费,我们将探讨一些逻辑的强大,但未被充分利用的自动化功能。有两种类型的自动化:曲目为基础,以区域为基础(HyperDraw - 不与Hyper编辑器混淆)。逻辑功能,一个非常复杂的曲目为基础的自动化系统,使您完全自动化(或随时间变化的)几乎所有的通道条,效果和仪器的设置。这可以带来额外的生命,您的混音。让我们看看这些自动化电力用户提示一些。

第1步- Autom ATION曲线

Logic has a dedicated Automation Curve Tool. In all honesty I never use it anymore. Once you master the key command to create your own curves, there really is no need to switch between the Pointer tool and the Automation Curve Tool!
1。首先启用自动化安排当地的本地菜单: 查看
2。创建一个节点夫妇。我正与这条轨道上建立一个平滑的音量褪色。

3. Hold down the Shift and Control keys and position the Pointer tool over the line between the nodes.
4. Drag to the right or left to create an S-curve or up/down to create concave or convex curve.
注意:要重置回直线,曲线,只需按住Shift控制和单单击曲线上的!


第2步 - 调整和反转轨道自动化数据
所以,你已经采取了很长一段时间,刻意拉拢一些复杂的体积自动化(例如),现在你要迅速调整多个节点的整体参数水平....

1。 按住 Shift键并拖动选择区域的所有节点,你要调整。
2。一个节点或线,拖动移动的所有节点,向下,向左或向右....或

3。突出显示的区域内拖动(但不是在一个节点或线),颠倒自动化价值。这使零静态的任何节点和移动节点更极端的/ - 值。
试试,你会看到其中的差别!在下面的图片,我用它作为一个简单的方法,在赛道上扭转泛设置。

第3步 - 将自动化数据复制到另一个参数
通常情况下,您可能会发现你创建一个参数,或者将声音更好地应用到另一个参数,或者你想将它复制到另一个参数的自动化...在这个例子中,我得出这条赛道上的音量自动化,但我想,把它复制到泛在同一轨道上的自动化。
1。选择自动化。
2。按住命令或选项 (Alt)键,点击轨道头的自动化参数菜单。
3。选择潘(或您要复制现有的自动化数据的参数), 然后松开Option键。

出现一个对话框,给你两个选择。如果你想保留现有的自动化数据,以及将它复制到您所选择的参数,选择复制和转换。


第4步 - 复​​制轨道之间的轨道自动化
可以很容易地跟踪自动化数据复制到另一节在同一轨道。只需选择节点和Option键选择到所需的位置。
许多用户认为它是非常难以复制的两轨之间的轨道自动化数据。虽然有许多方法来做到这一点,这里是最简单的的(和可能是最容易被忽视)的方式来实现这一目标。
1。选择曲目自动化,并选择" 编辑 "
2。选择您要复制的轨道自动化的轨道。
3。选择" 编辑"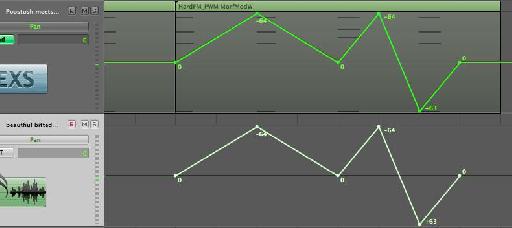 第5步 - 与网格对齐和抵消自动化
在自动化绘图Logic的电网有关的具体岗位可能会非常棘手的,如果你不使用自动化管理​​单元选项。
从安排当地的管理单元"菜单,选择"管理单元自动化。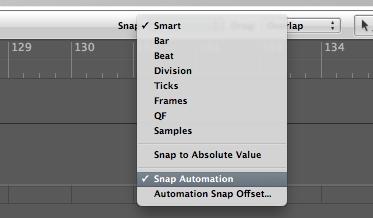 节点的创建,移动或复制了一大堆更容易捕捉到网格!
但是,您可能会注意到,节点的位置偏移是由少数蜱。点击并按住一个节点上。在我的例子中,节点的位置偏移-5蜱。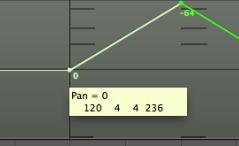 要改变到另一个值的偏移,或删除它完全,让您的自动化发生正是所需的格值,去的Logic Pro
在这里,你可以改变对齐偏移量为0值或其他刻度为基础的价值。

有兴趣了解更多有关自动化?退房