Logic contains multiple editors to help you edit your audio and MIDI regions, respectively. And, when editing regions, it's imperative to understand how the link modes alter what the editor displays.
Nein, das
Zweitens gibt es einen scheinbaren Mangel an Konsistenz in der Anzahl der Link-Modi zur Verfügung in den verschiedenen Fenstern und Editoren. Auch das Aussehen der Link iconswhich ändert sich je nachdem, welcher Modus haben Sie selectedaren't gesamten Programm konsistent. Und schließlich gibt es bestimmte Link-Modus Verhaltensweisen, die in etwa so leicht zu erklären, wie es um dreidimensionale Schach zu spielen ist, sind.
Glücklicherweise für die Mehrheit der täglichen Arbeit in Logic können wir Vergangenheit die meisten dieser Besonderheiten und der Komplexität überspringen und konzentrieren sich auf die wirklich nützlichen Implementierungen von Link-Modi.
Link Denken

Link-Modi sind alle über zwei Dinge:
Stellen Sie sich vor, zum Beispiel, dass offen ein separates Piano Roll-Editor jedes Mal, wenn Sie den Inhalt einer MIDI-Region zu sehen. Der Tanz gehen würde so aussehen:
Die Link-Funktion der Piano Roll lindert all das Potenzial Plackerei. Wenn der Editor geöffnet ist und seine Link-Symbol ist yellowindicating Content Link modeit wird der Inhalt der zuletzt ausgewählte MIDI-Region angezeigt. Content-Link ist einer von drei möglichen Betriebsarten:
Yellow = Content Link

Gray = No Link

Purple = Same Level Link

Content-Link

Unten sehen wir Content-Link in Aktion in der Piano Roll-Editor, die arrangieren Seite enthält drei Regionen, und jedes Mal eine andere Region ausgewählt wird, dessen Inhalt in das Editor-Fenster angezeigt. Beachten Sie den gelben Link-Symbol im Editor, der angibt, Content-Link-Modus:
Hier sehen wir die Oboe Teil ausgewählt (roter Bereich).
Durch einen Klick auf das Fagott Teil (gelber Bereich), Anzeige der Piano Roll Änderungen zeigen uns die Inhalte dieser Region: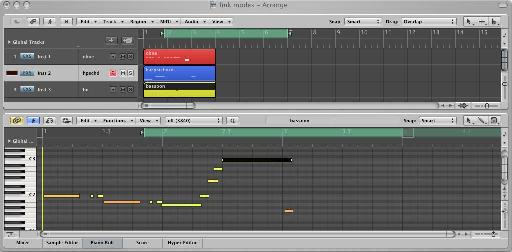 Same-Editor-Fenster, jetzt mit dem Inhalt eines anderen MIDI-Region. Content-Link! Inzwischen ist der Name dieser Funktion scheint wohl selbsterklärend.

Ein weiterer Modus, der so ziemlich selbsterklärend ist die
Keine Verbindung

Wenn während der Piano Roll war die Anzeige der Fagott Teil, den wir an die Redaktion zu No Link-Modus wurden, das Fagott Teil bliebe persistent in den Editor, auch wenn wir dann eine andere Region,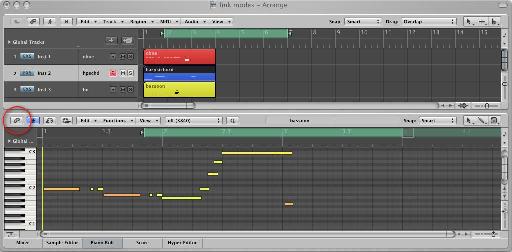 Keine Link-Modus ist nicht ausschließlich auf die Piano Roll, aber. Es ist in einem beliebigen Editor-Fenster mit einem Link-Symbol Sport.
Score-Editor Link Mode Behavior

Wie bei der Piano Roll, wenn die Score-Editor in Content-Link-Modus ist, wird der Inhalt der aktuell ausgewählten Region, hier das Fagott Teil: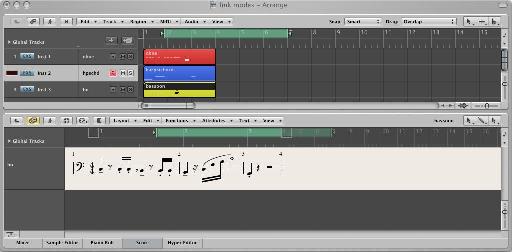 Und durch die Auswahl der Oboe Teil, ändert sich der Score-Editor, um seinen Inhalt zu reflektieren: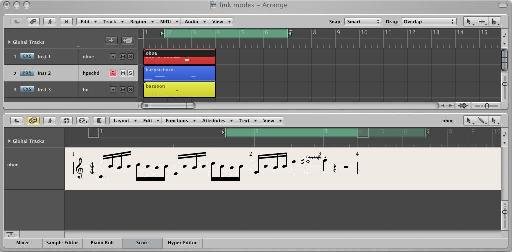 Eine sehr nützliche Anwendung von No-Link-Modus in den Score-Editor ist ein Teil der Notation dauerhaft zu machen, so dass das Teil zu lesen, während der Aufnahme oder Bearbeitung anderer Teile, oder vielleicht sein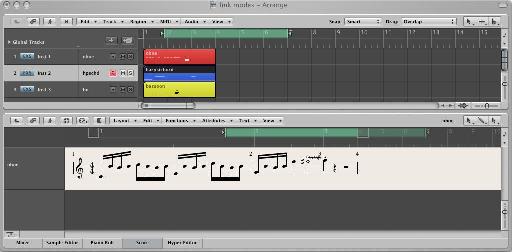 Lassen Sie uns nun einen anderen Link-Modus zur Verfügung in der Score-Editor, gleicher Ebene Link-Modus freuen. Aber um diesen Modus zu verwenden erfolgreich erfordert ein Verständnis von dem, was Logic Arrangierbereich Display Ebenen ("Hierarchie") sind alle über.
Arrangierbereich Anzeige Levels (Hierarchie)

Es gibt drei Arten von Gegenständen, die eine Spur zu besetzen können, die beiden häufigsten sind MIDI-und Audio-Regionen, mit dem dritten Typ, der Ordner. Und wenn Ordner vorhanden sind im Arrangement,
In dem Bild unten sehen wir, dass ich die Holzbläser Teile in einen Ordner gepackt:

Wenn ein Ordner vorhanden ist, wird das gerne bei der Planung der Lage zeigt uns zwei verschiedene Displays, beginnend mit dem, was als "top level", wie man oben sieht. Denken Sie an die Top-Level-als aus der Vogelperspektive der Anordnung Landschaft.

Auf der obersten Ebene können wir sehen, alle Regionen und Ordner, wenn wir nicht sehen können die Inhalte von Ordnern. Aber wenn wir auf den Ordner, doppelklicken Sie auf die bei der Organisation von Display ändert sich und zeigt uns nur den Inhalt des Ordners, wie wir hier sehen:

Blick ins Innere der Holzblasinstrumente Ordner.
An diesem Punkt sind wir "eine Ebene tiefer", wie es in ausgedrückt Logic-sprechen, und ein Indiz dafür ist, dass die Hierarchie Pfeil-Symbol in der Arrange-Fenster (rot eingekreist) wechselt von grau-out zu solid black.
Jetzt, da wir über die Stufen kennen, können wir nutzen die Score-Editor ist gleicher Ebene Link-Funktion.
Gleiche Ebene zu verknüpfen

Unten sehen wir die Arrangierbereich Anzeige der obersten Ebene. Der Noten-Editor ist die Anzeige der Notizen für alle drei Teile, obwohl zwei von ihnen in einem Ordner liegen bei. Das mag der Intuition auf den ersten Blick, weil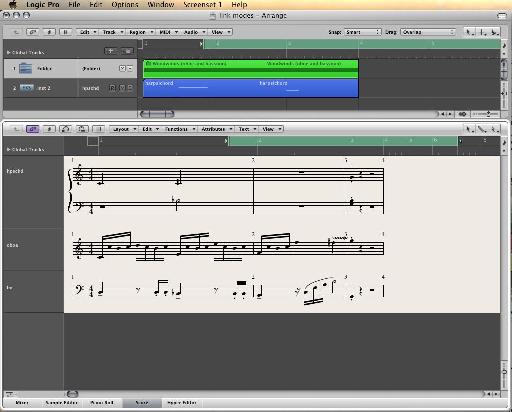 Wenn wir den Ordner selbst geben, gehen wir "eine Ebene tiefer" in die Bildhierarchie und jetzt Arrangierbereich zeigt uns nur den Inhalt des Ordners. Arbeiten unter dem gleichen Prinzip wie wir oben gesehen haben,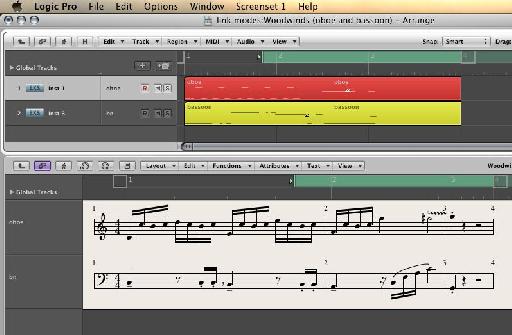 Mehr Linking Thinking: Der Sample-Editor

Wenn es um die Sample-Editor ist Verknüpfungsmodi kommt, haben wir zwei Möglichkeiten:
Mit dem Sample-Editor zu öffnen und auf gleicher Ebene Link, wird die Anzeige zu ändern, um die Wellenform der zuletzt ausgewählte Audio-Region widerspiegeln. Aber warten Sie ... klingt das nicht schrecklich, wie zB wie ich beschrieben Content-Link?
Tatsächlich ist es nicht! Und in der Tat gibt es keine Ebenen, zwischen, wenn es darum geht, betrachten Audio-Wellenformen in den Sample-Editor navigieren. Damit stellt sich die Frage: "Warum nicht den Sample-Editor haben eine gelbe Link-Symbol,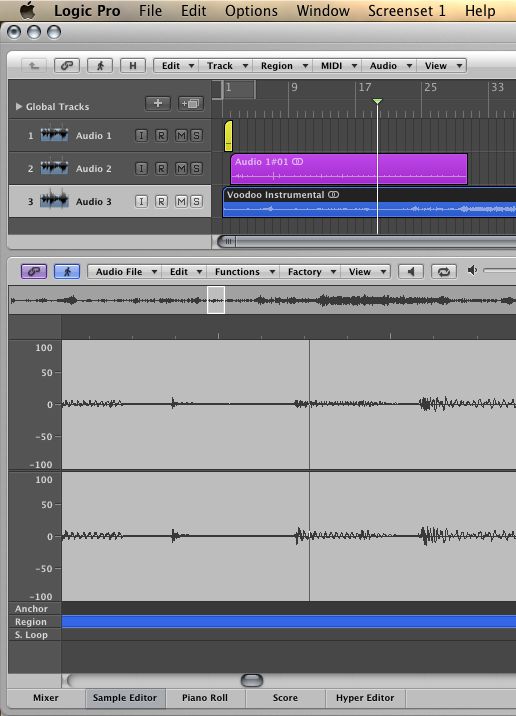 In den nächsten Artikel über Link Modes (hier) erforschen wir einige interessante und nützliche Aspekte der Link-Modi in der Event-Liste und verschiedene andere Logic-Fenster.
Follow Peter Schwartz, your guide through the entertaining and informative
world of MIDI
.