Logic contains multiple editors to help you edit your audio and MIDI regions, respectively. And, when editing regions, it's imperative to understand how the link modes alter what the editor displays.
아뇨,
둘째, 다양한 윈도우와 에디터에서 사용 가능한 링크 모드의 숫자의 일관성의 부족 보이는가. 링크 iconswhich 변화도 모양이 프로그램을 통해 selectedaren't 일관 ì ì´ìžˆëŠ" 모드에 따라. ê·¸ë¦¬ê³  마지막으로, 그것이 ìž…ì²´ 체스를있는 그대로 설명에 대해 쉽게 íŠ¹ì • 링크 모드 동작이 있습니다.
다행히도, 논리의 일상 작업의 대부분을 위해 우리는 이러한 idiosyncrasies와 복잡 대부분의 과거 건너뛸 수 및 링크 모드의 가장 ì •ë§ ìœ ìš©í•œ 구현에 집중.
생각해 링크

링크 모드 모두에 대해 두 가지 있습니다
별도의 피아노 롤 편집기 ë‹¹ì‹ ì´ MIDI 영역의 내용을 ë³¼í•˜ë ¤ëŠ" 각 시간을 ì—´ 필요가 예를 들어, 상상해보세요. 춤은 이런 걸 ê°ˆ 것입니다 :
피아노 롤의 링크 기능은 ìž ìž¬ì ì¸ 천역을 모두 완화. 편집기가 ì—´ë ¤ìžˆëŠ" 경우 해당 링크와 아이콘이 ì»¨í…ì¸  링크 modeitê°€ 가장 최근에 ì" 택한 MIDI 영역의 내용을 표시합니다 yellowindicating입니다. ì»¨í…ì¸  링크 작동 세 가지 모드 중 하나입니다 :
Yellow = Content Link

Gray = No Link

Purple = Same Level Link

ì»¨í…ì¸  링크

ì •ë ¬ 페이지는 세 영역을 í¬í•¨í•˜ê³  다른 영역을 ì" 택 때마다, ê·¸ 내용은 편집기 창에 표시되며 아래 우리는 피아노 롤 편집기에서 작업의 ì½˜í…ì¸  링크를 참조하십시오. 컨텐트 링크 모드를 나타내는 편집기에서 노란색 링크 아이콘을 ì°¸ê³  :
여기서 우리는 오보에 부분 (ì ìƒ‰ 영역)을 ì" 택ì" 참조하십시오.
바순 부분 (노란색 영역)을 클릭하면, 피아노 롤이 우리에게 해당 영역의 내용을 표시에 변경 사항을 표시 :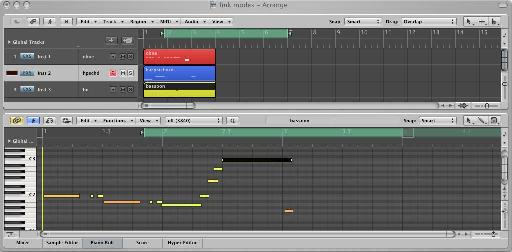 지금은 다른 MIDI 영역의 내용을 보여주는 같은 편집기 ì°½. ì»¨í…ì¸  링크! 현재까지이 함수의 이름은 아마 자명한 것 같습니다.

거의 자기 설명의 또 다른 모드입니다
링크 없음 없음

피아노 롤에서 바순 부분을 표시하는 동안, 우리가 링크 모드로 편집기를 ì "환했ì" 경우, 바순 부분은 우리가 다음 다른 지역을 ì" 택하ë"라ë" 편집기에서 ì§€ì†ì ìœ¼ë¡œ ìœ ì§€ 것입니다,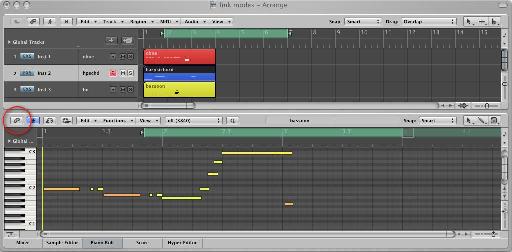 없음 Link 모드는하지만, 피아노 롤에 단독으로하지 않습니다. 이것은 링크 아이콘을 ìŠ¤í¬ì¸  ì–´ë– í•œ 편집기 윈도우에서 가능합니다.
ì ìˆ˜ 편집기 링크 모드 동작

피아노 롤과 마찬가지로, ì ìˆ˜ 편집기 컨텐트 링크 모드에있을 ë•Œ, 그것은 대부분 현재 ì" 택된 영역의 내용이 표시, 여기 바순 부분 :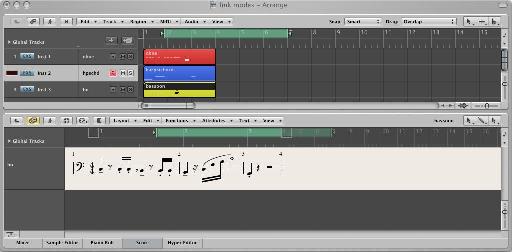 ê·¸ë¦¬ê³  오보에 부분을 ì" 택하여, ì ìˆ˜ 편집기의 내용을 반영하도록 변경 :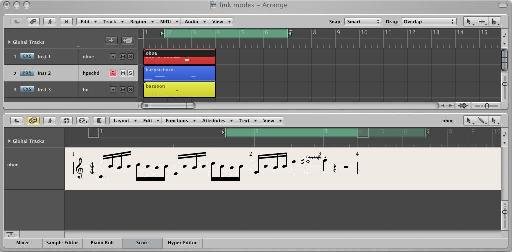 에 아마도 녹음 또는 다른 부분을 편집하거나하는 동안 일부 읽을 수 있도록 ì ìˆ˜ 편집기에서 링크 없음 모드 매우 ìœ ìš©í•œ 응용 프로그램은 일부의 표기법의 영구를 만드는 것입니다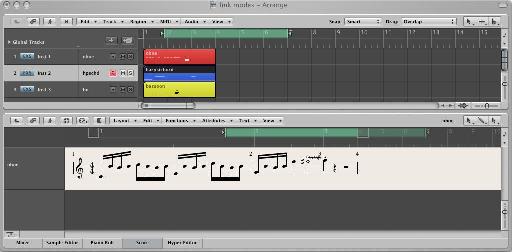 ì´ì œ ì ìˆ˜ 편집기, 같은 수준의 링크 모드에서 ì'¬ìš©í•  수있는 다른 링크 모드 ì'´íŽ´ë³´ê² 습니다. 그러나이 모드를 사용하는 것은 ì"±ê³µì ìœ¼ë¡œ 로직의에 대해 모두 지역 표시 수준 ( "계층 구조")를 ë°°ì—´ ì–´ë–¤ 이해를 필요로합니다.
지역 표시 ë ˆë²¨ (계층)을 ë§ˆë ¨

트랙을 ì°¨ì§€í•  수있는 항목의 세 종류가 있습니다, 가장 ì¼ë°˜ì ì¸ 두 번째 ìœ í˜•ë˜ëŠ" 폴더, MIDI 및 오디오 영역입니다. 및 폴더가 배열에 존재하면,
아래 이미지에서는 내가 폴더로 목관 악기 부품을 포장했다는 참조

폴더가 존재 때마다 준비 지역은 위에서 본, "최상위 수준"라는 ì–´ë–¤ 시작, 우리에게 두 가지 ë""스í"Œë ˆì´ë¥¼ 보여주는 ëŠ¥ë ¥ì´ë©ë‹ˆë‹¤. 배치 풍경의 조감도로 최상위 수준의 생각.

우리는 폴더의 내용을 ë³¼ 수 있지만 최상위 ë ˆë²¨ì—ì"œ 우리는 모ë"  영역과 폴더를 ë³¼ 수 있습니다. 하지만 우리가 폴더를 두 번 클릭하면, 우리가 여기서 보시다시피, 우리에게 폴더의 ìœ ì¼í•œ 내용을 표시 영역 표시 변경 ì •ë ¬ :

목관 악기 폴더 안에 ì°¾ê³ .
그것이 표현되는 한이 ì‹œì ì—ì"œ 우리는, "í•œ 수준 아래"입니다 로직 - 이야기, ê·¸ë¦¬ê³ ì´ 표시가 ê³ ì²´ ê²€ì • 회색에서 ì •ë ¬ 창의 계층 화살표 아이콘 (빨간색 동그라미) 변경되는.
우리가 수준에 대해 ì•Œê³  ì´ì œ, 우리는 ì ìˆ˜ 편집기의 동일한 수준의 ì—°ê²° 기능을 사용하실 수 있습니다.
같은 수준의 링크

다음은 최상위 ë ˆë²¨ì" 표시 ì •ë ¬ 영역을 참조하십시오. ì ìˆ˜ 편집기는 두가 폴더에 동봉에도 모두 세 부분에 대한 메모를 표시합니다. 이것은 언뜻 ë³´ë©´ ì¹´ìš´í"° - ì§ê´€ì  보일 수도 있기 때문에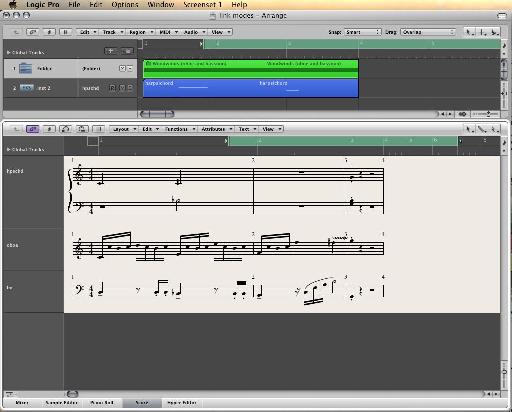 우리는 폴더 자체를 ìž…ë ¥í•˜ë©´, 우리는 ë""스í"Œë ˆì´ 계층의 "수준 아래로"이동 현재 ì •ë ¬ 지역은 우리에게 폴더의 ìœ ì¼í•œ 내용을 보여줍니다. 우리가 위에서 본 것과 같은 원리에 따라 작동,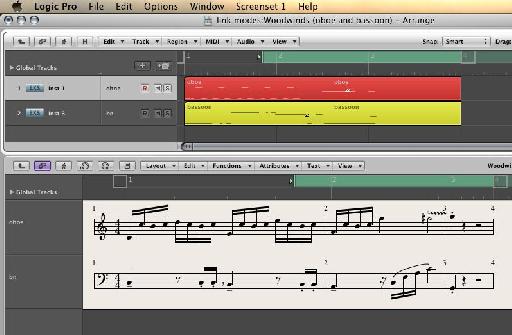 샘플 에디터 : 더 많은 생각을 연결

이 샘플 편집기의 ì—°ê²° 모드에 올 ë•Œ, 우리는 두가지 ì" 택이있다 :
샘플 편집기 ì—´ê³  같은 수준의 링크로 ì"¤ì •í•˜ì—¬, ë""스í"Œë ˆì´ëŠ" 가장 최근에 ì" 택한 오디오 영역의 파형을 반영하도록 변경됩니다. 하지만 ìž ê¹ 만요 .. 너무 ë'´ ì»¨í…ì¸  링크를 설명하는 방법처럼 소리하지 않는 ì´ìœ ëŠ" 무엇입니까?
사실 ê·¸ë ‡ì§€! ê·¸ë¦¬ê³  ì‹¤ì œë¡œ 그것이 샘플 편집기에서 오디오 파형을 ë³¼ 수에 올 ë•Œ 사이에 ì´ë™í•  수있는 수준이 없습니다. 이것은 웃기는 질문, "왜 샘플 에디터는, 노랑 링크 아이콘이 없습니다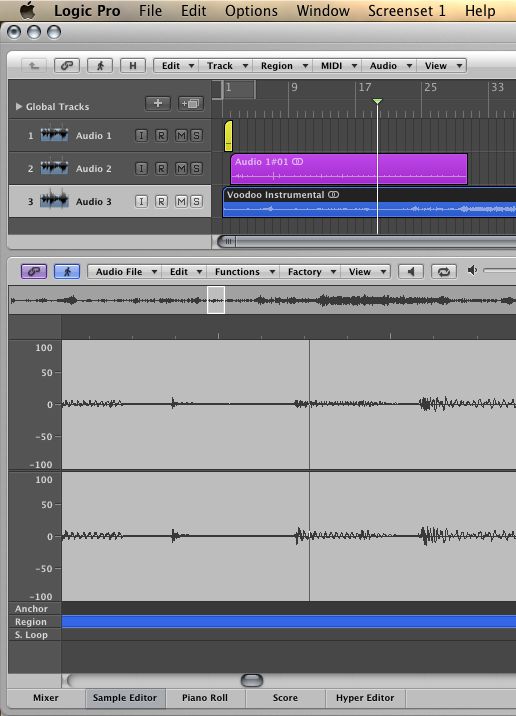 에 링크 모드에있는 다음 문서 (여기) 우리는 이벤트 목록에서 링크 모드 및 다양한 다른 논리 창의 몇 가지 ìž¬ë¯¸ìžˆê³  ìœ ìš©í•œ 측면을 탐험합니다.
Follow Peter Schwartz, your guide through the entertaining and informative
world of MIDI
.