Логика подсчета очков в видео: Аудио трюки синхронизации
Foreword by Rounik Sethi: Logic is a fantastic tool to use when scoring sound to video. However, there are some well-discussed limitations, and in the Logic-world that inevitably means are some less w
Foreword by Rounik Sethi: Logic is a fantastic tool to use when scoring sound to video. However, there are some well-discussed limitations, and in the Logic-world that inevitably means are some less well-known workarounds too. One such limitation occurs when importing the "sync" audio from a video into Logic's Arrange area: Adjusting the start point of the video and then selecting a "bar 1" sync point that exceeds 8 bars into the video will always create the issue that Logic will limit the amount of "negative audio" to 8 bars and audio sync will be lost. Of course there have been some workarounds for this Logic quirk many of which have been explored in detail over the years. Steve H explores this very topic in his popular Logic 203: Logic's Music for Picture Toolbox tutorial. In this tutorial, Steve H joins us below to advise on the most efficient work flows that will always keep your audio and video in sync...

01 - Решение Отрицательные 8 Bar Ограничение
Одно из решений, которые я показываю в моей музыки Logic, для фото учебник Toolbox , является перемещение опорной точки до самого конца этого региона (или, по крайней мере, с в 8 баров бар 1 точек синхронизации).
Я предлагаю делать эту операцию в Sample Editor, поскольку, прежде чем перемещать якорь сначала необходимо выбрать команду Пример редактора, "Lock Упорядочить позицию при перемещении Якорь"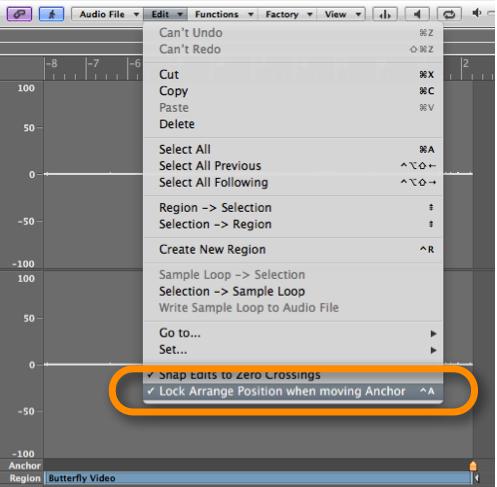 В Sample Editor выбрать: Редактировать
02 - Workflow
Import audio
Unlock the video's audio's SMPTE position
Open the video's audio region in the Sample Editor
Then choose "Lock Arrange Position When Moving Anchor". You can do this with a Key Command or by Control Clicking on the anchor's lane!
Zoom out in the Sample Editor and slide the anchor point the the end of the region (or, at the very least, past the intended start point... I chose the end of the region because then I'll know that I can place bar 1 anywhere but it really just needs to be within 8 bars of the new bar one sync point!)
Go back to the arrange and re-lock the audio region's SMPTE position.
Сейчас в синхронизации Настройка проекта вы можете разместить бар 1 один в любом месте и ваша синхронизация звука будет создавать резервные копии в отрицательной без потери синхронизации!
Все эти операции могут быть выполнены с помощью назначенных клавиш, кроме движущейся точки привязки. К сожалению, вы не можете выполнить эту функцию в аудио бен где весь регион в компактно отображается, так как проклятый "Lock Упорядочить Позиция" команда существует только в Sample Editor!
Выберите Файл
Однако, уменьшения изображения в редактор Пример перед слайд опорную точку вы все равно можете выполнить эту задачу в достаточно короткие сроки.
03 - Основные список Подарочный командной
Чтобы сделать это более эффективным Я бы хотел, чтобы логика команды создать несколько новых команд ключ:
Lock Arrange Position When Moving Anchor (in the Audio Bin and Arrange)
Move Region Anchor Point to Region End (...everywhere!)
Move Region Anchor Point to Playhead
... Или просто есть возможность иметь опорную точку матча бар 1 / SMPTE положение при установке на панель 1 точек синхронизации автоматически делает шаги 1-6 выше!
Я надеюсь, что это помогает! Это вещи, которые намного проще показать в видео!