Whether you're preparing a lead sheet or a multi-part chorale, Logic's Score editor provides a specialized kind of text entry specifically designed for adding lyrics. Key features of lyric entry in ..
Whether you're preparing a lead sheet or a multi-part chorale, Logic's Score editor provides a specialized kind of text entry specifically designed for adding lyrics. Key features of lyric entry include the use of the TAB key to move the text cursor from one note to the next.
Unlike plain text, lyrics are "anchored" to note heads. Each lyric adds (and maintains) a small amount of spacing between note heads. This highly beneficial behavior allows you to reformat your Score - change the scaling or the number of bars per line - without fear of your lyrics wandering astray of the note heads, as could happen using plain text.
In this article I'll explain how lyric entry works, and offer work-flow suggestions to make lyric entry a streamlined process. Let's begin with some...

Essential Tools
Aside from the normal Pointer tool, you'll need:
- the Pencil Tool: to initiate lyric entry on the first of a series of notes.
- the Layout Tool: for fine-tuning the position of lyrics after you've entered them
(Press Esc to display the floating tool menu in the Score Editor).
Recommended Key Commands
- Align Object Positions Vertically. Despite the name, it aligns haphazardly positioned lyrics into nice straight lines.


- Nudge Position Up/Down/Left/Right (Score Editor). Four commands which are invaluable for precision placement of individual lyrics or whole lines.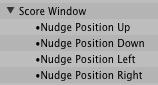 Linear View vs Page View
For easy lyric entry, always view the part in Linear View, not Page View (see figure 1). While lyric entry is not limited to Linear View, on multi-part choral pieces it's very easy to accidentally enter lyrics on the wrong staff. But even if you're writing only a single-line lead sheet, do your lyric entry in Linear View. It's just... easier! When the time comes to fine-tune the chart or Score we'll switch to Page View.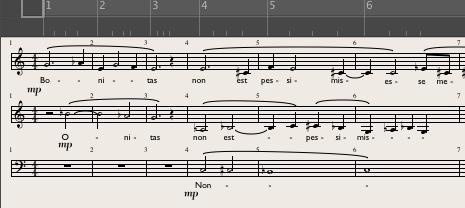 Figure 1: a three-part choral piece displayed in Linear View
Work-flow
My recommended work-flow for lyric entry:
Enter lyrics
Additional hyphenation -- adding dashes for sustained notes
Additional editing as required, including text style selection (optional)
Cleanup
Right. Let's enter some lyrics!
Lyric Entry
Open the Part Box and click on the "A". Then select LYRIC (see figure 2). Now select the pencil tool and click below the note where you want to enter the first lyric. Start typing the first word or syllable but do not click on anything or hit Return or Enter afterward. Now hit TAB.
This is the magic key that causes the text cursor to jump to the next note where you can immediately begin text entry for the next lyric. Type. TAB. Type. TAB....
"Rinse, lather, repeat" as they say!
Hit Return / Enter to end lyric entry.
Note that the pencil tool (with "LYRIC" selected in the Part Box) is used only to initiate lyric entry. After that, all you have to do is type and TAB!
Any lyrics entered in a single pass will appear in a nice straight line. However, if you stop lyric entry, but resume later on the same line, you'll find it nearly impossible to enter new lyrics exactly in-line with older ones. My advice? Don't stress it. Just get your lyrics entered into the Score without worrying at all about their appearance. The cleanup process comes later.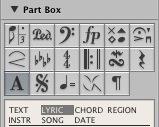 Figure 2: The Part Box
Non-Linear Lyric Entry
You can enter lyrics at any point in the Score at any time. No need to start from the beginning. This is handy if your lyricist is still working on the words for the bridge while you pass the time entering the rest of the lyrics into the chart.
When you're finished with lyric entry, switch to Page View (figure 3) for any additional editing, including hyphenation, and cleanup.
Hyphenation
A common notation practice for indicating the separation of sustained syllables is to add hyphens (dashes) in the Score (see figure 3). Sometimes it makes sense to enter a hyphen right on a note as if it were a lyric (red dots). But there are times when you'll want to enter a hyphen where no note exists (blue dots).
However, in keeping with the lyric entry paradigm, lyrics can only be entered in association with a note! The workaround is straightforward: in the Part Box, select a short-duration note (8th, 16th) and drag it to the desired position for the hyphen in the Score. The pitch doesn't matter, and placement of this note is only temporary.
Then re-select LYRIC from the Part Box. Click below the temp note with the pencil tool and enter a hyphen. After hitting Return/Enter to end lyric entry, delete the note. The hyphen will "stick" to that position. Nice!
There's another approach which is much simpler and faster. If used exclusively, the overall appearance of the Score won't look very elegant. Still, the result is perfectly readable and I've never had a singer complain. Well, at least not about my charts. Right. Here's the technique: add a single space and a hyphen to the end of each syllable (green dots). Simple!
In some cases, this is the preferred method for adding hyphens, as shown by the green dots in Figure 3.
Editing & Applying a Custom Text Style (Font and Size)
Normal text editing rules apply. Double-click on a lyric and it will highlight the entire word. At this point you can use the left or right arrows to jump to the beginning or end of the lyric. Alternatively, click again to insert the text cursor into the lyric. Return / Enter when finished editing.
You can give your lyrics a distinctive look over that of other text in your Score by creating a custom Text Style in the Text Styles Editor (Score editor local menu: Text > Text Styles...).
Once you've created a custom Text Style, select the lyrics to which you want to apply the style. Then go to the Event Parameters area and select your custom style from the "text" menu item (see Figure 4).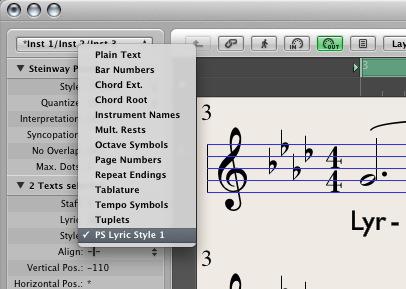 Figure 4: Selecting the Text Style
Cleanup
It's pretty much inevitable that you'll have some cleaning up to do. Here are some typical cleanup operations, and how to perform them. Work in Page View, zoomed way in.
Aligning words or syllables for entire lines of lyrics: select the lyrics and then use the key command Align Object Positions Vertically. Bingo, they will all be aligned perfectly! At this point you'll want to assess the distance of each line of lyrics from the note heads for each staff. Which brings us to...
Lyric to Note Spacing: single lyrics or whole lines can be moved farther away from, or closer to, their associated notes on a staff-by-staff basis. Just select the desired lyrics and use the Layout tool or the nudge up/down commands (or both) to change their position.
Centering: some words/syllables, or even whole lines, may not appear centered as nicely as you'd like. Use the Layout tool or the nudge commands to obtain the desired result.
TIP: for all editing and cleanup, always work in Page View and zoom way in. Use the Print/Preview function to see a PDF preview of the Score on the screen. But also make occasional hard copy printouts. What you see on the screen in Print/Preview will be close, but a printed copy is the best proof! For the environmentally conscious, buy a ream of recycled paper for printing draft copies and recycle them afterward.
Need help understanding MIDI from beginning to advanced? Look no further than MIDI 101 - MIDI Demystified by Peter Schwartz.