Christmas is around the corner and many jazz pianists might be finding that they are busy with holiday parties. Playing solo lounge piano during cocktail or dinner soirees can be fun but after awhile,
圣诞节将至,许多爵士乐钢琴家,可能会发现,他们都忙于节日聚会。在鸡尾酒会或晚宴晚会播放单独的休息室钢琴,可好玩了,但一段时间后,我们可以得到自己玩累了一点,希望我们有一个"折衷"的其他一些音乐家。问题是,老板花了圣诞奖金多余的钱,买不起聘请2直立式贝司和鼓的其他音乐家。但是... ...斯坦伯格的凹槽代理和MainStage中可以帮助你。
首先,让我们的布局看,以显示我们如何去拉这关。许多钢琴家都做了左手低音/右手钢琴分裂,这是很容易设置。至于鼓,我们将裁员88注意键盘的顶部和底部的键范围触发。我们也将会有一个音量推子控制的字符串,如果我们要添加另一个层的钢琴音色和钢琴和主输出音量推子。
On our layout page we add an 88 note controller with 2 keyboard layers for piano, bass, and strings. The drums start on the bottom 5 notes of the keyboard but we're going to also use the top 5 notes of the keyboard too for drum triggering. You'll notice that we can only see the drums on the bottom of the keyboard but I'll explain this later on.


接下来,我们添加了3推子来控制我们的钢琴,弦乐和主音量和地图的参数 ,在"编辑"模式。我用一个爱丽斯QS 8.1推子来控制。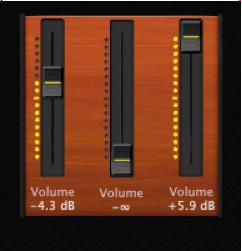 Finally, we need to add 10 drum pads in the layout mode and assign the upper and lower range of keyboard notes we want to trigger the drums using the Keyboard MIDI Controller as the input.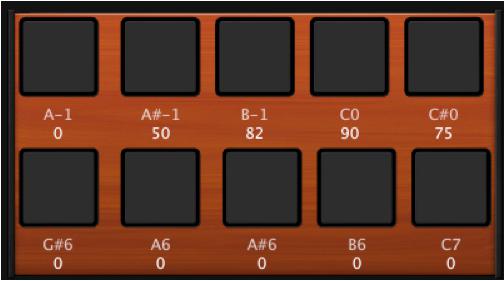 现在,你可能会问,为什么我们需要一个单独的鼓布局,因为我们要鼓与键盘触发。也提到之前有键盘的下半部分只鼓,但我们希望他们在上面。诀窍是,我们希望只有一个软件的Groove代理仪器的实例,以节省内存。我们还需要有钢琴触发键槽代理不同的MIDI音符。键盘布局不会让我们像一个鼓垫不分配单独的音符。稍微感到困惑? Groove的代理工作作为一个经常性的鼓音触发BB4下降(小鼓,任意球,等)。但是,从B4起来,成为引发鼓声。我们不希望这些冲突与钢琴音色的注意。因此,与主级,我们可以指定A - 1触发注意在Groove的代理(这实际上停止鼓)和键盘B4注意到一个#-1可用于触发C5(或任何我们要注意)这是一个键盘音符许多鼓声。由于槽代理进入更高的音符值,鼓声变得更加繁忙。一个很好的功能,这是我的爱,是如何更难袭击的注意触发鼓填充。我指派的顶行鼓垫键盘底部票据和鼓垫的底部排前5位的键盘记录。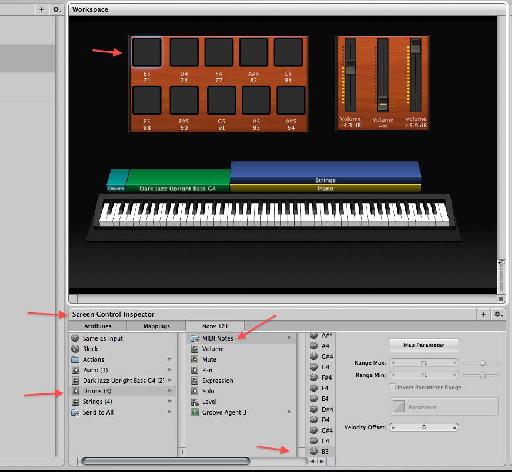 To assign the drum notes to trigger patterns, we need to be in "Edit" mode. Click the first drum pad to highlight it , go to the Screen Control Inspector, select "Drums" (which is the track that has the Groove Agent plugin), select MIDI Notes, and choose note B3. Again, this note will stop the drum beat and I recommend the bottom key of your keyboard (A-1) as it's easy to remember. To trigger more drum patterns, simply select other drum pads and choose any note above B3. I find I like putting busy drum patterns on the top 5 notes of the keyboard.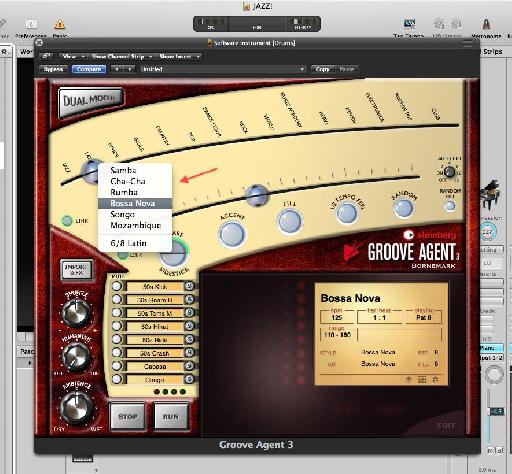 现在如果我们要像拉丁文或岩石不同的鼓模式呢?简单重复选择你的补丁,并同时按住Option键(或命令d)拖下来。然后打开的Groove Agent和改变自己的风格,以任何你想要的的。
Finally, I highly recommend that you have a "Tap Tempo" button so you can change the tempo from song to song / patch to patch.


此设置可玩性,我们也可以映射键盘音符之间切换画笔和棍棒,并填充"按钮,或添加一个口音飞溅钹。享受,希望你的"提示JAR"可能会得到更全面一点!
检查主级教程,以了解更多 !