MainStage 2 can be your perfect backing track. David Earl (a.k.a. sflogicninja), shows how to import your tracks from Logic Pro to MainStage and sync playback for your next performance.
Playback is a remarkable way to play backing tracks in MainStage. In preparation for an upcoming gig, I have had to use Playback extensively to keep the set rolling along. Many performers will play a 2-track mix of their material in a single instance of Playback. Although this is a very simple way to keep the CPU load down, it does not offer the front of house engineer much flexibility as far as the live mix is concerned.

Things start to get complicated when having more than one Playback plug-in running at a time in a MainStage patch. The way to keep things running smoothly is to understand the Playback transport, and how to use markers to keep all of our submixed stems in line.
Step 1 - Making Markers in Logic
To start off, we are going to open a Logic session, and apply markers using the global track. I highly recommend using markers when producing to help get around a session quickly and easily. One quick and easy way to create markers is to set our locators around a section of a song, then drag the locators on to the global marker track. We can also use the key command Command - ' (apostrophe) to set our markers at specific locations while playing back: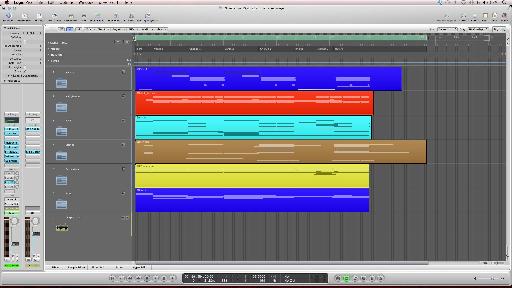 We're doing this step in Logic because we want the audio files for Playback in MainStage to be the same length, and also have tempo and marker data embedded in the files.
Once we are done creating markers, bounce each submix'"or stem'"out of Logic. Be sure to use the same bounce length. A good way to ensure this is to create locators at the beginning and very end of the song. I recommend using some kind of file naming protocol to keep things organized. Remember that the first word is going to show up in the Playback plug-in, so putting the name of the song or an abbreviation at the end of the file name would be a good idea. For this song, it may be '˜Bass_Obsession'; a simple, short name. Make note of the tempo!
Step 2 - Importing Into MainStage
Now that we have our stems exported to a folder, we need to get them into MainStage. The first order of business is to get a new session opened, and start with a template that best matches our needs. In this case, let's start from scratch, just to make things a bit clearer.
Open the '˜Keyboard Starter' template from MainStage. The new templates will show when we start MainStage, or when we create a new session under File > New'¦
Once the template is open, simply drag the stems into the mixer area: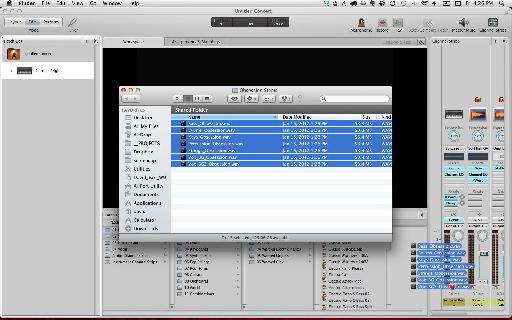 This will automatically create channel strips for each submix. The channel strips will be named according to the submix name, so it is a good thing we have our naming convention covered.
In this case there are 7 instances of Playback running. Depending on the performance of the computer, it may be beneficial to merge some of the submixes together. Each Playback plug-in uses memory resources, so be careful.
Step - 3 - Playback Settings
In each Playback plug-in, there are some settings we are going to apply so that all of the submixes are playing in sync.
Set the Sync mode to '˜On'

Set the Play From parameter to '˜Current Marker'

Set '˜Start with Play action' in the advanced settings menu in the upper right corner.

Set the Group to '˜A' (This will link all other Playback Plug-ins that are assigned to '˜A'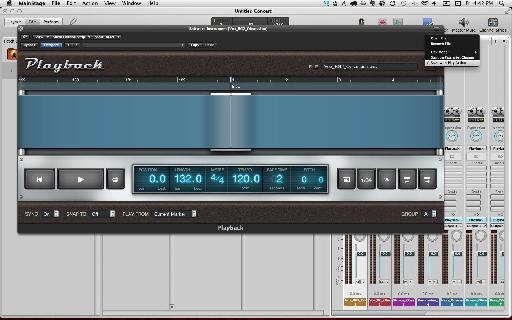 Now simply go to the attributes of the patch, and set the tempo to the tempo of the song. It's interesting that if we hit play in the toolbar, the song will play at 120bpm, regardless of its original tempo. This is because everything is now properly in sync, and MainStage will use Flex Time to automatically change the tempo of each Playback plug-in.
We may want to change the type of Flex mode algorithm that is used in MainStage. We can adjust the Flex mode in each Playback plug-in's settings menu.
Step 4 - Setting Up Screen Controls
Now we need to set up controls in MainStage's Layout mode to be able to take advantage of our imported markers. In Layout mode, drag in 2 buttons, and also drag in a Parameter Text control. We are going to use the Parameter Text control to allow us to see which marker we are on.
Back in the editor, we need to assign the buttons to that first Playback plug-in we had set up. The button on the right will be assigned to '˜Go to next marker', and the other will be '˜Go to previous marker':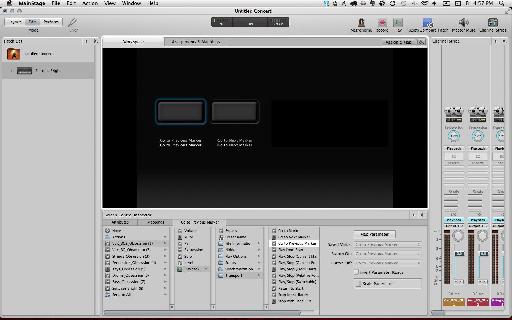 The area next to the buttons may look blank, but if we click there, there will be an outline of the Parameter Text control. Once it is selected, assign it to Playback > Status > Current Marker Name. This will have the Parameter Text control showing the name of the marker as we locate them.
Step 5 - Testing it Out
Now that we're set up, let's test it out: Press play in the toolbar to get MainStage rolling. All of the Playback Plug-ins should start playing. Use the screen controls for next and previous markers to locate to different parts of the song. It should quickly and seamlessly move between the next and previous markers.
To assign a button on our MIDI controller to the previous and next marker screen controls, simply go into Layout mode, select the screen control button we wish to map, and choose '˜Assign' from the Inspector. We then press the button on the controller that we wish to assign to the button on screen, and we're good to go.
Step 6 - Other Playback Controls
Now that our system is set up, we may want some extra flexibility and additional visual feedback. In layout, there is a screen control called '˜waveform'. Drag that into the session and go to edit mode. Select the waveform screen control, click on assignments, and assign the waveform to a Playback plug-in. Now the waveform will display that Playback plug-in's waveform, and even show us markers as they float by.
It is also a good idea to set up a screen control button to control the cycle of Playback. This is handy, because as you are playing, maybe a guitarist is soloing. This guitarist has a lot to say, and needs a section to repeat so that he or she can sufficiently get his or her rocks off. Using cycle mode, the section we are currently in gets repeated seamlessly.
In each Playback, there is also a '˜snap to' function. If you are bopping around between markers, this little option keeps everything from sounding like a train wreck. Choose between '˜wait for marker', '˜Beat', '˜Bar', or '˜off'.
Hope you have fun with this! I'll be sitting here for the next day or two cranking on this MainStage project for a CD release party. It would be great to hear how you may be implementing Playback in your sessions.