I can't remember the name, but I once read a quote from a famous mix engineer about mixing. I'll paraphrase it: "There's no such thing as the perfect mix, only what you deemed to be a good mix
I can't remember the name, but I once read a quote from a famous mix engineer about mixing. I'll paraphrase it: "There's no such thing as the perfect mix, only what you deemed to be a good mix on that day. Tomorrow, you'll probably mix it differently.."
Sometimes you need to do a quick mix. Perhaps a demo mix for a client. Over time, I've developed a methodology to mix an entire track in about 15 minutes which I'm about to share with you.
Please note this is not a guide for the "perfect mix." Like you, I'll obsess for hours to get that. Instead, if you need to mix in a hurry, perhaps this guide will help.
I'll be using the stock plug-ins in Logic 8 on the basis you'll have similar tools available. I'm also assuming you know the basic techniques of mixing and plug-in operation.
Una nota di EQ e compressione

For the purposes of a quick mix, I recommend using your EQ plug-ins to "cut" frequencies. In the majority of cases your sounds will "brighten up" just by doing this. As far as compression is concerned, for a quick mix, less is best. Try to stick to basic level control if you must use it.
Fase 1 - riordinare il vostro progetto e mixer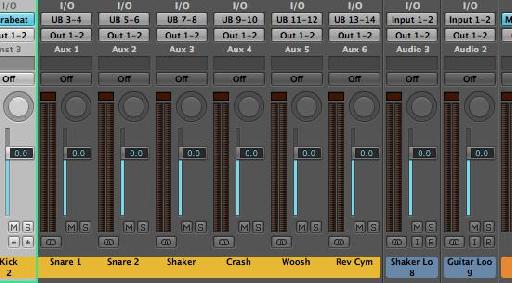 Suoni controintuitivo al concetto di un mix veloce? Non proprio. Trascorrere un paio di minuti a riordinare il vostro progetto vi farà risparmiare tempo dopo. Fidati di me, se non facciamo questo, all'inizio, si rallentare l'intero processo di mix in seguito quando si è a caccia di la traccia di basso o l'applicazione di EQ per la parte di chitarra sbagliato. Tracce nome, applicare i colori se è possibile, gli strumenti del gruppo e organizzare la console di mixaggio in un modo che è logico per voi.
Fase 2 - Solo la cassa e il basso della parte (s)

Mi si suppone che si sa come solista singoli strumenti nel vostro DAW della scelta! Il compito principale è quello di scegliere un EQ "profilo" per l'estremità inferiore del vostro mix. Per salvare headroom mix, è necessario decidere se la cassa o parte di basso conterrà le frequenze basse per il mix.
Il trucco è quello di tagliare le frequenze. Per entrambi gli strumenti, mi consiglia di utilizzare un filtro passa-alto EQ, cut-off a circa 40Hz. Questo permetterà di eliminare qualsiasi stile terremoto "brontolii" dal tuo strumento a bassa frequenza - i suoni che la maggior parte degli ascoltatori non sentiranno mai parlare.
Il passo successivo è quello di ascoltare sia il calcio e basso insieme. Decidere quale parte porterà le frequenze basse e deselezionare tutte le frequenze sovrapposte dall'altra parte.
In questo esempio, ho scelto la parte calcio (sotto) per portare la mia fascia bassa. Si noti il ​​cut-off a 58Hz.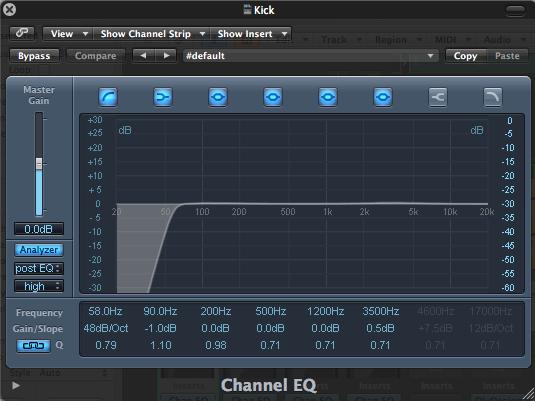 Qui di seguito, ho tagliato le frequenze da parte mia basso in modo da non "scontro" con il mio calcio. In isolamento, sarà il suono un po '"weedy" - ma insieme, il calcio e il basso farà una fine coesa bassa.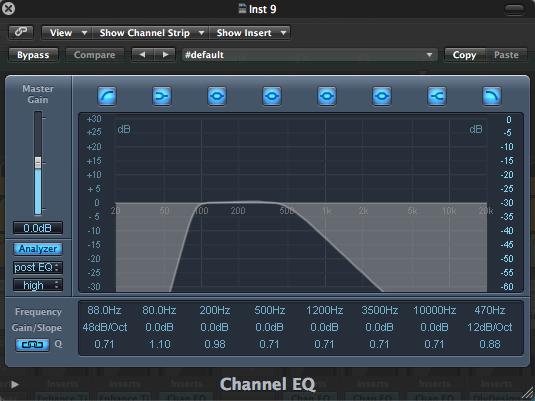 Ricordate, questa è una guida per un mix veloce! Avrai voglia di andare più nel dettaglio di questa per un mix "appropriato". Ricordate, la velocità è essenziale.
Fase 3 - Aggiungere il rullante (s) al Mix

Portare il rullante fader. A questo punto si potrebbe desiderare di tagliare alcune frequenze più basse dal laccio per illuminare in su. Se stai mescolando un brano pop o urbano, provare corrispondenza dei livelli di picco del calcio e rullanti esattamente. E 'sorprendente come spesso questo dà il perfetto equilibrio tra le due parti.
Fase 4 - Aggiungere il resto del Percussioni e parti di batteria

A questo punto andremo a prestare attenzione al panning. Io vado in base hai stroncato il, calcio basso e rullante alla metà esatta del vostro mix. Posizionare il resto della vostra batteria e percussioni parti attraverso il campo stereo.
Non preoccuparti troppo di EQ qui. Il tuo charleston scintilla già! Se è necessario, "roll off" qualsiasi frequenze indesiderate inferiore utilizzando un filtro passa alto. Questo aiuterà a "ripulire" il mix. La maggior parte delle parti di percussioni possono essere separati utilizzando i controlli di panning.
Fase 5 - Mescolando il resto della pista

First, mute all your drum, percussion and bass parts!
Now select your "principle instruments." I do a lot of urban mixing so for me, this will be a piano, guitar, Rhodes or synth. The "principle instrument" will vary but as a guide, this is the instrument that defines the chords of the track.
EQ vostro strumento primo principio e mettere in campo stereo con panning. Quindi, scegliere il secondo strumento più importante e ripetere. Il tuo lavoro pensato che il resto degli strumenti, il taglio delle frequenze e il posizionamento delle parti nel campo stereo.
Guarda l'esempio qui sotto. Notare il Rhodes e "Guitar Wah" hanno un Tremolo plug-in applicato per muovere i pezzi in tutto lo spazio stereo.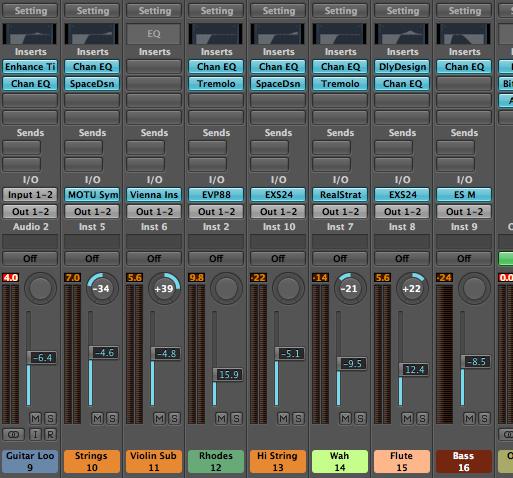 Ricordate i seguenti punti:
Cut EQ, don't add unless you really need to. Try not to listen to each instrument separately when you EQ. Instead, solo the instrument along with two or three similar frequency instruments. This way you'll get the "global picture" - and you'll find you can cut more frequencies than you'd otherwise think.

Panning is your friend. Often considered an afterthought in mixing, panning is a great way to separate instruments in a mix. Try to position your instruments across the stereo field, taking advantage of all the space available.

Una volta completata la miscelazione tuo "strumenti interiore" - riattivare la batteria, percussioni e parti di basso. Impostare il livello relativo e procedere al passaggio successivo!
Fase 6 - Voce e cori

Portare la parte vocale principale e provino con il resto della miscela. Aprite il vostro EQ plug-in e inserire un filtro passa alto a circa 100Hz. Ascoltando l'intero mix, aumentare la frequenza di cut-off fino a quando la voce principale "siede" nel mix, non in cima. Aggiungere un po 'alta frequenza per "l'aria e scintilla" e rapidamente comprimere a piacere. Non spendete troppo tempo qui ..
Se avete bisogno di aggiungere sintonizzazione automatica per lusingare il vostro client, utilizzare uno dei coperta "modalità automatica." Utilizzando la Auto Tune plug-in, selezionare la scala chiave della traccia e usare un tempo medio di attacco per la correzione dell'intonazione. Impostare quanto basta per sentire il lavoro di sintonizzazione.
Aggiungere eventuali cori. Copiare tutti EQ e impostazioni del compressore utilizzato per la voce principale alle strisce canale vocale appoggio. Io vado sul presupposto che avete a doppio binario (o più!) Il vostro cori. In caso affermativo, si sviluppa la tua parti di accompagnamento vocale attraverso il campo stereo a piacere. Ai fini del nostro "mix veloce" - Io suggerirei spingendo la cori agli estremi lontano del campo stereo con pan.
Fase 7 - concedetevi uno Gioca Grazie per impostare i livelli finali

Piuttosto auto esplicativo. Avviare la traccia e modificare i livelli, come si va per tutte le parti. Ricorda, stai facendo un rough mix qui. Resistere alla tentazione di iniziare automatizzando parti ....
Passo 8 - Mastering

Padroneggiare un mix veloce? Assolutamente. Tutti vogliono una miscela ad alta voce, giusto?
Trova il tuo migliore EQ. Sto usando Linear Phase EQ Logic. Inserire il plug-in di EQ sul canale master, attraverso l'intero mix.
Avanti - e qui il mio consiglio segreto - inserire una spinta larga frequenza di circa 3000Hz.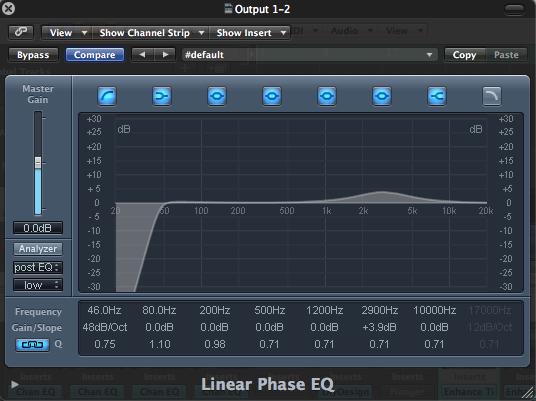 Infine, il tuo braccio limitatore di scelta. Impostare il limitatore a 0 dB e utilizzare per massimizzare il volume percepito del vostro brano.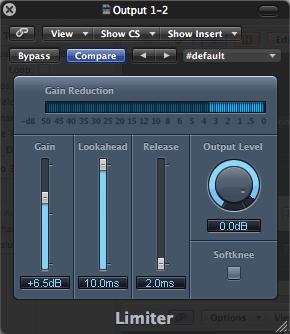 Quindi, hanno creato un mix perfetto? Ehm, no. Tuttavia, è stato creato un rough mix di dare ad un cliente senza perdere tempo inutile, e probabilmente stai più vicino il mix finale di quanto si pensi ....
Per saperne di più con i nostri tutorial Logic Pro per costruire una canzone da zero o imparare Apple Logic Pro Tips