Turning your ideas into a music doesn't stop once you've finished recording. These tips on arranging your project will help you save time when experimenting with your arrangement in Logic Pro.
Sia come parte del processo di produzione o di songwriting ci saranno momenti in cui si vuole prendere un'intera sezione della sessione e sia rimuovere, spostare, duplicarlo o copiarla. Puoi anche aggiungere silenzio all'inizio o nel mezzo di una sessione.

Metodo 1 - (Quick and Dirty)
Se le regioni sono già separati, li selezionate con lo strumento Puntatore, trascinando intorno a quelli che si desidera, o con
Se le regioni non sono già separati è possibile selezionare la sezione desiderata con lo strumento Selezione, poi appena si clicca per trascinare il riquadro di selezione con lo strumento Puntatore, le regioni separerà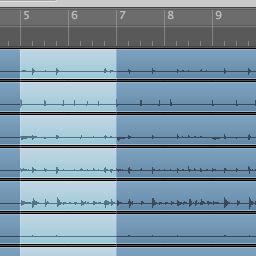 Cliccando sul riquadro di selezione creerà nuove regioni.
Metodo 2 -
Per duplicare o ripetere una sezione è necessario prima di creare lo spazio per la nuova sezione, è possibile fare questo semplicemente trascinando gruppi di regioni, oppure è possibile utilizzare il Float eventi.
Aprire il Float evento (Opzioni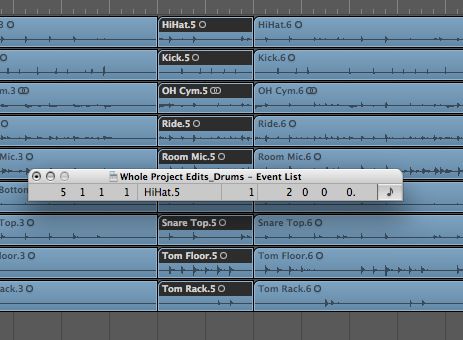 L'evento Float.
Un'alternativa all'utilizzo del Float evento è quello di utilizzare Pickup Logiche funzione di orologio - posto l'indicatore di riproduzione nella posizione desiderata per il materiale selezionato, quindi premere, (due punti) - o controllare la finestra assegnato chiave comandi - e si aggancerà alla indicatore di riproduzione.
Per ripetere le regioni selezionate scegliere Regioni ripetizione ... (Comando-R) dal menu territoriali della Regione.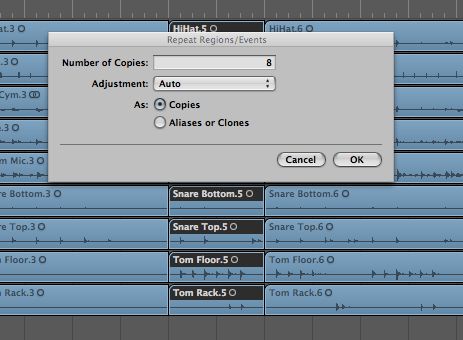 Ripetere Regioni.
Metodo 3 -
Con i progetti più grandi può diventare ingombrante per effettuare le selezioni attraverso un gran numero di brani, e gli errori possono essere facilmente fatto. Una soluzione è di impacchettare tutte le regioni in quella sezione in una cartella.
Le regioni selezionate saranno ora all'interno di un singolo oggetto sul vostro principale Organizza zona, rendendo quella parte molto più facile da affrontare.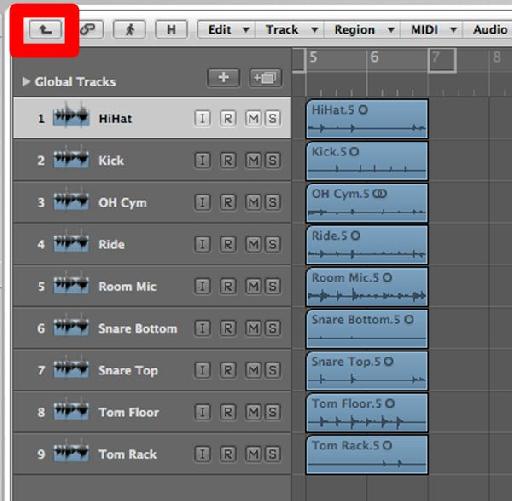 All'interno di una cartella - il pulsante Cartella Lascia viene evidenziato.
Metodo 4 -
Per eliminare una sezione selezionarla e premere backspace.
Se si desidera inserire una sezione di silenzio, questo può essere realizzato utilizzando il Float evento come sopra, se le regioni sono già separati.
Se poi non creare un'area ciclo trascinando avanti nel righello Bar, è anche possibile utilizzare un'area del ciclo di Skip (creati trascinando indietro nel righello Bar), la cui funzione principale è che il progetto sarà semplicemente saltare la sezione durante la riproduzione , che è un buon modo per ascoltare quello che si sta per fare.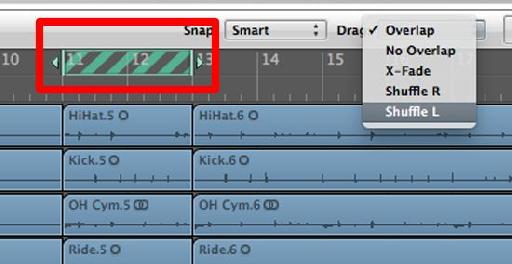 Una zona Ciclo Skip, e Drag opzioni di menu Mode.
Se scegliete Modifica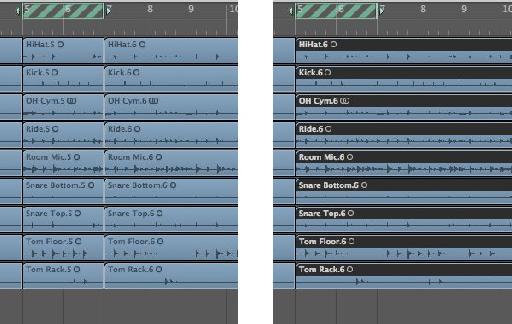 Prima e dopo - Snip: Sezione tagliare tra Locator.
Se scegliete Modifica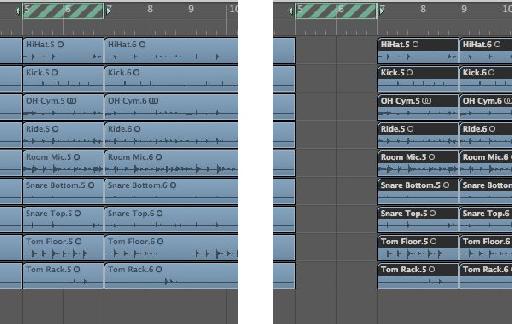 Prima e dopo - Silenzio Inserire tra Locator.
Per copiare e incollare la sezione delimitata dalla zona ciclo alla posizione dell'indicatore di riproduzione scegliere Modifica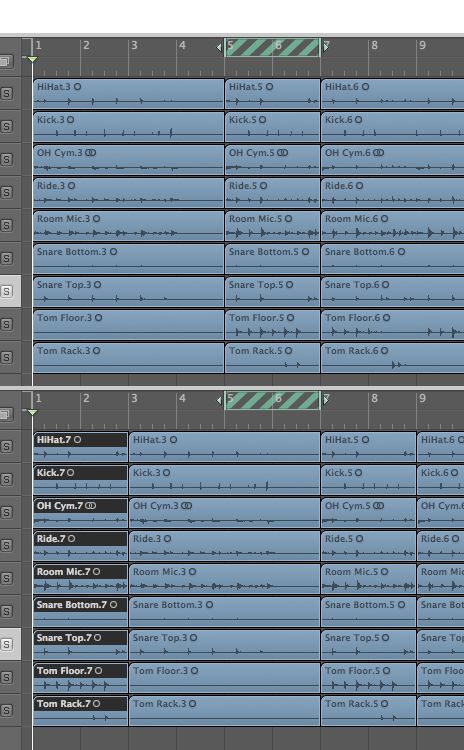 Prima e dopo - Splice: Inserisci sezione tagliato in questo punto.
Per duplicare semplicemente la sezione delimitata dalla zona ciclo scegliere Modifica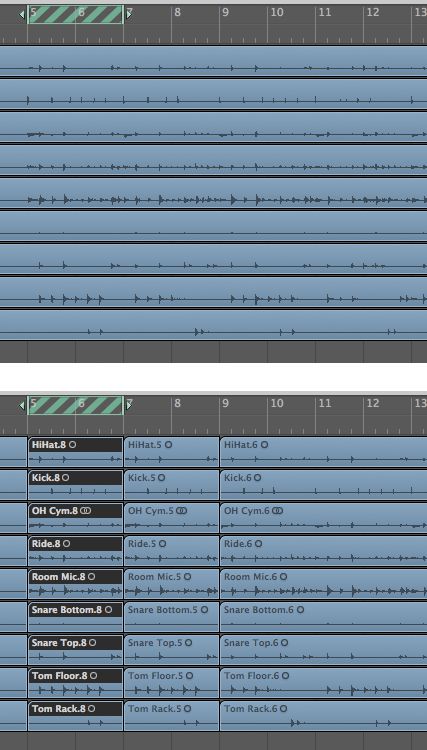 Prima e dopo - Sezione Ripetere Tra Locator.