A nice long reverb can be very effective on, say, a vocal to create the feeling of space, effective when there is time between phrases for it to be clearly audible.
Eine schöne lange Nachhall kann sehr effizient sein, sagen wir, ein Gesang, das Gefühl von Raum zu schaffen, effektiv, wenn es die Zeit zwischen den Sätzen für sie deutlich hörbar sein. Der gleiche Effekt wird sich negativ in der Mitte des Satzes, übertönt Feinheiten und Nuancen, und Verschmieren Konsonanten. Was würde besser funktionieren ist ein Reverb, dass in Anwesenheit eines Signals duckte sich, aber blüht in das Leben, wenn das Signal fehlt.
Step 1 - Konfigurieren Sie den Bus senden
In einer DAW, ist ein Reverb in der Regel als ein Bus senden angewendet, so in Logic Pro , indem Sie ein Stereo-Auxiliary-Channel Strip beginnen (klicken Sie auf die Taste auf der linken Seite des Mischers, schließen Sie einen unbenutzten Bus nach ihrem Eingang, dann auf die Bus-Send aus dem vokalen Kanal (oder von welcher Spur, die Sie sich bewerben, um diesen Effekt). Dieser Prozess wird erleichtert, wenn Sie die Aux-Kanal Namen wie dieser Name wird aufgeführt, wenn Sie mit dem Bus auf dem sendenden Kanal zu wählen. Dann instanziieren ein Hall-Plug-in wie Space Designer als Insert in der Hilfs-Kanal, und wählen Sie eine entsprechende Einstellung.
Bus senden Routing in Logic Pro.
Schritt 2 - Hinzufügen eines Compressor
Ducking wird durch Zugabe eines Kompressors nach dem Hall in der Insert-Kette des Hilfs-Kanal erreicht. Mit dem Side Chain Eingangswahlschalter Menü sollte der Gesang (oder alternative track) als Sidechain-Eingang mit dem Kompressor gewählt werden. Dies bedeutet, dass der Kompressor nur dann aktiv werden und damit zur Reduzierung der Ebene der Reverb, wenn ein Vokal-Signal vorhanden ist.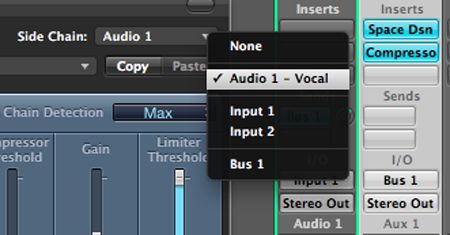 Einstellen der Side Chain-Eingang.
Schritt 3 - Compressor-Einstellungen
Einstellungen in den Verdichter sind offenbar entscheidend für effektive Ducking stattfinden. Zum Beispiel müssen Sie eine relativ niedrige Schwelle und hohen Anteil haben, um hörbare Gain Reduction zu schaffen. Die Schwelle ist auch einer, ein Auge (und Ohr) auf, als sie sich auf der Ebene der Seitenkette Signal über die Reverb sich im Gegensatz zu halten. Der Release-Regler in diesem Fall ist auch bei der Gestaltung des Reverb-Klangs von entscheidender Bedeutung. Da der Kompressor Ducking der Reverb (das heißt, Verringerung der Verstärkung), wird die Freigabe der Kompressor effektiv Steuerung der Attack-Zeit des Reverb,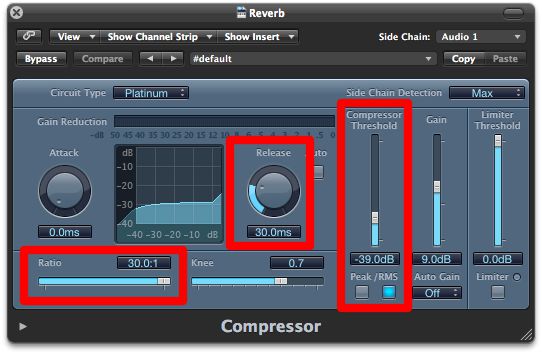 Typische Kompressor-Einstellungen für Ducking Reverb.
Schritt 4 - Key Input in Pro Tools
Wie Sie vielleicht den Satz erwarten in ProTools ist sehr ähnlich. Es gibt jedoch ein paar wichtige Unterschiede. Der schnellste Weg zu einem Bus zu schaffen senden in Pro Tools 9 ist auf einem Send-Slot auf der Channel-Strip klicken, dann wählen Sie Neue Spur im New Track-Dialog, eine Stereo-Aux-Eingang erscheint (?) Spur (der Standard) und den Namen es Reverb oder ähnliches. Instanziieren Sie ein Reverb mit Kompressor als Beilagen in den Aux Input-Spur gefolgt.
Die Key-Eingang (Sidechain-Eingang) in ProTools Plug-Ins werden nicht akzeptieren, einen Kanal-Ausgang als Eingang, so benötigen Sie einen anderen Bus zu verbinden als von den wichtigsten Vocal-Kanal speziell für diesen Zweck zu senden. In diesem Beispiel habe ich auf Pro Tools IO Setup verwendet, um die benannten Bus-Label, um es einfacher zu finden.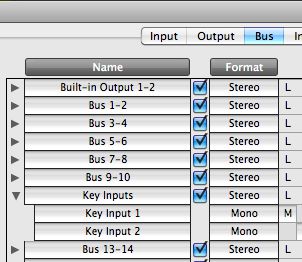 Kennzeichnung Busse in IO Setup.
Sehen und erfahren Sie mehr Mix Trick von Pro Producers in diesen Video Tutorials unter:
Logic 404 - Mixing Electronica
Pro Tools 402 - Mixing Pop in Pro Tools