Logic Pro X's Patches feature allows you to quickly bring up a collection of audio effects with settings with one-click. But do we need that many, and should we be more selective when mixing down?
One of the great features of Logic Pro X for newbies are the Patches with Channel Strip Settings in the Library available to be loaded onto an Audio or Software Instrument Channel Strip by a single click of the mouse. In Pic 1 you see the choices for Audio Channel Strips and in Pic 2 those for Software Instrument Channel Strips.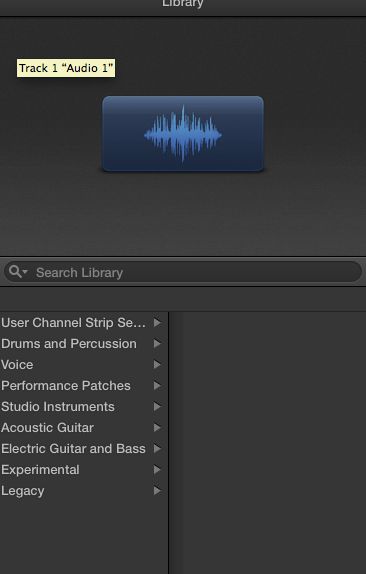 Pic 1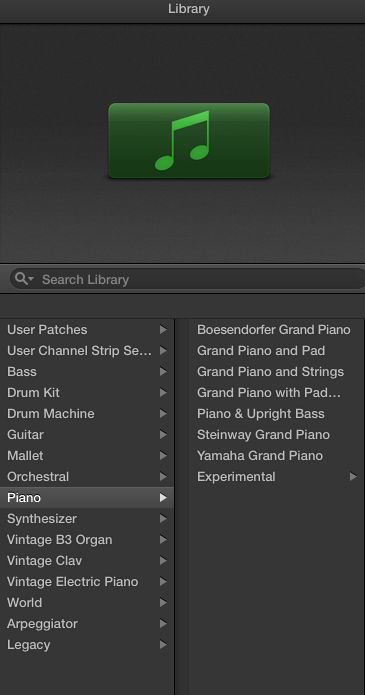 Pic 2
With these you get the developers' take on combinations of software instruments and plug-ins designed to get you a really good sound for that individual choice.
The problem is that mixing is not about making each instrument sound great on its own, it is about making them sound great together. The goal of a mix is for each sound to have its own sonic space while jelling into a cohesive whole.
In Pic 3, notice that I have created 15 Software Instrument tracks, loaded with Patches with Channel Strip Settings. Holy Plug-In Batman, that is a boatload of FX! Also the Patches send to 6 busses. And nothing is panned, all going up the center.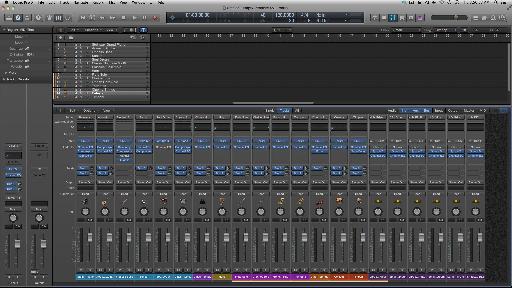 Pic 3
This is a lot of CPU sucking resources (although the Logic Pro X content is pretty CPU efficient compared to third-party libraries). But the bigger problem is that it will be almost impossible to get a cohesive mix out of this soup.
A well-known engineer here in Los Angeles told me an interesting story that relates to this when I raised the issue with him. A Logic Pro based composer called him to help with a mix that he 'just could not get right.' The composer left him alone to work. The engineer bypassed all the FX plug-ins and called the composer in and hit play. The composer said, 'Wow, that sounds so much better, what did you do?' ☺
We need to be much more selective with our plug-in use to get a good mix. Let's start with the EQs. Notice in Pic 4 that of the fifteen software instruments, all but the bass have a Channel EQ inserted, although only eight of them have edited any frequencies.

Pic 4
While EQ can be a creative tool, primarily it is a problem-solving tool. This is subjective and I probably will get some blowback about this statement, but if you need an EQ on every track or even almost every track, something went very wrong in the recording of the player or the sample library. I see people write on forums, e.g., 'I put a low pass filter on every sample library track'. I am not buying it. A little EQ goes a long way. Take the Hippocratic Oath: First do no harm.
Now look at Pic 5 and you can see that on the six busses there are six instances of Logic Pro's Space Designer convolution reverb. If I open them up, as you can see in Pic 6, each has a different setting.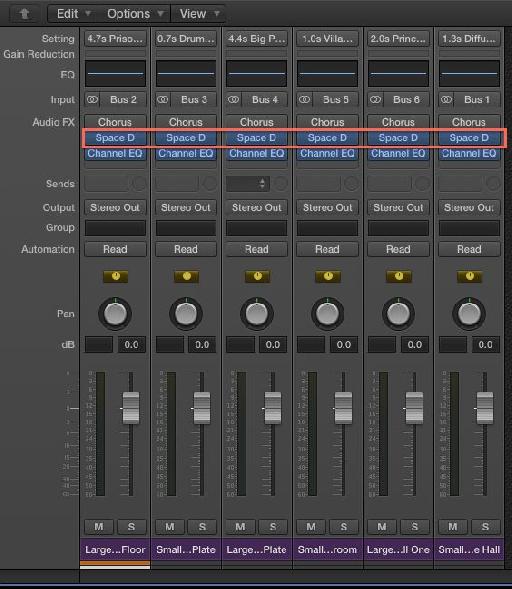 Pic 5
Pic 6
Do we need that many? Are we not trying to glue our sound together in the mix as if they were all playing in the same room?
I can make the argument for six reverbs in a large orchestral simulation template with one each for woodwinds, brass, strings, percussion, choir, and overall gloss but in a 15-track arrangement like this? No, in this case less is more. And this does not even address the fact that on the Software Instrument Channel Strips there are delays, compressors, etc.
Personally, I recommend that most of the time you load your software instruments directly in the Instrument selector in the Inspector or Mixer rather than the Library. See Pic 7.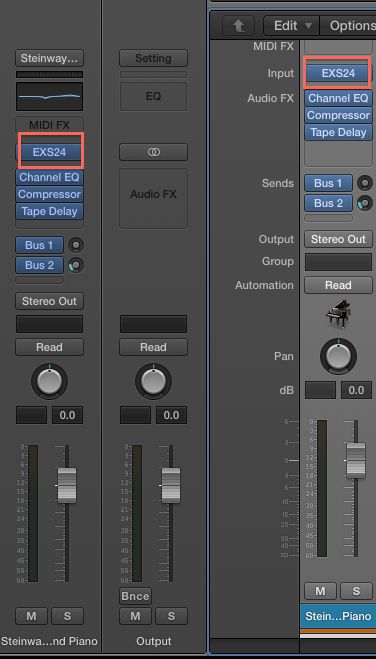 Pic 7
Insert your plug-ins as needed, Create your auxes as needed and add FX that multiple instruments and audio tracks will send to with the idea of putting them in the same space but having some control over the 'reflections' of how they would hit the room relatively.
If you have already loaded all those Patches with the plug-ins, click on the power buttons to bypass them and gradually audition them to see which ones actually help more than hurt. Mixing is as much art as science. Plug-ins are your friends but one needs to learn how much is too much and how much is enough.