A while back I was wrestling with trying to correct phase for my microphone set up. The microphones all had a different distance between one mic to another. This would not have been such a big deal wi
A while back I was wrestling with trying to correct phase for my microphone set up. The microphones all had a different distance between one mic to another. This would not have been such a big deal with only two mics, but I have 5 microphones in use. That tends to "complicate" things, just a little bit. The end result is, if you have more then one mic and they are not in exactly the same position, you're most likely going to experience some phase distortion. The farther apart your microphones, the more time lag and thus more phase distortion.

Apportez sur Sample Delay Logic
Rounik Sethi , rédacteur principal pour MacProVideo.com
Depuis que j'ai eu 5 micros, j'ai ajusté de 4 des 5 microphones utilisant le Sample Delay sur chaque voie, en laissant le micro le plus éloigné de la source sans aucun retard, bien sûr. Chaque microphone testé a également été vérifiée à l'aide de gain de Logic plug-in et en sélectionnant Inverser la phase de regarder les résultats de mes paramètres de l'échantillon car ils ont été ajustés. J'ai surveillé le multimètre sur ma sortie principale. J'ai regardé la DBS et avec le multimètre, j'ai pu également voir le compteur de fréquence / db en temps réel.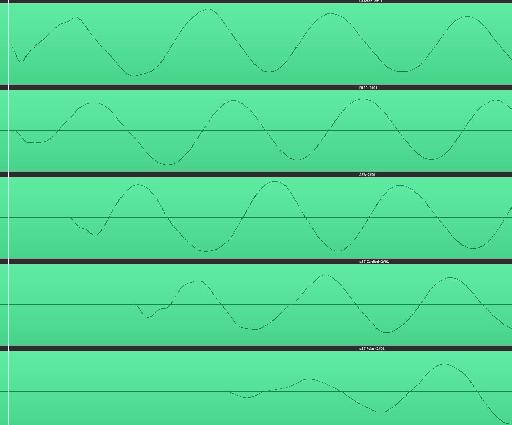 Figure 1 - Signal mis en Logique de 5 micro différentes espacées à des distances variables. Commençant par le haut, le plus proche micro, au fond, le micro le plus positionné par l'enceinte.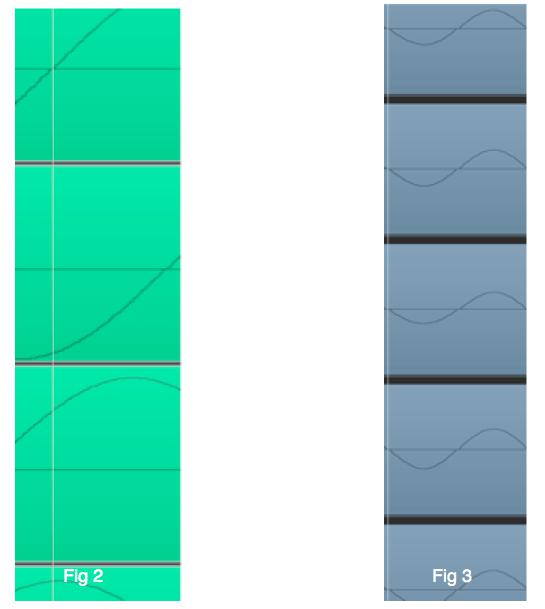 Figure 2 - Jouer la tête placée précisément au début de l'onde d'abord, vous pouvez voir la distorsion de phase évidentes survenant à partir des formes d'ondes successives. Figure 3 - Après avoir réglé le Sample Delay sur chaque piste, sauf le plus éloigné du microphone, les 4 pistes sont déplacés et à la tête de lecture mis précisément au début de l'onde supérieure, les formes d'ondes successives sont maintenant dans un alignement parfait.
Maintenant, parce qu'ils sont deux micros différents et parce que la phase fonctionne pas seulement d'une manière directe et inverse, il peut déposer la DBS signal de -30 si vous considérez qu'ils sont du monde réel et monde virtuel n'est pas parfait. Les variables qui existent de prévenir 100% d'annulation de phase totale, sauf plus de travail physique et réel en trois dimensions
Vérifiez Chant Productions Canaries enregistrement Guitares , chapitre deux, section 8, Time Adjuster, pour un look à ce que je viens de décrire. mais avec un système à deux micros et utilisez Pro Tools au lieu de la logique, ils utilisent encore le retard de l'échantillon afin de créer le même effet. Vérifiez aussi Chant Productions Canaries, L'Art de l'enregistrement audio,
Astuces de latence et de la normalisation
Pour obtenir les meilleurs résultats, vous devez faire deux choses, faire et corriger votre latence échelle du système en l'ajustant pour la latence de votre système IO-retour. Pour plus d'info, je suggère fortement Logic 207, boîte à outils de latence Logic par Tom Rice . Ensuite, vérifiez pour voir si vous pouvez ajuster le niveau du microphone vers le haut ou vers le bas sur l'une des deux bandes de canaux de microphone pour voir si cela aide la situation. L'objectif est d'optimiser et d'obtenir des annulations de phase maximale. Si votre taux de nécessiter un ajustement, ouvrez l'éditeur d'échantillon, sélectionner le signal d'essai enregistrés et utiliser la fonction de normaliser jusqu'à ce qu'elle soit maximale. Faites cela pour toutes les pistes et ils devraient tous être également mis à 0,0 dB. Maintenant, vous savez que le signal est égal et ils ne devraient plus besoin d'aucun réglage de niveau. Cela aidera considérablement vos efforts.
(Ed - Bear in mind: Normalizing audio in the Sample Editor will destructively change the levels of the original audio file. You can use Logic's 'Bounce Tracks in Place' feature and tick 'Normalize' to quickly create new audio files while leaving the original recordings unaltered).

In the end, you can use this technique for each mic gauged against the one furthest from the recording source, which in my case was a speaker cabinet.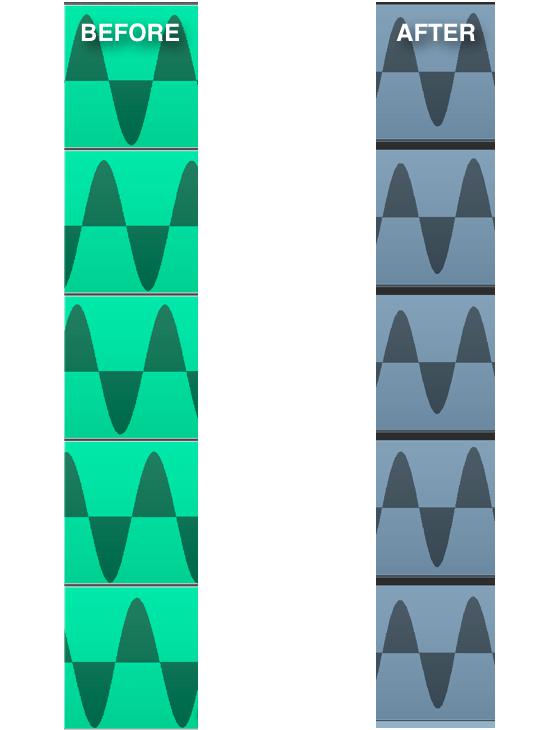 Figure 4 - Avant et après les captures d'écran de l'onde formes zoom arrière. Il ya un avantage évident de garde de votre phase de micro et en utilisant le retard de l'échantillon est une excellente façon de passer à travers un défi de ce type. 'Avant' est la phase actuelle des signaux micro entrant dans le DAW. «Après» est, après la mise en place du retard de l'échantillon et de rebondir sur chaque piste micro à la DAW comme une piste enregistrée.
Comme contrôle supplémentaire, j'ai essayé la même technique en vérifiant chaque micro contre l'autre sur la base des réglages de retard je me suis installé sur la première épreuve. Cela ne le rendement des bons résultats en ce que chaque micro montrait l'optimisation de l'un à l'autre. En d'autres termes, ils étaient en phase dans n'importe quelle combinaison qui est exactement ce que vous voulez.
Il ya sans doute une méthode alternative si vous pouvez tordre votre esprit assez mais pour juste en utilisant la fonction de retard de l'échantillon intégré dans la logique, qui est une méthode rapide et très efficace pour faire fonctionner un microphone multi plate-forme ensemble.
L'avenir?
J'ose espérer que la prochaine version de Logic vient avec une fonction qui est appelée correction de phase micro qui permet une correction de phase similaire et plus étendues qui pourraient être instanciée directement sur la bande de canaux pour le microphone particulier.
Voici une photo du groupe de micros et les retards de l'échantillon inséré sur chaque canal. Le micro l'un sans la prise de retard échantillon a été le plus éloigné de l'enceinte.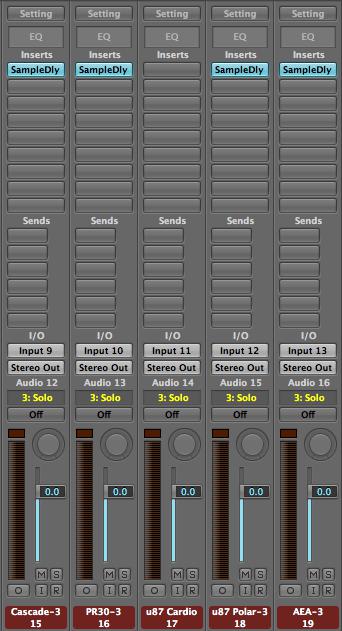 Figure 5a - Les voies de chaque mise en place avec un retard de l'échantillon, sauf le plus éloigné de la source micro.
Jusqu'Ã  la prochaine fois! Profitez de l'enregistrement et le zapping de cette question de latence pour de bon.